Lionsgate Offers First Look at 'Hunger Games' Theme Park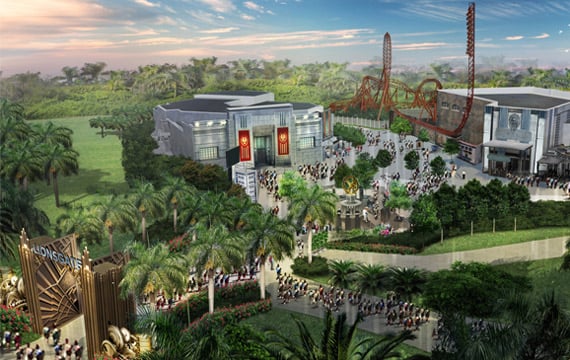 Lionsgate has not only confirmed that they plan to build a theme park based on The Hunger Games franchise, but they've also previewed a first look at the new venture.
We previously reported that the studio was planning to open a theme park based on the hit YA series in Atlanta, in addition to the Hunger Games land that will open in Dubai's upcoming Motiongate park, and now the studio has confirmed the news to the New York Times.
"The more we thought about it, the more we realized there was a major opportunity — not just to create something smart and captivating that Hunger Games fans would love, but to bring all of our franchises alive in new ways," Tim Palen, Lionsgate's chief brand officer told the NYT on why the studio has decided to move forward with the theme parks.
Atlanta's very own Hunger Games land will be constructed in a new "entertainment destination" called Avatron Smart Park which "hopes to open by 2019."
Attractions for the Hunger Games land at Motionsgate could end up in the Atlanta theme park as well, and include "a re-creation of the fictional District 12, a mining region where Katniss grew up" complete with "costumed characters and real-life versions of Peeta Mellark's bakery and the Hob black market."
There are also plans for "a lavish roller coaster will be designed to resemble the movies' high-speed Capitol trains" and a ride similar to Disney's Star Tours that will give patrons a hovercraft tour of Panem.
The parks will also include attractions and events from other Lionsgate films, like "Step Up dance shows and attractions based on the studio's Divergent movies and the film Now You See Me, about a troupe of illusionists who are implicated in a heist." Twilight fans may also get a treat at some point, as the studio is hoping to bring the series to parks as well.

Are you excited about the forthcoming amusement park? Leave your thoughts in the comments below!
Photo Credit: Lionsgate/NYT