Tris Learns the Truth in First 'Divergent Series: Allegiant' Trailer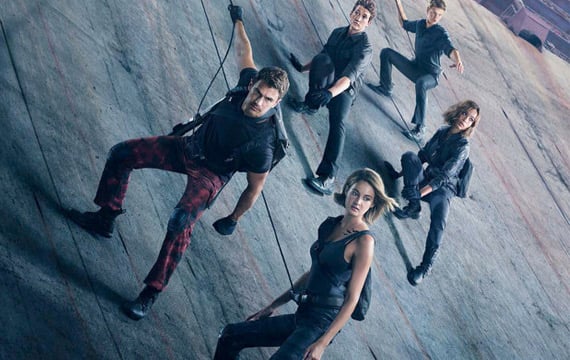 The first trailer for The Divergent Series: Allegiant reveals a big battle that's brewing that Tris (Shailene Woodley) and her friends must lead…or die trying.
"People think walls separate us, but they also protect us," Naomi Watts' Evelyn says in the new trailer. "Those poeple out there kept us in a cage for 200 years. That is not someone I want to engage with."
Well, it looks like Tris won't heed that warning as she and her friends venture beyond the wall that borders Chicago into even more unstable territory and find out what's really been going on in their world.
Luckily, Jeff Daniels' David holds nothing back in his explanation. "For 200 years, the greatest scientific minds have lived here to test a theory: If we could rescue people from a toxic environment and put them into a safe place like Chicago, perhaps they would heal it." "And I'm one of those people?" asks Tris. "You are the only one" David replies.
(Let's also take a moment to reflect on the fact that the sentence "safe place like Chicago" will probably never be uttered again.)
Take a look at the action-packed trailer below:
Along with Woodley, Watts and Daniels, The Divergent Series: Allegiant stars Theo James, Octavia Spencer, Ray Stevenson, Zoë Kravitz, Miles Teller, Ansel Elgort, Maggie Q, Keiynan Lonsdale, Jonny Weston, Mekhi Phifer, Daniel Dae Kim, Nadia Hilker and Bill Skarsgård.
Look out for The Divergent Series: Allegiant to hit theaters Friday, March 18, 2016. The final installment in the series, The Divergent Series: Ascendant is slated for release on March 24, 2017.
Are you excited about the third installment in the series? Let us know what you think about the trailer in the comments below!
Photo Credit: Lionsgate