'Supergirl' Star Jenna Dewan-Tatum Talks Lucy Lane and James Olsen's 'Unfinished Business'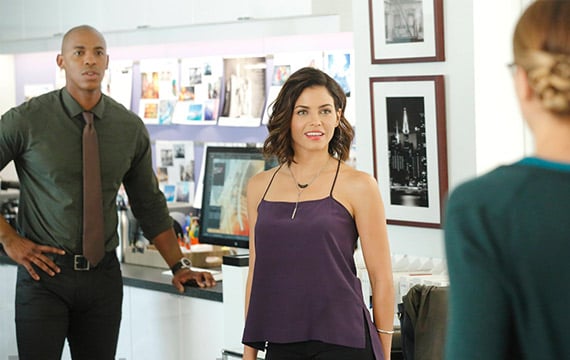 Lucy Lane (Jenna Dewan-Tatum) will be around for the foreseeable future in Supergirl and that means Kara (Melissa Benoist) may have to stand by and watch as her crush James Olsen (Mehcad Brooks) rekindles an old flame.
"There's a lot of unfinished business [between James and Lucy]," Dewan-Tatum told TVLine of Lucy and James' relationship. "There's a lot of unspoken feelings. Her motivation, when she comes back, is to right her own wrongs. She didn't end things well with him… and she knows she made a mistake, so she goes to get him back. I found that really empowering as a woman."
Just because Lucy is there to right her wrongs with James however, doesn't mean she and Kara are automatically at odds. "She and Kara are friends, Lucy's not some total diva b****y ice queen," the actress told Zap2It. "Lucy loves Kara .. she has not even an inkling of an idea that there is a relationship between Kara and James, so she really looks at Kara as an ally. She just moved to town, she doesn't have any friends, she has good intentions for Jimmy and she thinks Kara is such a great person — she genuinely wants to be her friend."
See how the love triangle plays out in tonight's new episode of Supergirl at 8 p.m. ET/PT on CBS.
Photo Credit: CBS