Steve Carell Calls Ryan Gosling's Style Creepy in 'The Big Short'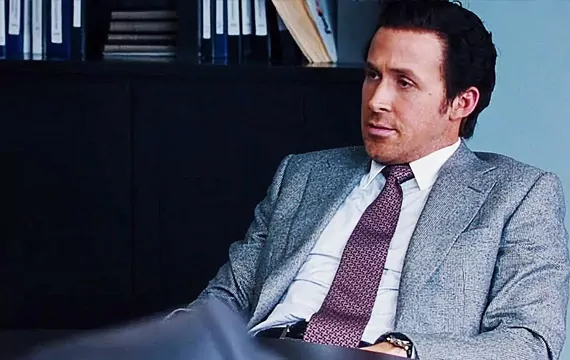 Steve Carell and his castmates "horrified" each other with their hideous getups while filming new movie The Big Short.
The forthcoming finance drama centers on four financial outsiders who team up and rally against the businessmen behind the 2008 Global Financial Crisis.
Christian Bale, Ryan Gosling and Brad Pitt all star alongside Steve in the picture and although they are all handsome men in real life, their good looks went out the window on set.
"Actually, we were equally horrified with each other," Steve told USA Today, noting Drive hunk Ryan looked particularly terrible while dressed as his character in the movie Jared Vennett. "Ryan stepped out of the trailer (as Jared) for the first time with hair and makeup, and I told him, 'Don't ever do that again.' He's such a classically handsome guy. But he just looked creepy, like someone you don't want to be near."
Director Adam McKay needed the stars to deglamorize to ensure the movie encapsulated the true essence of the financial world.
"Everyone thinks of Wall Street as these polished guys, but these guys were characters, weird-looking dudes with strange clothes," Adam noted. "These actors are handsome as hell. But I told them that you cannot be movie stars in this movie."
To complete his awkward look, Ryan donned a hairpiece, spray tan and dark contact lenses.
"Those are what really did it," Adam said of the contacts Ryan wears in the film. "It just threw his face off. It's like shaving his eyebrows."
In terms of the weirdest looking transformations, Adam believes Christian, who plays Michael Burry, is also a contender for the title.
The filmmaker said: "You should look up the real Michael Burry. It's worse. It's like he has a Supercuts bowl cut.
"Bale wanted to go there (with the crazy real-life Michael Burry hair), but we pulled back and gave his hair some shape. I didn't want (the hair) to be a scene-stealer."
The Big Short is out in theaters this Wednesday – December 23, 2015!