New 'The Divergent Series: Allegiant' Posters Have Been Released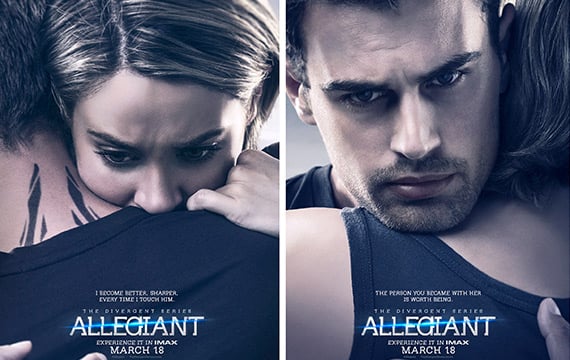 Fans came together yesterday on social media with the hashtag #WeAreAllegiant for the chance to reveal the two first posters from the upcoming film, The Divergent Series: Allegiant. The hashtag generated over 58,000 mentions since it started at 9am PST!
The lucky fan that won, @dauntlessrebel, got to exclusively reveal the new posters on her twitter. The new artwork featured Tris (Shailene Woodley) and Four (Theo James) in an emotional embrace.
Take a look at The Divergent Series: Allegiant posters below!
The Divergent Series: Allegiant Posters
Allegiant takes Tris and Four into a new world, far more dangerous than ever before. For the first time ever, they will leave the only city and family they have ever known. Once outside, old discoveries are quickly rendered meaningless with the revelation of shocking new truths. Tris and Four must quickly decide who they can trust as a ruthless battle ignites beyond the walls of Chicago which threatens all of humanity. In order to survive, Tris will be forced to make impossible choices about courage, allegiance, sacrifice and love.
The film is directed by Robert Schwentke and salso stars Jeff Daniels, Octavia Spencer, Ray Stevenson, Zoë Kravitz, Miles Teller, Ansel Elgort, Maggie Q, Mekhi Phifer, Daniel Dae Kim, Rebecca Pidgeon, Xander Berkeley, Keiynan Lonsdale, Jonny Weston, Bill Skarsgård, Nadia Hilker, Andy Bean and Naomi Watts
The Divergent Series: Allegiant will hit theaters on March 18, 2016! We're less than three months out! Will you be seeing the 3rd film in the franchise? Let us know your thoughts in the comment section below!