'Star Wars: The Force Awakens' Hits $300 Million Domestically in Record Time
Star Wars: The Force Awakens has smashed another North American box office record after surpassing the $300 million mark in just five days.
The sci-fi epic, directed by J.J. Abrams, scored the biggest domestic opening of all time after raking in $238 million over the weekend, easily eclipsing the $209 million debut previously set by Jurassic World in June.
Now it's also dethroned Chris Pratt's dinosaur blockbuster for another honor as the fastest film to crack the $300 million barrier at the box office; Jurassic World managed the feat in an impressive eight days.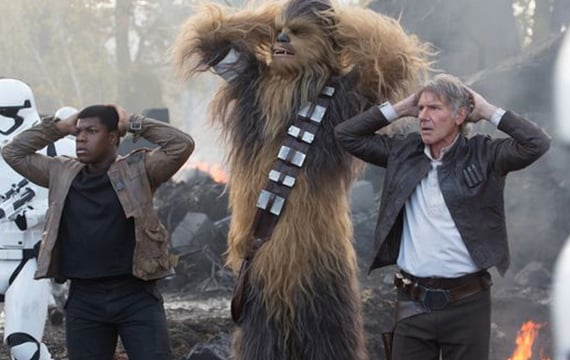 Star Wars: The Force Awakens Breaks Records
The ongoing popularity of Star Wars: The Force Awakens set a new Monday takings record this week, when it pulled in an additional $40.1 million in the U.S. and Canada, easily surpassing the $27.2 million Spider-Man 2 grossed over Independence Day holiday in 2004.
It did the same on Tuesday, adding another $37.3 million to its haul to beat the $35 million record previously set by another Marvel picture, 2012's The Amazing Spider-Man.
The film's strong North American performance boosts its global takings to $689 million, putting it on course to mark another milestone as it skyrockets towards $1 billion.