Mark Ruffalo Really Wants Cate Blanchett to Join 'Thor 3'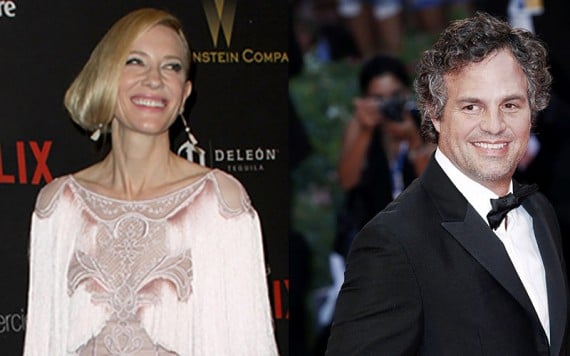 Mark Ruffalo thinks it's a real possibility that Cate Blanchett might play the villain in Thor: Ragnarok. The 48-year-old actor is making an appearance in the forthcoming Marvel film as his classic character Bruce Banner/Hulk and he is hoping to work with the Academy Award-winning actress on the project.
"I'm so thrilled," he told Entertainment Tonight at the BAFTA Awards Season Tea Party last Saturday (Jan 9, 2016) of potentially co-starring with her in Thor: Ragnarok. "I saw her at the Governors' banquet here and heard that maybe she was circling, they were talking to her about the part, so I ran up to her and I was like, 'Please, please, please make this work!'
"She's just one of the best, and to have her play a baddie is going to be really exciting."
Rumours emerged in December 2015 that suggested the Academy Award-winning star was in talks for a part in the forthcoming Marvel film, but an official announcement on the casting decision has not yet occurred.
Marvel had originally planned to film Thor: Ragnarok at Atlanta's Pinewood Studios, going into production after Guardians of the Galazy Vol. 2 wrapped. However, Marvel has since moved the production to Australia.
Meanwhile Ruffalo has many other exciting happenings going on in his career, as the star's biographical drama Spotlight earned three nominations in the Best Motion Picture – Drama, Best Director and Best Screenplay categories at the 2016 Golden Globe Awards, which were held in Los Angeles on Sunday night.
Spotlight centers on how journalists at the Boston Globe newspaper uncovered the child molestation scandal involving the Catholic Church and Ruffalo thinks the film is highly praised by critics because the subject matter is so enthralling.
"The movie is about something important and it's handled in such a really mature, serious way that to have it being embraced today when there's so much bombast in filmmaking – which I'm also part of – it's a very sweet moment for all of us," he told People magazine. "The other thing that's amazing about the movie is that it's really a celebration of journalism and the power of it. I think it reawakens us. It reawakens our appreciation of it."
Photo Credit:
CarlaVanWagoner / Shutterstock.com
Andrea Raffin / Shutterstock.com
Recommend

0

recommendations
Published in Celebrity, Celebrity News, Emma's Geek Girl Blog, Featured, Movie News, Movies