Aaron Paul Discusses Why He Likes Playing "Messed Up" Characters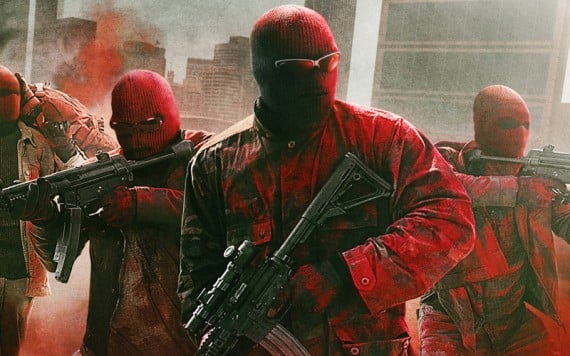 Aaron Paul can't pinpoint why he loves playing troubled characters, but he admit that he is dawn to them.
The 36-year-old actor came to prominence portraying mixed up meth addict Jesse Pinkman in Breaking Bad, winning legions of fans thanks to his convincing performance. For his new film Triple 9, Aaron doesn't stray too far from Jesse territory. The premise may be different, but fans will recognize the angst of Aaron's performance.
"I have no idea (why I'm drawn to these roles)," he admitted in a recent interview. "I don't know, this character he's just going through so much and as an actor it's always fun to really put yourself in someone else's shoes. For me I love playing really intense, emotional characters. I have no idea why!"
Aaron's co-star Anthony Mackie seems to have an answer though.
"His life is so awesome in real life," he laughed. "He has to find some bad in all his good."
The feature is helmed by John Hillcoat, who's known for his gritty and often violent filmmaking style. Finding an exciting new take on crime films can be difficult admits John, but the director thinks he struck gold with Triple 9.
"It took a long time to get there and find something. I'm always searching, trying to find something," he admitted. "It's a challenge, especially in this type of genre. I love genre films and thought I'd like to find something that's still fresh about them, and that's the big challenge.
"There are plenty of crime thrillers out there, but in terms of material this one just had a fantastic… the whole the idea of the triple 9 I hadn't heard of before and it created this very rich moral dilemma. So yeah, that was very fortunate."