How Aaron Paul Broke the Ice with 'Eye in the Sky' Co-Star Helen Mirren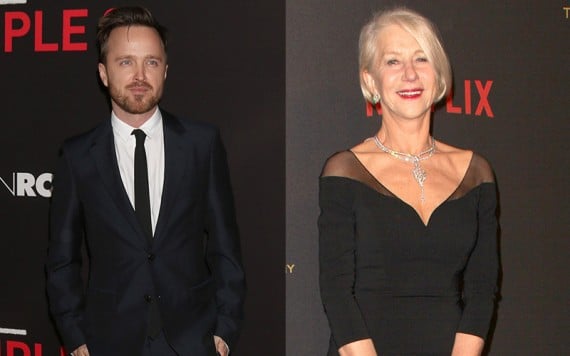 Aaron Paul and his Eye in the Sky co-star Helen Mirren broke the ice with a little whiskey.
The Breaking Bad star portrays a military drone pilot in the new war movie, and before he began filming his scenes, he was invited to meet Helen over dinner.
Aaron reveals he was star struck meeting the Oscar winner, but his nerves were quickly eased as they enjoyed a few drinks together.
"Man, she's such a legend," he gushed to breakfast show Today. "I look up to her in so many ways. When I first met her, they had already been shooting. We had dinner together, we just shared some whiskey… (it) breaks the ice!"
The actor was left even more in awe of The Queen actress after discovering the 70-year-old can drink with the best of them.
"This woman can hold her liquor!" he exclaimed. "She's fantastic…! She can drink! It's great!"
The light-hearted meeting was a far cry from the tense scenes Aaron and Helen went on to shoot. In the movie, Aaron's character, Steve Watts, struggles with his orders from Helen's Colonel Katherine Powell to launch a drone attack in rural Kenya, after spotting an innocent young woman in the area. To prepare for the role, Aaron spent time with a real-life military man, and the 36-year-old admits working on Eye in the Sky was a real eye-opener for him – and not in a good way.
"It's a very heavy, heavy film, a heavy story to tell," he explained. "I talked to a military drone pilot, did a lot of research with him, learned how to fly drones. Just learning all of that info is very… it's a scary world, a really scary world."
"It's crazy," he continued of modern warfare. "Like, I play a pilot who's in the safety of his bunker, just outside of Las Vegas, Nevada, flying a drone over Kenya, and it's just such a strange thing that this pilot is in control of this huge drone that has missiles attached to it, dropping it on buildings that could hurt innocent civilians, so there's a lot going on, and this guy Chris, who is the (real) drone pilot, he would fly four drones at a time, in all different places of the world, which is just so crazy to me."
Photo Credit:
CarlaVanWagoner / Shutterstock.com
Helga Esteb / Shutterstock.com
Recommend

0

recommendations
Published in Celebrity, Celebrity News, Featured, Movie News, Movies