Rebel Wilson Reveals 'Pitch Perfect 3' Filming Is Underway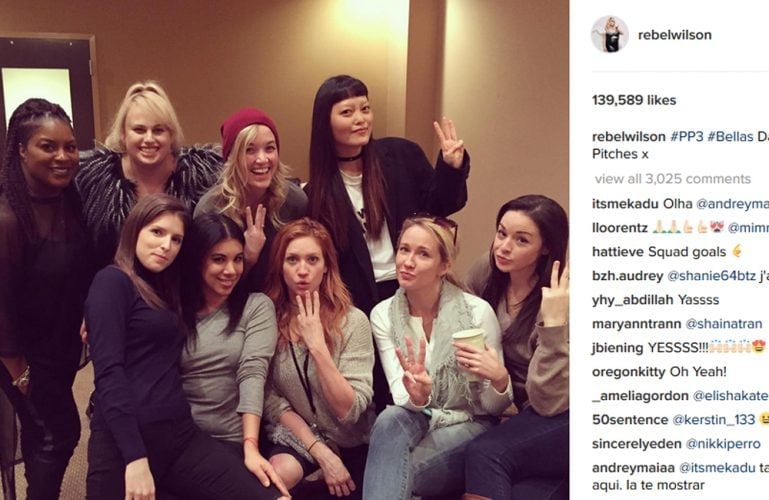 Rebel Wilson has teased filming for Pitch Perfect 3 has begun.
The 36-year-old actress – who plays the role as The Barden Bella's vocalist Patricia, who nicknames herself Fat Amy in the movie – has revealed her and her fellow co-stars including Anna Kendrick and Brittany Snow have joined forces to shoot the follow-up to the comedy.
The Australian star revealed the news on her Instagram account with a picture of her and the cast all posing with three fingers up, which she captioned: "#PP3 #Bellas Day One Pitches x (sic)."
And Kendrick, 31, who plays the role of Beca Mitchell in the production, has also shared the same photograph on her social media page.
She wrote: "Team. (sic)."
And Brittany Snow – who plays Chloe Beale in the franchise – has revealed the third installment of Pitch Perfect is "just around the corner".
Alongside an image of the blonde beauty with a few of the other Bella's including Elizabeth Banks – who acts the role of commentator or the ICCAs Gail Abernathy-McKadden and co-produces the production – she wrote: "#PP3 is just around the Corner (sic)."
And it is believed Ruby Rose is set to star in the sequel, which is set for release in December this year.
However, Skyler Astin – who played the role of Anna Kendrick's on screen boyfriend and lead singer of the acapella group The Trebles, Jesse Swanson – has revealed him and the all-male vocal group won't feature in Pitch Perfect 3, despite appearing in both Pitch Perfect and Pitch Perfect 2.
He previously tweeted: "Yes. As of now, the Trebles and I won't be in the third Pitch Perfect movie. They seem to be taking the story in a different direction (sic)."
Recommend

0

recommendations
Published in Featured, Movie News, Movies