Geek Girl Review: 2017 Toyota Prius Prime Premium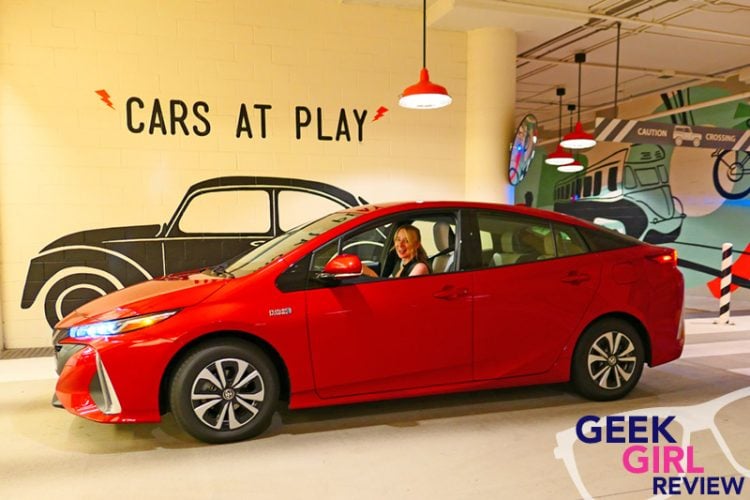 Note: Toyota provided me with a 2017 Prius Prime Premium for 2 weeks to review. I did not receive any other form of compensation. All views and opinions expressed in this article are my own.
After falling completely in love with the 2017 Toyota Prius Three last month, Toyota decided they were going to knock my socks off with the 2017 Toyota Prius Prime Premium. And holy cow did they. The 2017 Prius Prime Premium offers drivers all the awesomeness of the hybrid model and an electric car for an amazing 133 EPA-Estimated MPGe! You're looking at 640 miles on a single tank of gas/car charge. That road trip I took to Florida while reviewing the Prius Three – I could have done that on just one tank of gas and still had plenty left over!
Needless to say, the Prius Prime Premium is the most efficient car in its class. Every last detail has been optimized to make it both advanced and efficient. With lightweight materials and proven hybrid technology, this car has enhanced performance while maximizing and truly redefining efficiency.
So now that I've wowed you with the possible distance you can travel in this vehicle, let's get down to business and talk my top 5 favorite features of what I'm affectionately calling Tony Stark's car (seriously felt like it should be in my opinion).
The multimedia display is insane. It's larger than most iPads at 11.6-in (which is also the largest display screen in Toyota's lineup – and of course features smartphone-like functionality). With an intuitive user experience, you can control the climate of the car, find nearby charging stations and indulge in the Entune App Suite (which is a collection of the most popular mobile apps and in-car data services such as Destination Search, iHeartRadio, MovieTickets.com, OpenTable, Pandora, Facebook, Yelp, Slacker Radio just to name a few).
I already mentioned being able to take the benefits of an electric car and combine them with all the features of hybrid technology – giving you incredible gas mileage. But if you're worried about all the fun features – such as having driving scores that you can compete against your Prius-loving friends with – no need to worry. You still have all the fun scoring features that the other Prius models offer. It's rare to have a car that truly challenges you to become a better driver and makes it fun. That's probably my absolute favorite feature with Prii. I appreciate the real-time feedback and the suggestions that it provides me on how I can become a more efficient driver.
Qi-Compatible Wireless Charging is available in this model as well. Not having to carry your charging cord with you, untangle it constantly (because life somehow always tangles every cord that we own), or continually buy a new one because you keep losing it – that's pretty awesome. I wish I could wirelessly charge everything in my life, I appreciate the convenience that it offers. And of course you can still charge via USB if you want.
If your phone doesn't support it – there's a little card that you can get to plug into to your phone that will still allow you to charge this way. Or you can upgrade the geek with something a little sleeker and test out a a phone case from Dar Tech Wireless – it will allow you to charge your phone wirelessly by just being in the case – and will allow you to do the same in your home if you have a wireless charger as well. Dar Tech actually sent me one of these to review, but I received it after my time with the Prius Prime. I can't wait to test this out in car that has Qi-Compatible Wireless Charging as a feature – but until then I'm loving charging my phone wirelessly in my home.
How sexy is the inside of this car? The lines, the materials, the overall design and even the color palate all clearly make this car a luxury version of the Prius. The heated front seats, the feel of the SofTex-trimmed tilt/telescopic steering wheel, the center armrest with cup holders and center console in the backseat – every feature here is not only comfortable and an efficient use of space – but also a touch of luxury for your driving experience and the experience of your passengers.
The sexy lines on the interior of the vehicle continue on the outside as well. And I have to say, I've never been a huge fan of the color red before, but even this color red (which is called Hypersonic Red and is a premium paint add-on) is the most attractive color I've ever seen on a car.
I did take a road trip in this car as well! I had to go to Nashville for Walker Stalker Con earlier this month, and this was of course my means of transportation. Take a look at my adventure to, in, around, and back from Nashville in the video below!
Geek Girl Review Video: 2017 Toyota Prius Prime Premium
(Please note the flickering on the Prius' display screen in the above video was due to trying to video the screen with a 4k camera and didn't actually appear like that.)
All in all, the 2017 Toyota Prius Prime Premium got a 5 out of 5 "Geek Out" factor from me, and the photo below describes my feelings for it rather perfectly… I'm still in withdrawals from having to turn it back in after my review time came to an end.
Let us know in the comment section if you have a Prius and what your experience has been. Share with us your thoughts and the adventures you've taken!
Stay tuned for more Geek Girl Reviews – and let us know what cars you'd really like for us to review in our comment section below!
Note: Toyota provided me with a 2017 Prius Prime Premium for 2 weeks to review. I did not receive any other form of compensation. All views and opinions expressed in this article are my own.
Recommend

0

recommendations
Published in Emma's Geek Girl Blog, Featured, Lifestyle, Technology, Travel