Geek Girl Review: A-Box Subscription Box Stealth Edition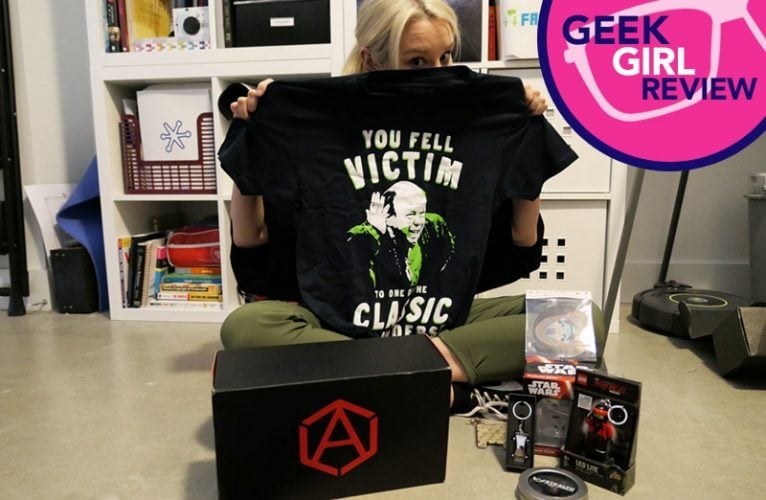 Your geek girl got her second A-Box! And it was just as amazing as the first! This month's box represents iconic characters, vehicles or franchises that embody stealth-like qualities or traits. This continues to be my favorite subscription box – find out why below!
Here's a breakdown of what all was included:
Stealth Shadow Fidget Spinner: Stealth manufactures some of the best performing fidget spinners in the market (Seriously though there's a huge difference between these and other brands!). This Shadow spinner is tooled from aluminum alloy and features steel bearings – which means no plastic here! It is super lightweight and silent (because that's what being Stealth is all about right?!). It also has a maximum spin time of 3+ minutes (See my awesome skills in the video below). This spinner's suggested retail price is $30 – which makes this an incredible deal in this month's box!
Princess Bride: This month's t-shirt celebrates the 30th anniversary of one of my personal favorite films! The graphic represents one of the most memorable scenes from the film – don't remember it? And you call yourself a geek….
(refresher course here!)
Destiny 2: CAYDE-6 Decal
Lego Ninjago Movie: Keychain LED flashlight
Star Wars: Sandwich Shapers (PERSONAL FAVORITE!) – That's right this little tool helps you to make sandwiches in either the shape of the Millennial Falcon or Darth Vader (depending on which one you get!)
Bonus Surprise: 007 Keychain
Curious my reaction? Get ready for it… and check out my unboxing video and review below!
A-Box Subscription Box Review: Stealth Edition
You can pick one of several subscription options at A-Box.com and geek out with us! Because let's be real, every day needs at least a little geeky goodness… and Millennial Falcon shaped sandwiches. #NEED
Stay tuned for our next A-Box unboxing which will be "Horrors" themed! The teases A-Box provided us for the next box is that it will include Stephen King's IT (which just came out – and I highly recommend it – it's like Stranger Things but like 50,000 times more terrifying), The Shining, and Alfred Hitchcock (plus a few more surprises). We also know there's going to be a Funko Pop! Vinyl in the box – so point being… Get on it! Order cut-off for the Horrors box is September 19!
Keep it geeky,

*Please note: I was gifted a A-Box Stealth Edition Box for this review. No other compensation was exchanged. all opinions stated here and in the above video are this Geek Girl's honest opinion.
Recommend

0

recommendations
Published in Emma's Geek Girl Blog, Featured, Lifestyle