Geek Girl Review: ThinkGeek Capsule 2 Review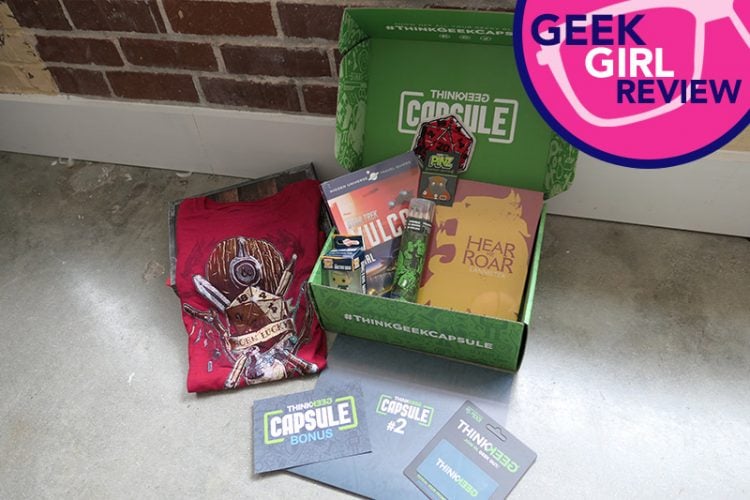 This Geek Girl has loved ThinkGeek since the early 2000's when I first discovered the online store. It was rather difficult to find nerdy shirts made specifically for girls, but ThinkGeek had them – and thus created a lifelong fan. Needless to say, I geeked out when I heard they were launching a subscription service – and as you may remember I almost had a breakdown over socks when unboxing their first Think Geek Capsule.
The ThinkGeek Capsule is a limited-edition service that delivers fun, geeky items to customers' doors every month and this new service will include three cleverly curated Capsules full of unique ThinkGeek merchandise valued at more than $50, including t-shirts, pins, desktop replicas, household essentials, art prints, and much more!
Curious what all was in ThinkGeek Capsule #2? Unfortunately, I don't have video this time around – don't ask what happened to the video camera… RIP. But I still have my full review for you below (and a new video camera on order for next month!)

Game of Thrones Canvas: Winter may not be returning for awhile, but ThinkGeek has you covered with a little extra GoT goodness! This Capsule contains 1 of 4 sigils from the show – I got House Lannister which is printed on what feels like a thick piece of paper as opposed to cloth – but it's still attached to a wood frame which will hang up nicely in your home!

Dungeons & Dragons T-Shirt and Patch Set: This was my favorite thing from this Capsule. I'm a huge fan of D&D (with my favorite memory being playing with the Stranger Things cast members on a set visit in Season 1!) so naturally I geeked out over the this set honoring one of my favorite tabletop games. The shirt displays the message "Born Lucky" and the patch is a red D20 – and it's adhesive meaning you can put it on anything you want to stick it to without breaking out the iron!

Star Trek Travel Guide + Postcards: Curious about the Vulcans' home planet? It's a pretty cool looking place – which this travel guide does an excellent job at highlighting – there's even a handful of postcards in the back of the book that you can send to your friends further displaying some of the more tourist-friendly locals.

Incredible Hulk Colored Pencils: You all know I'm an art-school nerd…. so I may have geeked out pretty strongly over these. There's even a set of some black and white mini posters that you can color! (Nice little stress relieving activity for the nerdy adult in your life)

Collectible Pinz Pin: I'm a huge fan of flare (Office Space anyone?), so I was thrilled with this month's collectible pin. I got an adorable pug – which looks a lot like Doug the Pug – even though it's not (I'm just going to pretend that it is).

Doctor Who Funko Pop Keychain: If you got Capsule #1 than you also got a bonus keychain (which can either be the Fourth Doctor or the Twelfth Doctor) – It's already on my keychain making friends with Lego Darth Vader. The geek is strong in this girl's life.
ThinkGeek Mystery Promo Code:: This card can be worth $5 to $100 on ThinkGeek.Com! May the force be with you! Wasn't really with me – only got $5, but hey, every little bit helps!
The ThinkGeek Capsule #2 continues to hold up this month. While I wished there had been socks…. It's still a pretty strong box and totally worth the price tag for all you're getting.
"At ThinkGeek we are obsessed with sharing with our fans unusual and fun merchandise that stimulate their imaginations and fuel their geek core," said Chris Berejik, Vice President of E-Commerce and Marketing at ThinkGeek. "With plenty of surprises planned as part of the ThinkGeek Capsule service, we think it will be something our subscribers will look forward to every month."
The new ThinkGeek Capsules will include several novelty items from popular fandoms like The Legend of Zelda: Breath of the Wild, Fallout 4, and Harry Potter to name a few, as well as many fan favorites found on ThinkGeek.com and in its retail stores. Starting today, fans can subscribe to the service for $24.99 a month. The first ThinkGeek Capsule will be mailed by the end of June.
To order the ThinkGeek Capsule, and for more information, visit http://www.thinkgeekcapsule.com/.
Keep it geeky!

Note: FanBolt did receive a Capsule for the above review. No other compensation was involved. Everything stated above is my true and honest geek girl opinion!
Recommend

0

recommendations
Published in Emma's Geek Girl Blog, Featured, Lifestyle