Geek Girl Review: A-BOX Subscription Horror Edition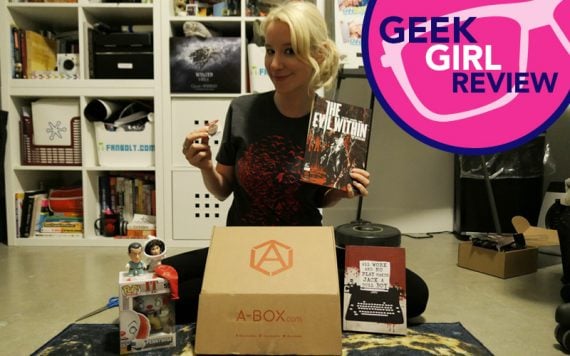 Your geek girl got her third A-BOX! And it was just as amazing as the last two! This month's box represents horror – and it includes 3 A-BOX exclusives – an Alfred Hitchcock t-shirt, Jigsaw spinning lapel pin, and an Evil Within comic book #1 (exclusive cover design). This continues to be my favorite subscription box – find out why below!
Here's a breakdown of what all was included:
Alfred Hitchcock T-Shirt: Are you a fan of Hitchcock's The Birds? If so this t-shirt is a must and can't be purchased anywhere else! It's my favorite thing in the box this month – and a must for any geek who appreciates good design with a touch of subtle fandom.
Alien Titan Vinyl Mystery Figurines: It's a mystery open you open them – as you have a number of possible options. I got Ripley Spacesuit and Ash – and I'm a happy camper! These figurines look incredibly accurate in the face – and also super, super serious – which made me giggle because they're bodies are so little!
Evil Within Comic Book #1: This one is exclusive to this A-BOX (exclusive cover). I kind of wish I'd left it in the packaging for that reason – but it's a cool comic and worth a read!
Pennywise Pop Vinyl: A must-have for any Pop Vinyl collection – especially if you love horror –
there's also a little red balloon in this box that you can blow up and attach to Pennywise's hand to make it extra creepy – or fill it with some helium and IT WILL FLOAT TOO! (HAHA 🙂 See what I did there…)
The Shining Journal: You can never have to many journals – especially ones that lay flat when opened and have a built-in bookmark string. It's something I'm already using for my to-do lists and I love it!
Jigsaw Spinning Pin: This is exclusive flare to this A-BOX – and it actually spins!! It will look great on your convention lanyard – and already has a place on my staff lanyard for Walker Stalker Con!
Curious my reaction to all the above? Get ready for it… and check out my unboxing video and review below!
A-BOX Subscription Box Review: Horror Edition
You can pick one of several subscription options at A-BOX.com and geek out with us! Because let's be real, every day needs at least a little geeky goodness… and well-designed subtle nerd t-shirts. #NEED
Furthermore, A-BOX.com is now shipping to Canada, Germany, Austria, Belgium, Ireland, and the Netherlands!
Stay tuned for our next A-Box unboxing which will be "Powers" themed! The teases A-BOX provided us for the next box is that it will include Mega Man, Metal Gear Solid, Star Trek: The Next Generation, and Thor (plus a few more surprises) – so point being… Get on it! Order cut-off for the Powers box is October 20!
Keep it geeky!

*Please note: I was gifted a A-BOX Horror Edition Box for this review. No other compensation was exchanged. all opinions stated here and in the above video are this Geek Girl's honest opinion.
Recommend

0

recommendations
Published in Emma's Geek Girl Blog, Featured, Lifestyle