FanBark Unboxing: December 2017 PupBox Review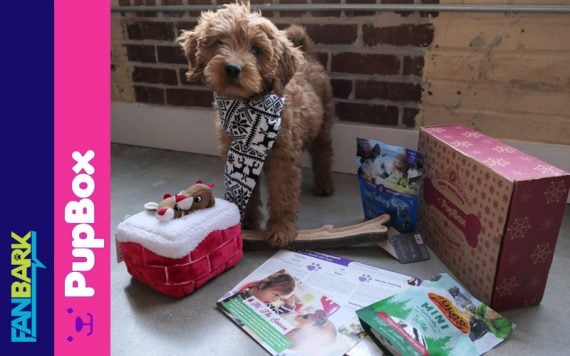 It's a new month, which means we've got a brand new FanBark unboxing for you! FanBark unboxings are done by our editor's pup, Fozzie! Enjoy her review and unboxing of the December 2017 PupBox!
Fozzie here, and I'm a 3-month old F1b goldendoodle who loves to play, eat, play, sleep, and did I mention play?! My mom, Emma, is the editor of FanBolt – and she created this section just for me so I could geek out along with her!
It's the holidays, which means this PupBox is holiday-themed! I got a little help from my mom and dad on this unboxing video – as they think I'm easily distracted… squirrel!!!!!!
December 2017 PupBox Review
Here's the full breakdown on what was included in the December 2017 PupBox!
ZippyPaws Holiday Chimney Burrow – Squeaky Plush Hide-and-Seek Dog Toy: Easily my favorite thing in this box! This toy challenges my intelligence and combats my boredom at the same time! I love burying my nose into the burrow to dig out the two little reindeer and Santa – and then once I've got them out – it's non stop squeaker fun!
Tall Tails Natural Wool Stick: This toy profiles playtime that is not only physically healthy for me – but also mentally healthy for me. This toy stick is made from natural materials providing a perfectly-shaped construction that is durable for supervised playtime. Natural looks inspired by the outdoors let me momentarily feel a return to my primitive, "baser instincts."
Dog Scarf: This seems like a toy to me. Even though mom seems to think it's some kind of outfit. It's adjustable though – so even if I grow another 5 pounds before Christmas – it will still fit!
Zuke's Mini Natural Trees (Turkey and Cranberry Recipe):At less than 3 calories per treat, Zuke's Mini Naturals are the perfect little size to fit every trainable moment that pops up!
N-Bone Puppy Teething Ring Pumpkin Flavor: Growing new teeth is tough work! Sore gums and a strong urge to chew are unavoidable during this time, and these teething rings are easy for floppy puppy paws to hold onto while providing a soothing and appropriate outlet for chewing.
Training Information: From dealing with holiday manners and leftovers handling, this guide is great so mom so she better knows how to handle me!
That's a lot of awesome goodies right?!
So here's how it works, you create a profile for your pup on PupBox.com – which allows for PupBox to cater each box to the growing needs of your furbaby. Each box is customized based on your puppy's age, development and physical characteristics. I only eat grain-free food and treats, and mom was able to define that with PupBox along with noting her name, birthdate, gender, coat type, target adult weight, and allergies and preferences.
Once you've got your furbaby's profile built out, you can pick a plan that best fits your budget. One month, 3 months, 6 months or annually – and of course the more months you sign up for in advance, the more money you save. You do pay for your full subscription upfront, so be aware of that – and it will renew automatically so you don't miss out on your monthly dose of great products for pup and great information for me. If you change your mind for whatever reason though, you can cancel at any time.
Want to check out PupBox? Use the coupon code FOZZIE for a 15% discount on any PupBox.com subscription.
Licks & Wags,

PupBox did provide us with a free box for this review, but no other compensation was exchanged. Everything mentioned above is Fozzie (and Emma's) honest opinion.
Recommend

0

recommendations
Published in FanBark