FanBark Unboxing: March 2018 PupBox Review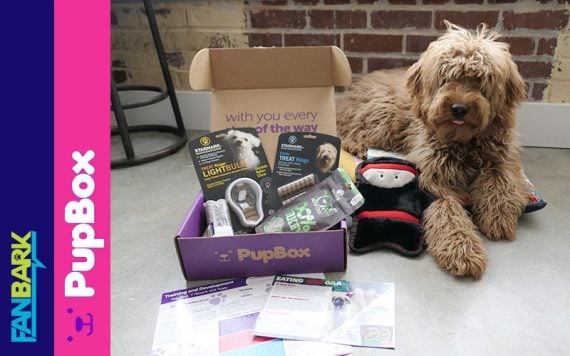 We've got a brand new FanBark unboxing for you! FanBark unboxings are done by our editor's pup, Fozzie! Enjoy her review and unboxing of the March 2018 PupBox!
Fozzie here, and I'm a 6-month old F1b goldendoodle who loves to play, eat, play, sleep, and did I mention play?! My mom, Emma, is the editor of FanBolt – and she created this section just for me so I could geek out along with her!
This box couldn't have arrived at a better time, as I'm literally destroying most of my puppy toys now – and my mom keeps taking them away from me, which means this PupBox was like Christmas morning for me! I got a little help from my mom and dad on this unboxing video – as they think I'm easily distracted… squirrel!!!!!!
March 2018 PupBox Review
Here's the full breakdown on what was included in the March 2018 PupBox!
7 Month Guide: Training insert that gives you helpful information on your pup's self control and keeping your pup engaged!
Starmark Treat Ringer Lightbulb: An extremely durable and interactive toy that will keep your pup mentally and physically engaged – it's a fun way for active chewers like me to satisfy their natural urges as they bite the treats and try to remove them one by one! I've already played with this one a fair amount since the unboxing and I really love it!
Starmark Edible Treat Rings: Replacement rings for my lightbulb toy! These are great as stand alone treats or to refill the ringer toy when I get all the treats off of it!
Zippy Paws Warriorz with Z-Stitch: This little guy can withstand some serious chewing – in fact I have a gingerbread man from Christmas from Zippy Paws and he's one of my few toys that is still in one piece with no holes! It has fortifying inner layers of durable fabrics which I haven't figured out how to get through just yet… but I'll keep trying!
Barkworthies Rabbit Sausage: These are all-natural dog chews that are made of high-quality free range rabbit – and they're delicious! You can cut this in half for smaller pups – or give it whole to your pup – they'll be entertained and happy! Mom is still holding on to the second one of these for me – and I'm literally always stalking the cabinet I know it's in!
CORE Freeze-Dried Treats: These 100% Meat Treats are a fun and convenient way to add raw protein to your pup's diet! They're made in the USA with only one single ingredient – Meat!
That's a lot of awesome goodies right?!
So here's how it works, you create a profile for your pup on PupBox.com – which allows for PupBox to cater each box to the growing needs of your furbaby. Each box is customized based on your puppy's age, development and physical characteristics. I only eat grain-free food and treats, and mom was able to define that with PupBox along with noting her name, birthdate, gender, coat type, target adult weight, and allergies and preferences.
Once you've got your furbaby's profile built out, you can pick a plan that best fits your budget. One month, 3 months, 6 months or annually – and of course the more months you sign up for in advance, the more money you save. You do pay for your full subscription upfront, so be aware of that – and it will renew automatically so you don't miss out on your monthly dose of great products for pup and great information for me. If you change your mind for whatever reason though, you can cancel at any time.
Want to check out PupBox? Use the coupon code FOZZIE for a 15% discount on any PupBox.com subscription.
Licks & Wags,

PupBox did provide us with a free box for this review, but no other compensation was exchanged. Everything mentioned above is Fozzie (and Emma's) honest opinion.