FanBark Unboxing: PupBox 11-Month Review Time!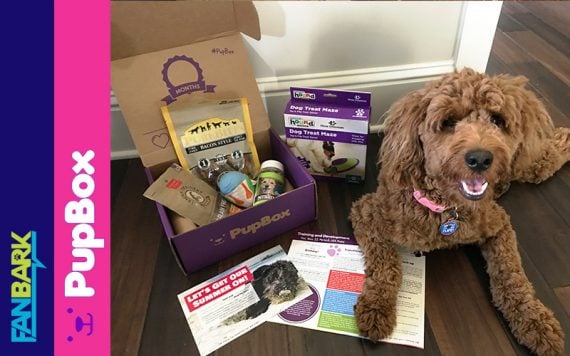 We've got a brand new FanBark unboxing for you! FanBark unboxings are done by our editor's pup, Fozzie! Enjoy her review and unboxing of her 11-month PupBox!
Fozzie here, and I'm a 11-month old F1b goldendoodle who loves to play, eat, play, sleep, and did I mention play?! My mom, Emma, is the editor of FanBolt – and she created this section just for me so I could geek out along with her!
This box couldn't have arrived at a better time, as I'm literally destroying most of my puppy toys now – and my mom keeps taking them away from me, which means this PupBox was like Christmas morning for me!
Here's the full breakdown on what was included in the 11-Month PupBox!
11-Month Old Puppy Training Guide: From what to expect with your pup's first yearly checkup to transitioning to adult food – this guide walks you through all the information you need to know as your furbaby gets closer to turning to 1!
PureBites Bacon Style Pork Jerky: This jerky only has 1 ingredient – 100% Pure USA Sourced Pork Cartilage with NO added Glycerin. It's the perfect treat for a happy and healthy puppy!
Outward Hound Treat Maze: Exercise your pup's mind with this treat maze! It keeps furbabies engaged and entertained and it's fun and easy to use. Just fill it with treats and kibble and shake it around to release the smell. just bob and flip it around to show your pup how to play!
Smiling Dog Kibble Seasoning: Do you have a pup that doesn't always eat when you put food down – but you need them to because you've gotta get to work? My mom has put canned real pumpkin on my food before to get me to eat quicker – and this seasoning does the same trick – in fact because I can't eat just the seasoning out (like I do with the pumpkin) – I actually end up eating more of my food! It's great for me to – with 100% US sourced real meat, fruits and veggies – you can spice up meal time!
Cloud Star Tricky Trainers: These treats are made with all natural ingredients, homestyle recipes and they're simply prepared. They're great for training your furbaby a few additional party tricks – because I'll do anything for these!
Chuckit! Duck Diver: Saving the best for last! This ball is great for fetch in the backyard and in the water! It floats tail up which makes it super easy to spot in the water!
That's a lot of awesome goodies right?! Especially this Duck Diver… it's life!
Here's a recap of how our unboxing went…
Can we put the treats in the treat maze now please?
Too busy to talk – must eat every piece of food covered in the Smiling Dog Kibble Seasoning!
And then proceed to find the container and try to steal it from mom…
Are you done taking a picture? I need to get in this bag please mom.
Let me help you open these!
I will literally do anything you want for the Duck Diver!
I'm a happy puppy. 🙂
Want more details on how you can get a PupBox!?
So here's how it works, you create a profile for your pup on PupBox.com – which allows for PupBox to cater each box to the growing needs of your furbaby. Each box is customized based on your puppy's age, development and physical characteristics. I only eat grain-free food and treats, and mom was able to define that with PupBox along with noting her name, birthdate, gender, coat type, target adult weight, and allergies and preferences.
Once you've got your furbaby's profile built out, you can pick a plan that best fits your budget. One month, 3 months, 6 months or annually – and of course the more months you sign up for in advance, the more money you save. You do pay for your full subscription upfront, so be aware of that – and it will renew automatically so you don't miss out on your monthly dose of great products for pup and great information for me. If you change your mind for whatever reason though, you can cancel at any time.
Want to check out PupBox? Use the coupon code FOZZIE for a 15% discount on any PupBox.com subscription.
Licks & Wags,

PupBox did provide us with a free box for this review, but no other compensation was exchanged. Everything mentioned above is Fozzie (and Emma's) honest opinion.
Recommend

0

recommendations
Published in FanBark, Featured