'Holden On' Review: The True Story of a Young Man Descending into Madness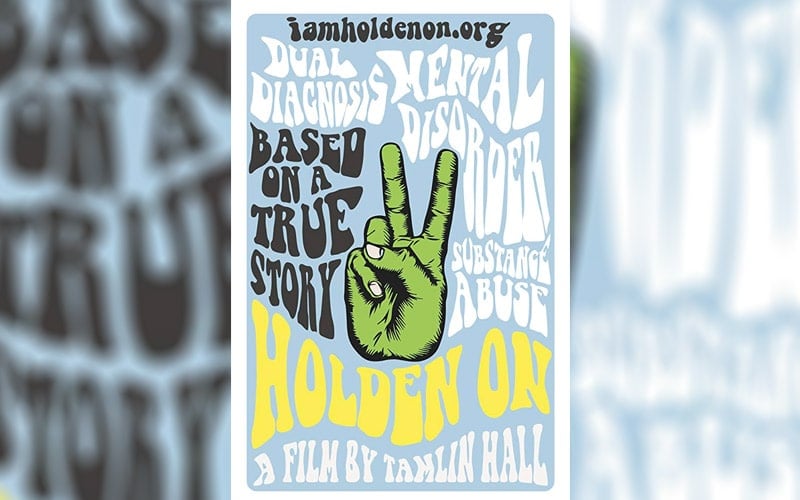 This review is from the 2018 Rome International Fim Festival.
From the outside, it would appear that high school student Holden Layfield (Matthew Fahey) has a perfect life. He gets excellent grades, plays on the football team, goes to church regularly, and is one of the most popular kids at school. He belongs to a beautiful family; a loving father, Bob (Greg Thompson) who takes an interest in his son, a caring mother, Brenda (Kelly Finley), who is so proud that her son has been accepted into multiple universities, and a sister, Heather (Carli Olson) who adores her younger brother. Holden has some close friends, including Zinte (Steve C. Ellis), a fellow football teammate who has known Holden since they were kids. Looks can be deceiving, and Holden has a secret that he has never told anyone, afraid that he will be judged. Holden has been hearing voices in his head since the eighth grade, and just recently began seeing the body behind those voices, a man in a bizarre suit that only Holden can see, a man who seems to want to do harm to Holden.
Right from the start, when we see Holden driving down a country road, and he says that he died at age 19, we know that we have a very different film from first-time feature writer/director Tamlin Hall. Based on a true story of Hall's best friend's suicide, we go on a journey exploring how in just two years, Holden went from a happy, functioning young man, to someone so tortured by his schizophrenia that he takes his life.
It is obvious that this subject is near and dear to Hall, and he shows us a supportive family, who tries everything from letting things go to tough love to try to save their son. Unfortunately, the more they try, the worse it seems to get for Holden and for his family. At a prom that Holden doesn't want to attend, he meets a fellow student who deals drugs. Holden is at first reluctant to try pot but is soon so consumed with his drug usage that he is stealing from his family. Hall lets us see Holden, warts and all, but there is still love and respect for Holden and what he is going through, trying to mute out the voices in his head.
Hall and cinematographer Adrian M. Pruett perfectly capture the look of a tiny Georgia town in the mid-90s. Small towns can be great because everyone knows each other and therefore, a support system is in place to help when someone is in need. The problem for Holden is the stigma of mental illness, how people don't understand the disease. In a heartbreaking scene, we see Holden's dad, Bob, moving down the aisle, slowly approaching a group of faceless church members, who out of Bob's hearing, are talking about Holden and how embarrassing it is to have someone in their community acting the way that Holden is. Bob gets into earshot and realizes that the group is talking about his troubled son and soon walks away.
Hall has a way with dialogue, making the conversations seem real, especially between the teens in the film. Hall also handles the difficult task of keeping Holden a sympathetic character when Holden becomes deeply involved in drugs and starts shunning his true friends, instead, hanging out with other troubled teens who like to drink and get high.
Matthew Fahey, as Holden, is the center of this film, and Fahey does an impressive performance of the troubled Holden, who believes that God has personally picked him to be a prophet. Fahey brings both the humanity and the madness of Holden to the screen. His portrayal of Holden is of a young man, who knows something is wrong but can't keep the madness tucked away, is impressive. It's a masterful and robust performance that makes 'Holden On' work so well. I also enjoyed the supporting cast, especially Kelly Finley and Greg Thompson as Holden's parents who try everything they can to help their son. Playing two of Holden's friends, Jennica Hill as Kami and Steve C Ellis as Zinte, who stand by Holden when the rest of the student body avoids him, are fun to watch and do a great job coming of genuine.
It is incredible that this film was ever made as Tamlin Hall had first to get the permission of Holden's family to make the movie and then the film was produced with money that was crowdfunded, along with various grants, some which arrived at the last minute. "Holden On' is a remarkable film that tries to show just how difficult it is to deal with mental illness, even if you have the greatest support system. The showing of the film at the 2018 Rome International Film Festival is the last festival screening, where it won numerous awards, including the Audience Award at the 2017 Atlanta Film Festival. Tamlin Hall has made a film that while heartbreaking, also gives some hope that the more we are aware of mental illness and bring it out into the open, the more people will problems will seek help.
My Rating: Full Price
My rating system from best to worst:
1). I Would Pay to See it Again
2). Full Price
3). Bargain Matinee
4). Cable
5). You Would Have to Pay Me to See it Again
An organization called I Am Holden On has been founded to bring about art, education and humanities initiatives to help youth discuss mental health and prevent suicide. For more information go to www.iamholdenon.org
For more information about the Rome International Film Festival, go to www.riffga.com.
Recommend

0

recommendations
Published in Featured, Movie Reviews, Movies