'Riverdale' Returns with Shocking Twists, Broken Relationships, and a New Sheriff in Town
When Riverdale made its midseason return to the CW, fans were struck with a slew of emotions. Hiram Lodge's new rules on the town had caused a stir, and not in a good way. That mixed with the rescued kids from the evil 'Sisters' and Archie deep within the woods of Canada proved that nothing was as it seemed.
We've been massive fans of the series since the first episode, and with the existing twists and turns, we thought we'd be prepared for almost anything this series had to offer. That notion was tested, however, with the first two episodes of the second half of this season.
We're sure you've seen them by now, so we won't do full recaps, those will start up next week. Instead, we're going to focus on 7 of the most surprising moments of Chapter Forty-Four and Chapter Forty-Five.
Archie Andrews is dead (or is he)
When Chapter Forty-Four aired, those final scenes got us right where it hurts. Of course, we hoped that one of our favorite series' wouldn't take another favorite character so quickly (rip Joaquin), but part of us thought they just might be that cruel.
When Archie was seen, all but dead, lying in that remote cabin, our pulses raced. We didn't like seeing a 'dead' Archie and we certainly never want to see that again. We had an entire week of wondering if the powers that be behind CW's Riverdale would really break our hearts like that.
Luckily, we learned in Chapter Forty-Five that they weren't really that cruel, Archie Andrews is dead, but it's more his persona that had to be killed.
So we've still got Archie, but he certainly is a different character…who knows how that will turn out.
Joaquin's death wasn't a joke
We're still not over it, we're never going to get over it either. Joaquin was a bad boy gift to Riverdale and we'll never forget that blank stare, blue-lipped, dead version of him because of Warden Norton. There was a small part of us that hoped he was still alive, somehow, but that wish has been all but burned to the ground.
Someone shot Hiram Lodge
This wasn't really surprising at all, especially since someone should have done it ages ago, but we're left with the who and the why questions now.
With Hiram shot in the chest, will he survive (probably, because he's pure evil and that's hard to kill), and if so…what will his next plan of revenge be?
More than that, who will he believe tried to kill him? That's one that we're really concerned with. He's got bad blood with so many people in Riverdale, including his own family, who will he blame for this one, and what will he try to do to them next?
Veggie doesn't just stand for vegetable anymore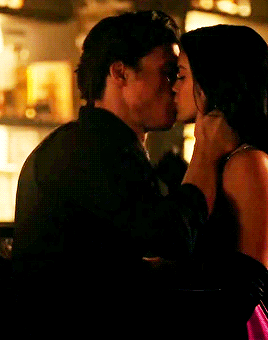 Veronica and Reggie caught feelings for one another in the midst of Archie's absence, which is a thing we all saw coming, but it went a little deeper than we originally expected. They seem to have quite a bit in common, their personalities feed off of one another, and they just have this chemistry between them.
However, they called it off when Archie got back at the beginning of Chapter Forty-Five. Not long after, Archie and Veronica called it quits (more on that in a moment) and it seems like Veggie was back on.
Varchie is no more
We know, we know…their relationship wasn't exactly on the safe side of healthy or anything, but we're sort of going to miss Varchie. Veronica and Archie could be quite toxic, and when they reunited it was usually purely physical, but underneath it all, they did have a real love for one another.
It's entirely obvious that they still do, it just can't be a healthy relationship between them, at least not right now.
Will this lead to some tension between Veggie, who seems to be back on?
The Gargoyle King has been revealed (or has he)
So…we finally know who the gargoyle king is…or do we? It seems that the man formerly known as Tall Boy has been the masked killer all along, but some things just don't make sense. It also doesn't really make sense that the big reveal would be that tall boy was in charge of that dark persona all along.
The only way we see that fully making sense is if the Gargoyle King is someone different for different situations.
While Tall Boy is aware of some of the evil done by the gargoyle king, so are many of the others in Riverdale, so it wouldn't be a stretch that he'd be taking on the weight of this type of evil for a price.
Especially the type of price Hiram Lodge could pay.
We're convinced we'll see the true gargoyle king again soon.
FP Jones is the new sheriff in town
Look…we've been suckers for Skeet Ulrich since Scream, so when we found out he was Jughead's dad in Riverdale? We've never quite 'stanned' a hot dad so quickly.
Can you blame us? Skeet is insanely handsome. Maybe it's the villain bad guy thing, maybe it's the smolder that he's absolutely perfected, maybe it's the leather jacket, maybe it's that half smile thing he does (you know the one) or maybe it's all of that and then some. Actually, it is…it's all of that and then some.
The hot dad thing went above and beyond in this week's episode, however, when he took on the role as sheriff.
Now, we're not condoning crime or anything but we'd wreak havoc on Riverdale if it meant FP would show up.
That wink..though.
We're anxiously anticipating next week's episode already, and we're hoping to find a bit more clarity on a few things, specifically, who finally stepped up to attempt to take Hiram Lodge out, for good.
Recommend

0

recommendations
Published in TV, TV News