'Captain Marvel' Review: A Freaking Awesome Movie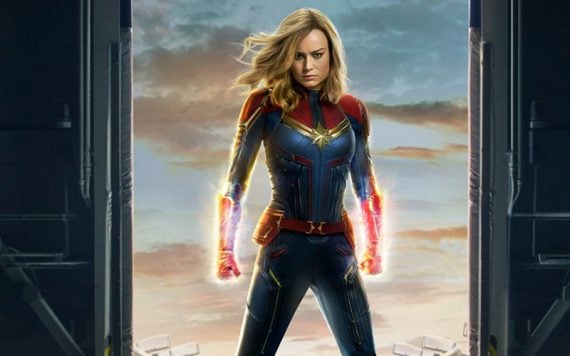 Going into the press screening for Captain Marvel, I had very high expectations. This film had a lot of hype around it. Did it deliver? For me, 100% yes.
Captain Marvel delivers an empowering origin story that does take a while to get off the ground – but the slow build up is so worth it. Set in the 1990s, this film tells the story of Carol Danvers (Brie Larson) and her quest for answers as she starts to remember her past and ultimately become one the universe's most powerful superheroes. This story weaves in and out of a galactic war that is happening concurrently between two alien races. The war reaches Earth, and Danvers finds herself along with a group of alien allies at the center of it.
The Marvel humor we've all come to know and love is present – yet feels fresh and relatable coming from Larson. She delivers a strong dose of girl power alongside strong support from Samuel L. Jackson as the effortlessly cool Nick Fury. The pair had a wonderful on-screen chemistry between their characters which was one of the many reasons I enjoyed this film as much as I did.
This era is a previously untapped period by the Marvel Cinematic Universe, and it provides a rich landscape of 90s throwbacks. The age of beepers, dialup, pay phones, grunge, and Blockbuster is enough to make any child of the decade smile. And while the plot could be stronger, it's a solid superhero origin film that starts to soar as soon as Danvers starts to embrace who she is.
There's no shortage of negative reviews out for Captain Marvel now that embargo has lifted, and honestly, I don't understand it. Let me be clear, I'm not looking to make a gender thing out of this or get into an argument about gatekeeping – but it's odd to me that most of these negative reviews are coming from mostly guys. Yes, this film does center around a female and has a distinctly different feel than other Marvel films, but not at all in a bad way. It's well-written, beautifully acted, clever, has a strong female lead, a killer soundtrack, the cutest Flerken, and cosplay goals for days. Not to mention, as a kid born in the '80s that grew up in the '90s – there's so much awesome nostalgia here that it's ridiculous. So seriously, what gives with the bad reviews? It's an awesome and fun movie! Sure, it has room for improvement, it does have a slow start – but the journey of Danvers finding out who she was – and owning it – wasn't a boring one to me. At the end of the day, Captain Marvel is a fantastic film that delivers a strong, witty, female superhero role model for the kids – and does a pretty solid job at entertaining the adults.
I left the theater with a two-word review for the studio. "Freaking Awesome". Because it was a freaking awesome movie that made me proud to be a geek girl. It's an A from me; it was everything I wanted and more.
Captain Marvel Review:
Grade: A
Love the film as much as me and want to win a promotional shirt from the film? Head over to my Instagram post here and leave a comment to be entered to win!