'Mapplethorpe' Review: An Uneven Look at the Life of the Controversial Photographer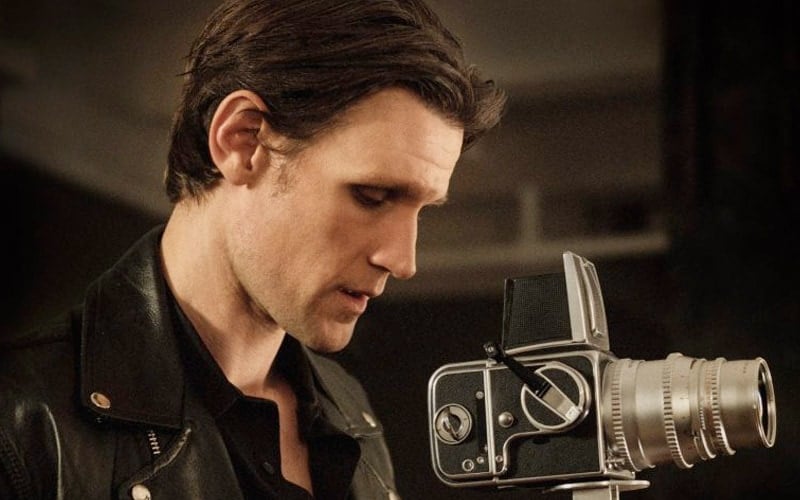 Mapplethorpe provides a look into the life of controversial photographer Robert Mapplethorpe (played by Matt Smith). From his rise in the 1970s art world to his untimely death in 1989, Mapplethorpe was an artist who specialized in large format, highly stylized B&W photographs. he captured all types of photos, from celebrity portraits, nudes, and pictures of flowers, but he is best known for his pictures of the BDSM world in New York City. Some of his pictures were so controversial that some galleries refused to show his work, as they were scared of public opinion and possible loss of funding.
A Look At The First Scenes of Mapplethorpe

The film begins with an opening credits montage of home movie clips of New York City in the 1960s, intermingled with photographs of Robert through the years – the final image showing Robert in full military garb. Cut to Brooklyn, at the Pratt Institute in 1969, where Robert stands in his uniform, staring out a window. He lights up a cigarette and looks at himself in the mirror. There's a harsh banging on the door and a voice telling Robert that he'll be late. There is a deliberate pause. Robert puts on a rock and roll record, starts drawing, fiddles with his lighter and unceremoniously collapses on his bed. Next, Robert with coat and hat off, packing his clothes and his pictures into a duffle bag. He leaves the room and we cut to more home movie clips showing the streets of New York. Robert reappears in a phone booth out on the street inquiring about if there is any work available. He hangs up and looks at the want ads in the paper.

We cut to a hotel desk where Robert puts down 60 cents in front of the clerk. He tries to bargain unsuccessfully to use a room for just a couple of hours, and he ends up wandering the streets homeless, ending up in a park. As he sits atop of a park bench, a young woman (Marianne Rendon) dressed in all black with short, scruffy hair comes up to him and says, "I need your help.'

The woman jumps up on the park bench, and whispers 'Im Patti, pretend you are my boyfriend.'

An older man walks up, seemingly perturbed, and Patti says, 'Thanks for everything, I found my boyfriend'.

Patti pulls Robert down off the bench and they leave arm in arm.

We cut to Robert and Patti walking in Central Park as Robert compliments her about a poem she wrote. As they walk, they begin asking questions about each other. Patti asks Robert if he is gay (he says he's not), and then she explains she is homeless too – maybe they can shack up together.

We cut to a small, dingy room where Robert and Patti are sitting on the floor as Patti looks at Robert's artwork. They flirt, and it is obvious that there is an attraction. Robert invites her to stay in the apartment. We flash forward to a later time, where Robert and Patti are dancing to music. They kiss and head to bed – where we see Robert plead with Patti to never leave him. This is the partnership that will give Robert the needed push to become a successful artist.
Mapplethorpe is film directed by Ondi Timoner and co-written by Timoner and Brian Stokes Mitchell that follows the rise of Robert Mapplethorpe from those early years with Patti Smith to the height of his fame in the 80s – before he died of AIDS in 1989.
I loved the first third of this film. Mapplethorpe didn't have much success with his drawings, and they mostly lived in flophouses by making jewelry and the odd jobs that Patti took. A chance meeting with an art patron (Tina Benko) results in Robert being given a Polaroid camera. From that point forward, Robert gave up drawing and began taking pictures of just about everything.
There is an energy to the first third of the film that the rest of the picture sorely lacks. Most of the energy, which is almost magical, is supplied by the chemistry between Matt Smith and Marianne Rendon. In the late 70s, I saw Patti Smith in concert and Rendon has her personality and energy down to a T. Unfortunately, Smith and Mapplethorpe broke up over a series of affairs that Mapplethorpe had in the 70s, and once Rendon leaves the film (she reappears for a quick scene near the end of the film) the movie goes downhill fast.
Matt Smith is brilliant in this role of a talented but selfish and arrogant Mapplethorpe. He commits to the character and brings the tortured soul of Robert to life. It's an impressive performance and your eyes are always drawn to him when he is on the screen. Unfortunately, Smith is let down by a script that never gives insight into why Mapplethorpe saw the world in such a different way. Smith is a talented actor, but he just can't overcome the blandness that is the storyline. Not to mention, there is almost no chemistry with Smith and Brandon Sklenar, who plays Robert's brother and assistant. Their scenes together never really jell.
Mapplethorpe was an incredibly talented photographer, and we get to see many of his iconic pictures but be warned, a great deal of them are nudes and/or the photos of the BDSM world, and because Robert loved to take pictures of naked men and women, there is quite a bit of graphic nudity in the film.
Mapplethorpe does capture the look and feel of NYC in the 70s and 80s, but it never fully delves into why Robert did the things he did. The film ends up being a shallow look at a man who could be kind and creative but also could be a monster.
Mapplethorpe Review
My Rating: Cable
Mike's Movie Rating System from Best to Worst
I Would Pay to See it Again
Full Price
Bargain Matinee
Cable
You Would Have to Pay Me to See it Again
Recommend

0

recommendations
Published in Featured, Movie Reviews, Movies