The 2020 Toyota Supra Makes a Geek-Out Worthy Southeast Debut
Walking into the 2019 Atlanta International Auto Show, there's a car that caught everyone's attention from across the room, the 2020 Toyota Supra. As a result, it almost played out in slow motion as car enthusiasts made their way to Toyota's section of the Auto Show. Everyone's eyes fixed on one car, the Supra.
If you're not familiar with the Toyota Supra, it's the fifth generation of the model. And it took center stage this weekend in Atlanta. After making its world debut at the North American International Auto Show in Detriot in January, the 2020 GR Supra marks Toyota's fasted production vehicle to date. It boasts an acceleration of 0-60mph in 4.1 seconds, made possible by a turbocharged inline six-cylinder engine.
When will the 2020 Toyota Supra be available? Summer 2019! And it will be offered in two grades: 3.0 and 3.0 Premium, as well as a Launch Edition which will be based on the 3.0 Premium grade. With a low center of gravity and optimal weight balance, the Supra honors Toyota's sports car heritage. It'll spark memories among auto enthusiasts of its 1990s predecessor – while creating a whole new generation of fans.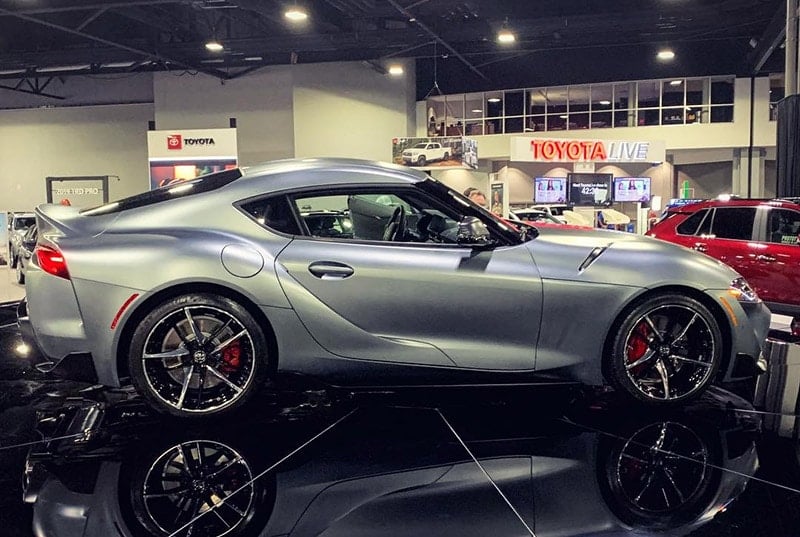 The 2020 Toyota Supra be available in both Normal and Sport driving modes. Therefore, it's perfect for any type of adventure you want to throw at it. But let's talk about the Sports mode for a moment. It will offer a sharpened throttle response, increased steering weight and improved crispness of transmission shift. You don't have to be a race car driver to have the exhilarating experience of a sports car. It's an easy way to be an extra pep in your step and turn driving into a little self-care time.
2020 Toyota Supra Features
The 2020 Supra offers a number of features including:
Keyless Smart Entry
Dual automatic climate control
Auto-dimming rearview mirrors
Rear camera
Rain sensor windshield wipers
Garage door opener
Power folding mirrors
Leather-wrapped steering wheel.
Standard active safety features include:
Forward collision warning
Automatic emergency braking with pedestrian detection
Lane departure warning with steering assist
Automatic high beam
Road sign assist.
In addition to all the above features, the new-generation Supra will also deliver a state-of-the-art multimedia and connectivity experience.
The 2020 Toyota Supra was joined by the 2020 Corolla, 2019 RAV4, and a number of other models at this year's Atlanta International Auto Show. And on an editor's note, I slightly geeked out over the 2019 Toyota RAV4 Hybrid (see below) which I plan on being my next car purchase here in just a few months.
Stay tuned for more Toyota coverage!
Recommend

0

recommendations
Published in Featured, Technology