Our Favorite 'Game of Thrones' Fan Reactions to the Epic Battle of Winterfell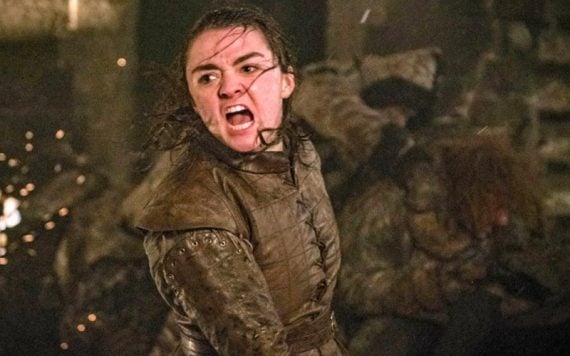 Last night's episode of Game of Thrones was jaw-dropping! The episode played out beautifully – even though it was extremely stressful. And the ending couldn't have been more satisfying for us diehard fans, and for me personally, The Battle of Winterfell, more than lived up to the hype.
Curious what the overall fan reaction was to the most shocking moment of the episode? See below!
Game Of Thrones Fan Reactions
Lyanna Mormont Killing that Giant
Unfortunately, Lyanna was a goner, but she went out in a pretty epic way – killing a giant ten times her size.
Lyanna Mormont, The Giant Slayer #GameofThrones #TheLongNight pic.twitter.com/yfEHWYq1pG

— Game of Thrones Facts (@thronesfacts) April 29, 2019
LYANNA MORMONT LADIES AND GENTS #gameofthrones #battleofwinterfell pic.twitter.com/f5NYbAqCCj

— lil pelle? (@lilpellegrino) April 29, 2019
When I heard the crushing of lyanna mormont bones?#GameOfThornes #GOT pic.twitter.com/j9bZFYzNzt

— Anonymous (@Sileo_ksa) April 29, 2019
Lady Lyanna Mormont is, and will always be, my Hero. Valar Morghulis pic.twitter.com/739oOgNJUj

— roger bennett (@rogbennett) April 29, 2019
Theon becoming "a good man"
Finally, the redemption we've been waiting for from Theon Greyjoy. Theon came full circle in his last moments protecting Bran. Most fans can agree that he turned out to be a good man, and his death devastated a lot of us fans. If only he could've waited for Arya to arrive…
this is all theon wanted to hear from bran, to know that he has gained respect before he died, after everything they've been through HE DIDN'T DESERVE TO DIE #GameofThrones pic.twitter.com/Hc5q6P83kG

— osha (@oshawildling) April 29, 2019
#Theon of House Greyjoy and House Stark

'What is dead may never die'#GameofThrones #BattleOfWinterfell pic.twitter.com/W0EdpVOCew

— Game of Thrones Facts (@thronesfacts) April 29, 2019
The name is Theon Greyjoy
His redemption arc is over.
What is dead may never die#BattleOfWinterfell #Gameofthrones pic.twitter.com/HTveiOvEsZ

— lil bich (@dipitidipiti) April 29, 2019
https://twitter.com/catharted/status/1122694066532122624
Jorah dies protecting Daenerys
Jorah proved his loyalty to his Khaleesi. As a result, he fulfilled his ultimate promise to protect and die for Daenerys. It was heartbreaking!
https://twitter.com/Jeyish_b7/status/1122751811431964672
I was already an emotional wreck seeing Jorah die in Daenerys arms but seeing Drogon there protecting and mourning with her made me even more emotional. RIPJorah! #GameOfThrones #DemThrones pic.twitter.com/X9jz1vV5cZ

— TV Fanatic?⚜️ (@Khaleesi_Hodan) April 29, 2019
Arya slaying the Night King
Without a doubt, Arya killing the Night King is the best moment in Game of Thrones history. While watching that scene, you go from terror to victory in two seconds. And it's freaking glorious.
All hail Arya of House Stark, First of Her Name, Queen of the Andals and the First Men, Azor Ahai, Changer of Faces, Wielder of Needle, Killer of House Frey, Slayer of Night King, Hero of Mankind, Savior of the North, and Protector of the Realm. #NotToday pic.twitter.com/yQYUsYkv27

— S²³ (@SaraBsm_) April 29, 2019
Arya killing the Night King ?? #GameofThrones pic.twitter.com/QtE5BUMFJU

— GoT Things (@GoTthings_) April 29, 2019
https://twitter.com/Emiliaofstark/status/1122905109350846469
Every Game of Thrones fan when Arya took out the Night King #GameOfThrones pic.twitter.com/nPQlvXDs76

— très belle??♥?? (@preciosaxd) April 29, 2019
Of course, there were many more incredible moments of the episode like Tyrion and Sansa in the Crypts or Melisandre walking to her death.
Now, all we can do is wait for the next episode of Game of Thrones which comes out this Sunday, May 5, 2019. You can watch the trailer below, and we'd love to hear thoughts and theories on what's to come – and what gave you the biggest reaction from last night's Battle of Winterfell. Check out our comment section below!
Recommend

0

recommendations
Published in Featured, TV, TV News