A Look at the Car from 'Stuber' – The 2019 Nissan Leaf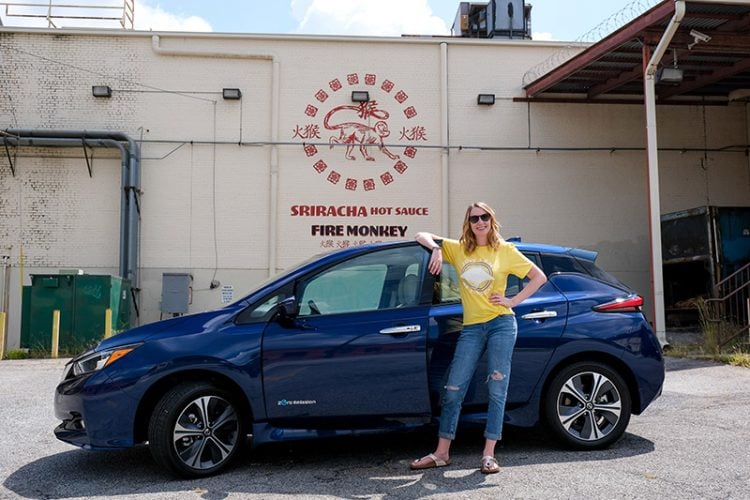 It was earlier this year when I got my first peek at the 2019 Nissan LEAF at CES, and I've been anxious to drive it ever since. They actually had it powering a coffee bar to showcase the rather impressive new battery power – which is enough to have a range of 226 miles (S PLUS only)! That's more than enough to ease the concerns of consumers who need a little bit longer range between charging.
So what should you know about the 2019 Nissan LEAF? It's the world's best-selling electric vehicle for a reason. It offers an incredibly smooth, quiet and comfortable ride – and it's making a huge impact on the world's shift towards more sustainable mobility. If you tally up the number of LEAFs sold since 2010, it is enough to save 3.8 million barrels of oil a year! That alone is worth celebrating, but that's not why yours truly had the pleasure of checking this vehicle out.
The 2019 Nissan LEAF also had a starring role in this year's Stuber, which happened to film not far from me here in Atlanta. In fact, several of the film's sets are still intact, including the Sriracha factory sign.
While I decided it best not to reenact the scene that took place here… as I value and appreciate my relationship with Nissan. I did decide it would make the perfect backdrop for some images and for having the conversation around the star that is the car from Stuber! Check it out in the trailer below.
My experience in the LEAF was a bit tamer than Kumail Nanjiani and Dave Bautista, but I was still rather surprised by the get-up-and-go acceleration of this electric vehicle. With a 160 kW motor, you're looking at 214 horsepower, which is an increase of 45% and 250 lb-ft of torque!
While the power of the car is pretty impressive, that's not the focus of what I really geek out over – which is the in-car technology. This was the first vehicle I've gotten to play around with an Around View Monitor, which gives you a 360-degree view of your car and your surroundings from a bird's eye view.
Around View Monitor
At first, this feature seems like magic, but it's actually just some pretty cool technology. The monitor processes video from four cameras and displays the composite footage on the screen as if it's a single view right above the vehicle. The end result? Feeling confident that you're not about to hit that parking deck column or the parking curb in front of you as you're trying to best judge the distance. It's my new favorite car feature.
Now, this feature isn't exclusive to Nissan or that new, it was just new to me so I spent a good while geeking out over it. But what wow'ed me, even more, was Nissan Intelligent Mobility.
Nissan Intelligent Mobility is giving you a more connected, confident, and exciting ride with a great degree of awareness. So what does that mean for the 2019 Nissan LEAF? A number of things…. and here are favorite:
Instant Torque
Since the motor is 100% electric, you're feeling a 100% instant torque when you accelerate. It's quiet and has no gas or tailpipe emissions. It's good for the environment and if you like the rush, good for your soul.
E-Pedal
I'll admit that this feature initially intimidated me. Again, I didn't want to mess up the car, and I've actually never driven a golf cart – which this feature is very similar to. You're literally driving the car with just one pedal. You press down to go, and you ease off to slow down. And the brake pedal is of course still there for your peace of mind should you need to break on demand. It was a pretty cool and different way to drive – which was a lot more fun than I anticipated!
ProPILOT Assist
ProPILOT Assist is exactly what it sounds like – having a pro assist you with piloting your car. It helps keep you centered in your lane through the straightaways, and even through gentle curves. It also lets you set a distance from the car in front of you during traffic, so that you can maintain that distance – even if the car ahead of you comes to a complete stop and then starts back up again. It's just a little bit of backup to help in those more stressful driving situations (aka Atlantic traffic).
Overall, my favorite things about the 2019 Nissan LEAF wasn't just the lack of having to worry about gas, it was also the comfort. The Nissan LEAF PLUS has the feeling of a luxury car without the price tag. It has a beautiful interior in addition to all the cool tech and safety features.
I only had 6 days with the 2019 Nissan LEAF before I had to turn it back in, but it was a fun 6 days! Have you driven a LEAF before? Have you gone electric? What was the deciding factor in you making the switch to more sustainable mobility? I'd love to hear your thoughts in the comment section below!
And if you've not seen Stuber yet, be sure to catch in theater or when it hits streaming! It's a good buddy-cop feeling summer flick!
Disclaimer: Nissan did provide a Nissan LEAF 2019 for this review – but all opinions stated above are my own.