Here's to Romance and Our Favorite 'Riverdale' Couples
It's Riverdale night – and we're ready to talk about our favorite Riverdale couples!
You know that whole, 'On Wednesdays, we wear pink' thing from Mean Girls? Well, we've added an addendum to that. On Wednesdays, we watch Riverdale – yes, often while wearing pink. Wednesdays are sacred days in the pop culture realm, so it comes as no surprise that that's when one of our favorite series' airs.
There's something about Riverdale that's almost addicting. Like reading your favorite book, you want to take it all in but you find yourself rushing to turn the next page. With a series like Riverdale, that leaves you hanging at the end of each episode with twists and turns in the previews for the rest of the season – you sort of want to slow it down and speed time up all at once.
So in honor of Riverdale, Mean Girls, Wednesdays, and romance because Valentine's Day is right around the corner, we decided to highlight a few of our favorite Riverdale couples.
Our Favorite Riverdale Couples
FP & Alice
We had to start the list with our topic pick for Riverdale couples – FP and Alice. These two have the kind of relationship that begins with a spark, turns into a blazing fire, and settles into something with a comfortable light and warmth. We don't mean to wax-poetic, but their love story really is one of those that sort of catch you right in your feelings.
FP and Alice spent a lot of time apart, in fact…if you look at their lives separately, they didn't spend a large chunk of it together, but that doesn't mean that one forgot about the other. In FP's heart, there's a spot reserved for Alice, and vice versa. Even when the series started and the two weren't together, it was clear that they had unresolved feelings – fast forward a bit, and they're living together and making eyes at each other that make even OUR knees weak.
SO, if you need us, we'll be shipping Falice forever and waiting until we get more scenes between these two.
Toni & Cheryl
These two are the epitome of the relationship we wish we'd had in high school. Heck, they embody the type of relationship we'd still like, now. They support one another, they encourage one another, and the chemistry between them? It's hot. Toni lets her guard down with Cheryl and Cheryl isn't afraid to embrace all the things that make her…her when it comes to Toni.
Neither Toni or Cheryl have had the love they deserve, which may be why they give it so freely and abundantly to each other. They've known what it feels like to be alone, and once they found each other, they never wanted to feel that way again. It's not from a selfish place, though…it's rooted in a deep concern for the wellbeing of the other. It's supportive. It's warm. It's romantic.
They can't get enough of one another, emotionally or physically, and some of our favorite scenes of the series are between these two love birds. Long live their relationship (and their best-friendship IRL – they're THE cutest).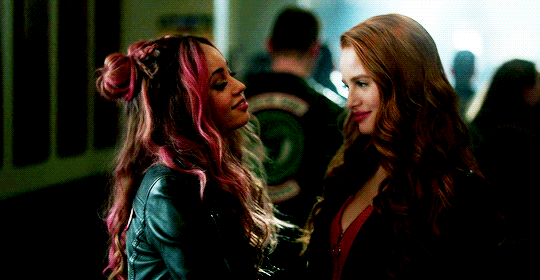 Jughead & Betty
We realized, halfway through this list, that part of the reason we love these Riverdale couples has to do with the bond between them in real life. While Bughead, Betty and Jughead, are endgame on the series – they're also dating IRL. The kind of chemistry that comes across on screen is based on these relationships off-screen, too.
The Betty & Jughead romance is the classic 'boy from the wrong side of town meets hometown princess' storyline. Of course, with a twist. Betty does fit the 'girl next door' role quite perfectly, but things aren't always as they seem. Remember Dark Betty?
The thing is, Jughead loves Betty in all of her forms, and she loves him in his, too. From joining the serpents and the struggle they went through during that time together – to that really dark and twisted episode with Archie and Veronica in the woods – they make it through the lows and really enjoy and take in the highs. Plus, we can't get enough of their scenes sharing shakes and conversation at Pops.
Archie & Veronica
Archie and Veronica are the couple we didn't know (or think) we needed until we got deeper into the series. Yes, they've had this really intense sexual chemistry from the beginning, but their emotional connection has really deepened as the seasons have progressed.
Veronica is a go-getter, and Archie is a bit of a tough guy with a heart of gold. Their personalities could totally clash, but they don't. Sometimes things get a little heated between the pair, but it usually ends in a steamy make-out session after a chat where they talk things out. For their differences, they've got some solid similarities too, and they really show a deep sense of compassion and love for each other. We really love their romance, and their friendship, and how their roads have led them back to one another.
Kevin & Joaquin
Okay…hear us out. Maybe Kevin and Joaquin didn't have the most solid foundation for a relationship…and maybe they weren't totally healthy in their endeavor together either, but we love them and count them as one of our favorite Riverdale couples. We miss Joaquin, and we have hope that maybe they could have turned their relationship into something special.
Alas, Joaquin met an untimely death on Riverdale and Kevin has moved on. While we're happy for him, we can't help but wonder what could have been. Joaquin could have really impacted from a love like Kevin's, and Kevin could have learned a lot from Joaquin, they could have been power couple status by now.
Our hope for Kevin now is that his heart will be loved and appreciated to the full extent. He's got so much to give someone…so much love and patience…we just want him to get all of that back and then some.
All we have are memories of these two, and we guess that'll have to do.
Who are your favorite Riverdale couples? Did we mention them here? Fear not, if we didn't, there will be more content like this in the future. Don't forget to tune into Riverdale on Wednesday nights on The CW.