Beetlejuice The Musical: Interview with Composer and Lyricist Eddie Perfect + Contest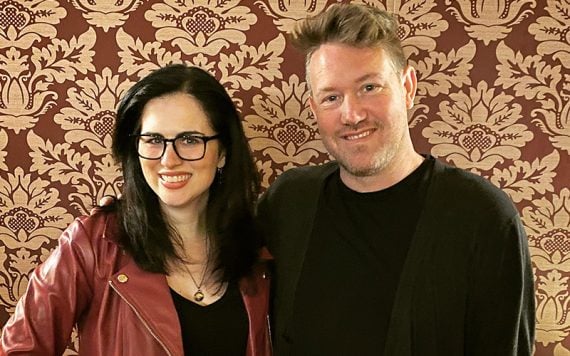 "I'll be your guide, to the other side…oh and full disclosure this is a show about death. "
What up everyone. Bevin here. And today I'm chatting with Eddie Perfect, the composer, and lyricist for Beetlejuice the musical. He's an Aussie who is still a relative newcomer to Broadway and the US for that matter. Yet, he's somehow managed to compose not one but TWO Broadway shows already – Beetlejuice and King Kong; Not too shabby, am I right? I had the opportunity to chat with Eddie at the Winter Garden Theatre about the new Broadway Cast Recording and their trendy special edition vinyl.
Ghostlight Records and Warner Records are behind the Beetlejuice vinyl which has a two-LP picture disc set. This version includes a full-color packaging with complete lyrics and synopsis, in addition to liner notes by Jerry Portwood, Digital Editorial Director of Rolling Stone. The album is also currently available on CD and through all streaming partners.
Beetlejuice was also nominated for eight 2019 Tony Awards, including "Best Musical," "Best Original Score," and "Best Book of a Musical." The album is produced by Matt Stine, Alex Timbers, Eddie Perfect, and Kurt Deutsch.
The Beetlejuice vinyl edition builds upon the outstanding success of the album, which became the top streaming Broadway cast recording of the 2018-2019 season, after hitting 100 million streams. The incredible growth is a result of user-generated content on TikTok, where songs from the album have been used in over one million videos. Go figure. TikTok is relevant. (I'm failing as a millennial with that one).
When Beetlejuice opened on Broadway, it was hailed as "an irreverent, funny roller-coaster ride to hell and back" by Newsweek, "a big, fantastical funhouse of Burtonesque magic" by People, and "a bold, shameless, nutty, brassy, rollicking piece of fun" by The Daily Beast.
The Beetlejuice cast album stars two-time Tony Award nominee Alex Brightman (School of Rock) in the title role, Sophia Anne Caruso (Lazarus) as Lydia, Tony Award nominee Kerry Butler (Mean Girls) as Barbara, Tony Award nominee Rob McClure (Honeymoon In Vegas) as Adam, Obie Award winner Adam Dannheisser (Rock of Ages) as Charles, and three-time Drama Desk Award nominee Leslie Kritzer (The Robber Bridegroom) as Delia.
Beetlejuice is based on the 1988 motion picture presented by Warner Bros. and directed by Tim Burton. The smash-hit comedy starred Michael Keaton, Alec Baldwin, Geena Davis, Jeffrey Jones, Catherine O'Hara, and Winona Ryder. Remember that film? Full disclosure, I have never seen the original film all the way through, so when I watched the Broadway show, I had no preconceived notions. So this version became my Beetlejuice. Eddie, feel honored man, FEEL honored. But what am I still typing for? Click the video to watch Eddie and I discuss his career, Beetlejuice, King Kong, the vinyl, the CD AND the FanBolt give away!
That's right, FanBolt was gifted with a copy of the special edition vinyl and Broadway cast recording CD with Eddie's signature attached to it. Want one? Here's what you have to do:
Retweet this tweet
Leave a comment below letting us know why you really want to win!
Good luck!
Video Edited by: Hallel Mujingila Diakalenga
Produced by: Starbaby Enterprises