'The Rings of Power' Season 2: Release Date Speculation, News, Cast, and More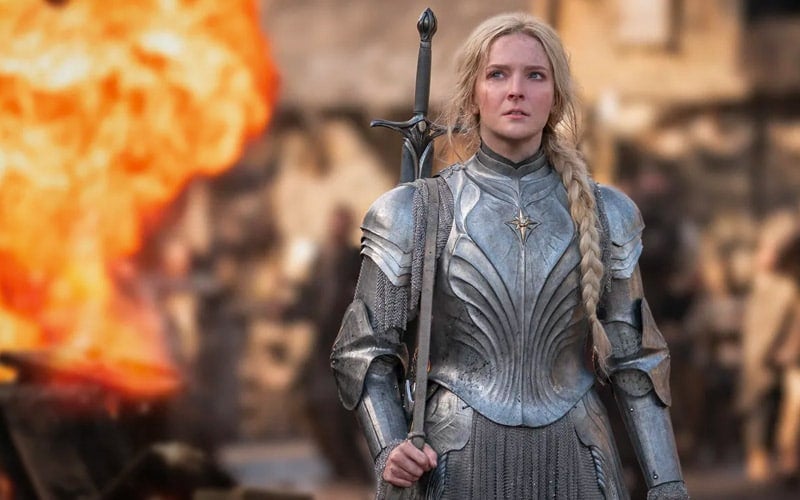 Following the success of the first season of Lord of the Rings: The Rings of Power, the show is gearing up for its second season. As fans of the world of the Lord of the Rings are waiting in anticipation, here's what we know about The Rings of Power Season 2.
Watch out, there might be some spoilers from the first season if you've yet to watch the series.
Which Characters Are Returning for The Rings of Power Season 2?
Following the events of Season 1, viewers may already know who is or isn't coming back for the second season. It seems obvious that Charlie Vickers will be returning to reprise his role as Lord Halbrand, known to everyone as Sauron himself. Morfydd Clark is also expected to return as Galadriel, as well as Daniel Weyman as the Stranger.
Maxim Baldry and Lloyd Owens are also likely to return for Season 2 as Isildur and Lord Elendil. Having been introduced in the Lord of the Rings movies, their characters play a major part in the entire story.
Other characters that are expected to return for Season 2 include Robert Aramayo as Elrond, Ismael Cruz Cordova as Arondir, Charles Edwards as Lord Celebrimbor, and Benjamin Walker as the elven High King Gil-galad. Owain Arthur, Sophia Nomvete, and Peter Mullan are also expected to return for Season 2. The dwarves Prince Durin, Princess Disa, and King Durin III are as well.
Nazanin Boniadi, Tyroe Muhafidin, and Geoff Morrell will likely return to the show as Southlanders Bronwyn, Theo, and Waldreg. Cynthia Addai-Robinson, Ema Horvath, Trystan Gravelle, and Alex Tarrant are also expected to return as Numenor's Queen Regent Miriel, Earien, Pharazon, and Valandil.
When it comes to the Harfoots, it remains to be seen what happens to them in Season 2. With Sadoc Burrows getting killed in Season 1, it's safe to say Lenny Henry will not be returning for the second season.
However, those who are expected to return include Dylan Smith as Largo Brandyfoot, Sara Zwangobani as Marigold Brandyfoot, Beau Cassidy as Dilly Brandyfoot, Megan Richards as Poppy Proudfellow, and Thusitha Jayasundera as Malva.
The Rings of Power Season 2 New Cast Members
Aside from those who are returning, the Hollywood Reporter announced that there would also be new faces joining the upcoming season. This also includes the introduction of a new character on Middle Earth, one of the oldest elves, Cirdan will be coming. No announcement yet on who will be portraying Cirdan.
Ciaran Hinds, Rory Kinnear, and Tanya Moodie were announced to join the cast of the Rings of Power Season 2 back in March. But as for which characters they'll portray, it has not been announced. Other new cast members include Gabriel Akuwudike, Yasen Zates Atour, Ben Daniels, Amelia Kenworthy, Nia Towle, Nicholas Woodeson, Oliver Alvin-Wilson, Stuart Bowman, Gavi Singh Chera, William Chubb, Kevin Eldon, Will Keen, Selina Lo, and Calam Lynch.
Charlotte Brandstrom will also be returning to direct episodes of the show. Louise Hooper and Sanaa Hamri were also tapped to be in the director's chair for Season 2.
Where is Filming Taking Place?
According to the Hollywood Reporter, Rings of Power Season 2 is mainly filmed in the UK. This follows the first season's production, having taken place in New Zealand, where the films were shot.
The move to the UK was due to Prime Video's plans of "establishing a multi-show hub," the outlet reported. Filming took place in Bray Studios in Berkshire, just outside of London.
Another reason for the move of the production to the UK was to cut down on production costs. It also offered more accessibility to other locations in Europe and the UK's influence on J.R.R. Tolkien's writing.
The ongoing strikes by the WGA and SAG-AFTRA will not affect the show. Production on the second season reportedly wrapped weeks before the strike, according to Variety.
Season 2 Will Focus on Sauron?
The first season of The Rings of Power focused on Galadriel's story. And following the reveal of Lord Halbrand as Sauron, it comes as no surprise that the second season will focus on him. Patrick McKay, who is the co-showrunner alongside J.D. Payne, said he hopes fans will appreciate Season 1 better when Season 2 airs.
"Sauron can now just be Sauron," said McKay, comparing the character to Tony Soprano of The Sopranos and Walter White of Breaking Bad.
"He's evil but complexly evil. We felt like if we did that in season one, he'd overshadow everything else. So the first season is like Batman Begins. And The Dark Knight is the next movie, with Sauron maneuvering out in the open." he added.
McKay went on to say that the upcoming season has a "canonical story." He notes that this approach might be what skeptical viewers hoped for in Season 1. "In season two, we're going to give it to them," said McKay.
Is There a Trailer for Season 2?
There has yet to be a date for when the trailer for the upcoming season will come out. For now, fans can rewatch the first season to get excited.
The Rings of Power Season 2 Release Date Speculation
The release date of The Rings of Power Season 2 has yet to be determined. What we do know, however, is that production for the second season resumed on October 22, 2022. It also helps to note that the first season took 18 months to film. This may be due to the pandemic as well as the high production value of the series.
According to the head of Amazon Studios, Jennifer Salke, they're prepared to take as long as needed to deliver a second season that the fans will love. Speaking with Variety, she said that while they want to have a very short interval between seasons. They "want to keep the bar just as high," which is why the show's writers have worked throughout its hiatus to produce the episodes.
Separately, the head of television for Amazon Studios, Vernon Sanders, suggested that it was optimistic to premiere The Rings of Power Season 2 in 2023. Sanders told Collider that while production of Season 2 was going smoothly compared to the first. And that the upcoming season will most likely be out in 2024.
"It would be amazing if we could get Season 2 out within a year of Season 1's release. It may take a smidge longer than that. But we're doing everything we can. And we're going to get better and faster as we go," said Sanders.
The Lord of the Rings: The Rings of Power Season 1 is showing on Amazon Prime.