Geek Cooking with Gotham City Cocktails: The Old Gotham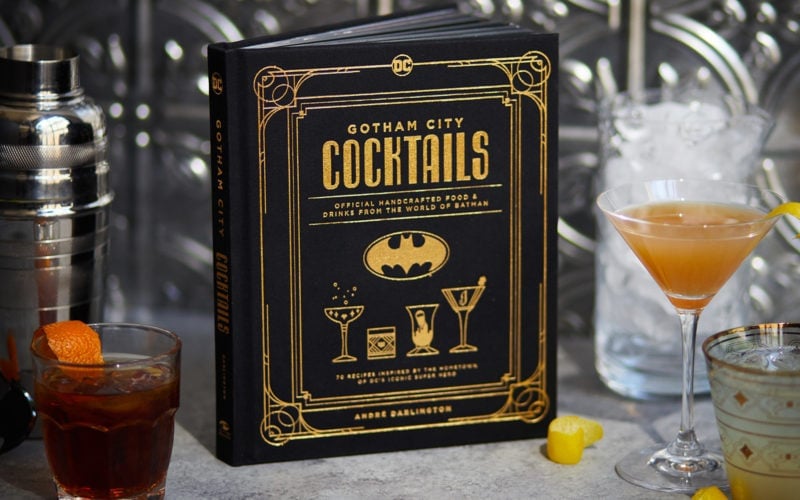 It's time for another geek kitchen adventure, and this time, with drinks! We're checking out Insight Edition's latest release, Gotham City Cocktails, which is now available!
Gotham City Cocktails is a collection of drink recipes and tasteful bar bites that takes fans on a trip through Batman's hometown. Based on the iconic heroes, villains, and locations of Gotham City, this cocktail cookbook includes step-by-step instructions and tips on how to craft the perfect cocktail – and we do mean the PERFECT cocktail – because holy wow, the Botanist (recipe at the bottom of this article) is my new favorite cocktail!
The unique libations and tasty appetizers make up 70 recipes that are all geek-out worthy! With drinks inspired by Batman, The Joker, Poison Ivy, Commissioner Gordon, and many others, Gotham City Cocktails isn't just a must-have for fans of Batman…. but for fans of mixology in general.
The author behind this curated selection of cocktails and delicious snacks is André Darlington, who is also the author of Booze Cruise: A Tour of the World's Essential Mixed Drinks and co-author of Booze & Vinyl and The New Cocktail Hour. In addition to his books, André is also an award-winning beverage columnist and restaurant critic based in Philadelphia, PA.
There were so many amazing drinks in this book that we couldn't feature just one of them. And thanks to the awesome folks over at Insight Editions, we're able to feature four! So check back in – we're doing one a week for the next four weeks!
First up, the Old Gotham.
An additional tip for this one, make sure you do a good job at muddle the sugar, water, and bitters (maybe even use slightly warmer water to help dissolve the mixture a bit more). If your drink isn't as sweet as you're expecting – you likely needed to do a little more muddling.
Next week, we'll be doing the Dark Nightcap (to be released on June 29th), followed by the Botanist (July 5th), and lastly the Smoke Pellet (July 12th). Trust me – the Smoke Pellet is an AWESOME finale for this series)
Don't want to wait before exploring each of these cocktail recipes yourself? I can't blame you. I have all four of them for you below, and you can get these and more in the cookbook itself – which is now available from Insight Editions (Available here on Amazon). It's a must-have for any geek's bar cart!
Exclusive Gotham City Cocktail Recipes for FanBolt
If you make these, please share them with us on social and tag @EmmaLoggins on Twitter and Instagram! Until next week, Geek On!