'Don't Look Up' Movie Review: A Hilarious & Horrifying Satire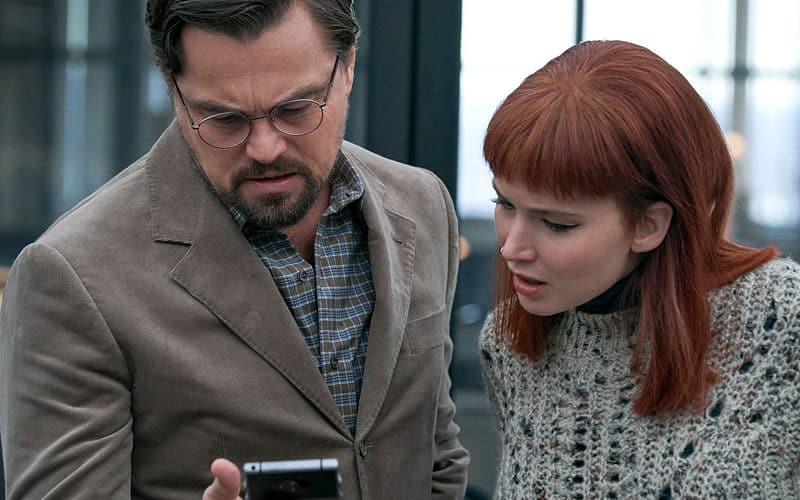 Going into the screening for this film, all I knew was that it brought together Leonardo DiCaprio and Jennifer Lawrence (two actors I love) and that it was a satirical, sci-fi dark comedy written and directed by Adam McKay.
Being familiar with McKay's previous work, I knew I was going to have strong feelings (whether good or bad) after seeing this one – as I'm not a huge fan of some of his previous work. I'm not a fan of Step Brothers or The Other Guys, but I quite enjoyed The Big Short.
Don't Look Up tells the story of two low-level astronomers, one a professor and the other his student (played by Leonardo DiCaprio and Jennifer Lawrence), who discover an approaching comet that is set to collide with earth. After the discovery, the two embark on a media tour to warn humankind about the impending doom. 
Take a look at the trailer below.
Movie Trailer
Don't Look Up Movie Review: What I Did and Didn't Like
Let me start off by saying that roughly half of the population isn't going to like this movie. If you're someone who leans right on the political spectrum, you're probably going to have strong negative feelings about this movie. And if you lean left, you're probably going to feel terrified at the picture this film paints.
I'm going to try not to get political with this review. I'm looking at it as a film and not a message. While it's hard to separate the two, that is my goal here.
The film is intended to be a satirical tackling of the climate change crisis and how people would handle a doomsday-type event in the current political environment in which we live.
The Casting
Don't Look Up couldn't have a better cast. This is an ensemble cast at its best.
Leonardo DiCaprio (Dr. Randall Mindy) and Jennifer Lawrence (Kate Dibiasky) play perfectly off each other. Each of their characters have their own nuances, from Dr. Mindy's anxiety issues (which DiCaprio does an excellent job at portraying) to Dibiasky's up for anything personality combined with her tendency to obsess over things she doesn't understand. They do a wonderful job at carrying the film.
The supporting cast is just as brilliant, including Meryl Streep as President Janie Orlean, who is clearly modeled after former President Donald Trump, and Jonah Hill as Jason Orlean, the President's son, who is modeled after Donald Trump Jr. They both give fabulous performances that bring a sizable portion of humor to the film.
Rounding out the cast, you have Cate Blanchett and Tyler Perry, who play news anchors. Ron Perlman and Mark Rylance, who also give quite memorable performances. And Timothée Chalamet, who joins the cast towards the end of the film, plays a troubled/misguided (yet religious) youth.
Ariana Grande and Kid Cudi also appear in the film and are responsible for the film's original (and quite comical) song, "Just Look Up." It's likely you'll hear this song more in the upcoming months, as it will surely be a contender for best original song come award season.
The Script
"With only six months until the comet makes impact, managing the 24-hour news cycle and gaining the attention of the social media-obsessed public before it's too late proves shockingly comical — what will it take to get the world to just look up?!"
Saying that this movie hits close to home, regardless of your political affiliation, is an understatement. The larger question here is what it will take for people to put aside their differences and do what's best for the planet and humankind. Despite the comedy woven into the script, it's not light subject matter.
Adam McKay actually wrote the role of Kate Dibiasky specifically for Lawrence. And he spent several months working with DiCaprio on the script as well before he officially signed on. But not all you see on the big screen comes from the script. In typical McKay style, he allowed the cast total freedom when it came to improvising. I suspect that the extras will be quite entertaining to watch.
Technical Aspects
I'm not going to get too in-depth here – as we had some technical issues at our press screening. The film went out for about 2 minutes during a rather pivotal moment, and they weren't able to back it up.
At the end of the film (no spoilers), there were a few other moments where the film froze, but the audio continued. I actually really liked those little blips and what they added to those final scenes – but I'm not actually sure if that was intentional or another issue with our screening. I guess I'll find out on December 24th when this releases to Netflix. 🙂
The film is beautifully shot and has an excellent soundtrack (And I mean a truly awesome soundtrack – I'm hoping there will be a vinyl release of it). However, little blips aside, how they tackle some of those final scenes is disturbing palpable. It will stay with you long after the film ends. And anytime a film can accomplish that in a meaningful way, it's worthy of note.
Overall
Overall, I really enjoyed Don't Look Up. I thought the humor was well placed, the performances were stellar, and the story was well-constructed.
If you could imagine Armageddon as a comedy, that is what you're getting with Don't Look Up. It's depressing, horrifying, hysterical, and brilliant all rolled into one. Simply put, satire at its best.
I feel like it's odd to describe a doomsday film as fun, but I had fun watching this one. For what it is, it's entertaining. And I think if you liked The Big Short, chances are you'll like this one too.
Don't Look Up opens in theaters for a limited run on December 10th and begins streaming on Netflix on December 24th. (Though I strongly recommend NOT watching this with family members on Christmas, unless you're all on the same page when it comes to politics)
Don't Look Up Movie Review:
Grade: B+