The Best Movies of 2021 That Are Worth Geeking Out Over!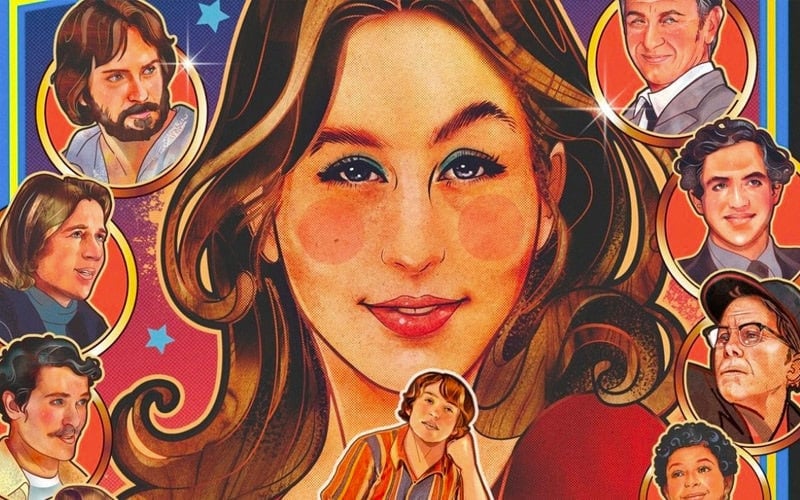 What are the best movies of 2021? Every December, we look back over the year's best releases. And while the last two years have been a bit out-of-the-ordinary when it comes to film, I can confidently say that 2021 has been an exceptional year of cinema.
I say this not coming from a place of a casual movie fan, but as someone who has watched over 100 films in 2021. (I mean, you guys, it's been a lot of movie-watching over here!)
So let's get straight to it. What are the best movies of 2021? Here's FanBolt's official Top 10 List!
The Best Movies of 2021
1. Licorice Pizza
It's once in a blue moon that a film as unique and captivating as Licorice Pizza comes along. And as you're watching it, you're fully aware that you're watching a movie that will become a cult classic.
Written and directed by Paul Thomas Anderson (There Will Be Blood, Phantom Thread), Licorice Pizza tells the story of Alana Kane and Gary Valentine as they grow up, get into mischief, and fall in love in California's San Fernando Valley in the 1970s.
I still remember the magic I experienced the first time I saw Cameron Crowe's Almost Famous. There's a similar vibe and magic here.
Licorice Pizza captures what it feels like to fall in love for the first time. It's enchanting, sweet, comical, and sometimes extremely awkward. And it's something you'll never forget.
This film is a rare gem in today's age of cinema, and it's arguably the best film of Paul Thomas Anderson's career. But, at the end of the day, it's a wonderfully quirky film that will put a smile on your face and warmth in your heart. This one is something truly special.
Licorice Pizza opened in limited release on November 26th, 2021, and will debut in wide release on December 25, 2021.
2. West Side Story
As a die-hard musical theater fan, I was counting down the days until the release of West Side Story. It's one of my top 3 favorite Broadway musicals of all time. So, needless to say, pretty high expectations had been in place prior to me seeing the film?
How did it hold up? Well, it's in the second spot here, so that tells you something!
If you're not familiar with the classic story of West Side Story, the plot is pretty simple. It's a tale of fierce rivalries and young love (Tony and María) in 1957 New York City. Take a look at the trailer below.
This reimagining of West Side Story is a breathtaking work of art. If you're not a fan of musicals, this movie won't change that. But if you are, be prepared to fall completely in love.
There are two stand-out stars in this film, Ariana DeBose (Anita) and Rachel Zegler (María). But let's start with Rachel Zegler.
Zegler is no stranger to the stage, appearing in numerous stage productions. She also has had a pretty substantial presence on YouTube since 2015. But it was in January 2018, when director Steven Spielberg posted an open casting call on Twitter that, then 16-year-old, Zegler responded with tweets of herself singing "Tonight" and "I Feel Pretty." The rest became history as she beat out 30,000 other young females for the role of María.
Zegler is brilliant as María. You're able to completely lose yourself in her performance and be mesmerized by the innocence she brings to the character. I would love to see more undiscovered talents like this in big productions. For me, it's not only refreshing – but helps the viewer truly escape into the story.
Next, there is Ariana DeBose as Anita. She first made her Hollywood debut in So You Think You Can Dance before going on to make her Broadway debut in 2011's Bring It On: The Musical. From there, she appeared in numerous Broadway roles, including Hamilton with the original cast, where she played the Bullet.
DeBose is a freaking powerhouse in this role. She couldn't have been more perfectly cast. Her incredible dancing, her beautiful voice, and all the mannerisms and nuances she brings to the role create an indomitable character that's inspiring to watch.
I haven't seen a movie that was so masterfully executed on all fronts in quite a long time. From performances to music to the direction and everything in between – West Side Story represents the best of the best that 2021 has to offer on the big screen.
3. Tick, Tick… Boom!
2021 has been a GREAT year for musicals! And Lin-Manuel Miranda is responsible for one of those with his directorial debut, Tick, Tick… Boom!.
Tick, Tick… Boom! instantly found a place in my heart. It's based on a musical of the same name, and it tells the story of Jonathan Larson, the mastermind behind the Broadway musical RENT. Take a look at the trailer below.
Andrew Garfield truly shines in this role as Jonathan Larson. And the film as a whole creates a beautiful lyrical love letter to Larson from Miranda, who was clearly inspired by Larson's work.
Even if you're not familiar with RENT, you can still appreciate this autobiographical musical-turned film. It's an entertaining and emotional story that showcases and honors an artist's relentless efforts to create honest and real stories with a whole lot of heart.
One last note on this one, while not all songs in this film are super memorable, a few will stick with you and leave you in awe. You'll hear a number of chord progressions from RENT in their infancy. ANd it's just freaking cool. You're truly along for the ride with Larson's creative process, and it couldn't be more fascinating.
4. Belfast
I'm a sucker for black and white films. So when I first saw the Belfast trailer, I knew this one would be one I had to see. And I'm glad to say it did not disappoint. While there may be bigger more expensive films vying for Best Picture this award season, few of them will have the amount of heart that this one has.
Written and directed by Academy Award nominee Kenneth Branagh, Belfast tells a beautifully poignant story of love, laughter, and loss – all through one child's eyes in the late 1960s, a time of social uproar in Northern Ireland.
The film has an extraordinary degree of intimacy to it, considering that director Kenneth Branagh was born in Belfast in 1960. He lived there until he was 9, when he moved to England. Knowing this, you can't help but see Branagh in Buddy, the main character who Jude Hill brilliantly plays.
Branagh does a phenomenal job at crafting this semi-autobiographical coming-of-age story. Among the violence and tragedy, there's also a surprising amount of humor which helps to add a lightness to the more serious events that are transpiring.
The real star of this film is newcomer Jude Hill. Hill was only 9 when he discovered that he was picked out of 300 kids for the lead role in this film. It's truly a rare moment when you see such talent from such a young actor who hasn't previously worked on the big screen. Focus Features will be campaigning Hill for Lead Actor for the upcoming award season, and he's absolutely a worthy contender.
Hill isn't the only noteworthy actor in Belfast, though. Golden Globe nominee Caitriona Balfe, Academy Award winner Judi Dench, Jamie Dornan, and Ciaran Hinds also star and deliver fantastic performances.
Ultimately, Belfast is a story of growing up and saying goodbye to childhood. It's a moving and well-acted film that examines the choices families make in the wake of devastation and upheaval. Not to mention, it's Branagh's best movie in years, if not the best movie of his career.
5. Cyrano
Cyrano is one of 2021's hidden gems. It's a musical helmed by Joe Wright, who is best known for his directing work with Atonement and Pride & Prejudice. If you're reading this, and you're a Jane Austen fan and/or fan of Bridgerton, you've probably already gathered this is one you should check out.
Wright reimagines this timeless tale of a truly heartbreaking love triangle. A man ahead of his time, Cyrano de Bergerac (played by Peter Dinklage) dazzles whether with ferocious wordplay at a verbal joust or with brilliant swordplay in a duel. But, convinced that his appearance renders him unworthy of the love of a devoted friend, the luminous Roxanne (Haley Bennett), Cyrano has yet to declare his feelings for her. And Roxanne has fallen in love, at first sight, with Christian (Kelvin Harrison, Jr.).
Check out the trailer below.
The cast all deliver strong performances here, but it's Peter Dinklage that truly shines. While he may not be the strongest singer in the bunch, he delivers a charming performance that couldn't be more emotive.
Drama aside, there is actually a lot of well-placed humor in this one. And the music is surprisingly catchy.
6. Dune
Dune was hands down my most anticipated film of 2021. While I hadn't read the book or seen the seemingly underwhelming film from 1984, the trailer more than pulled me in. It's been a while since we've had a truly epic story of this scale on the big screen (at least one that doesn't have Disney behind it). So does it live up to the hype?
So much yes.
If you've managed to miss Dune's incredibly aggressive and exciting advertising campaigns over the last year, here's what you need to know.
Dune tells the story of Paul Atreides, a brilliant and gifted young man born into a great destiny beyond his understanding, who must travel to the most dangerous planet in the universe to ensure the future of his family and his people. As malevolent forces explode into conflict over the planet's exclusive supply of the most precious resource in existence—a commodity capable of unlocking humanity's greatest potential—only those who can conquer their fear will survive.
Let me start out by saying there's not much I didn't like here. We haven't seen a film on this scale since Lord of The Rings, and I'm more than here for it.
Dune has a long run time, clocking in at 2 hours and 35 minutes, and it uses that time effectively. This is a BIG story. However, we're only getting part of that story. In much the same way that Lord of the Rings: Fellowship of the Ring left us both in awe and a little upset, Dune leaves us wanting more.
Opening credits bill the film as Part One. But we still have no announcement to when or if Part Two is coming. (Which I have to assume it will because this film is going to do massively well opening weekend)
Even though Dune leaves us in the middle of its story, it chooses a natural ending point for this first film. We cover a considerable amount of story here, and the cast does a brilliant job with the jam-packed script.
Overall, Dune is a beautiful cinematic journey from beginning to end. The visual effects, set design, sound design, script, acting – everything comes together seamlessly to create what will ultimately become one of the sci-fi genre's most epic films of all time.
7. The French Dispatch
Oh, Wes Anderson. How I adore you.
Whenever you indulge in a Wes Anderson film, you feel like you've truly witnessed a work of art. And his latest project is no exception.
The French Dispatch brings together a collection of stories from the final issue of an American magazine that publishes in a fictional 20th-century French City. It's as if you're watching a collection of short films – all notably different, yet related through Wes Anderson's lens.
Take a look at the trailer below.
Let me start by saying, if you're not a fan of Wes Anderson, this movie isn't going to change that. You either love his films, or you're not a fan. For me, I've always been a fan.
There are two things that I distinctly love about every Anderson film, the visuals and the dialogue. Anderson has a specific style, like a Slim Aarons' photograph that comes to life with the most unique and odd characters you've ever met. And both of these elements remain strong for this latest film.
With The French Dispatch, it almost feels that Anderson has broken free. While his films are always deliciously vivid with an indie feel, this film somehow feels different. As the audience flows from story to story, you can't help but feel like you're on a journey where your experience is more important than your destination.
The film is broken into multiple parts, with each writer telling a different story about the city Ennui, where the film is set. From politics to art to culture and cuisine (with a side of kidnapping), each story weaves together the final issue of the French Dispatch before the death of its editor, played by Bill Murry,
The script is delightfully complex. In fact, almost too complicated to follow in parts. Flowing from English to French, the fast-paced banter made me want to hit rewind multiple times to understand everything I was seeing and reading fully, but as I saw this on the big screen, that wasn't an option.
A number of the subtitles flowed on screen in a uniquely un-even way, which added to the difficultly of keeping up. But despite my issues with the visual pacing, I found myself memorized by what felt like a true love letter to the written word. The script is truly a work of art.
Overall, it's delightful and quirky, but its fan base will be as narrow as Anderson's previous works, which makes it feel all the more like the art-house film that it is.
8. No Time To Die
It felt like forever that we were waiting for No Time to Die. And I know that feeling is shared amongst the entire Bond fanbase.
It's no secret that this is Daniel Craig's last time in the iconic role of James Bond, so what can we expect from this movie? First, let's start with the official description and trailer, and then I'll dive into what I liked and didn't like with the film.
No Time To Die reunites us with Bond, who has left active service and is now living a quiet life in Jamaica. However, his peace is short-lived when his old buddy, Felix Leiter, from the CIA turns up asking for assistance. The mission to rescue a kidnapped scientist reveals itself to be far more dangerous than initially thought, which leads Bond onto the trail of a mysterious villain armed with dangerous new technology.
As with every Bond movie, the stakes have never been higher. And director Cary Joji Fukunaga does a fantastic job at making sure you feel that with this title.
The film starts post-Spectre. After infiltrating Ernst Stavro Blofeld's operation, Madeleine Swann (Léa Seydoux) and Bond are off the grid traveling in Italy. Starting with an impressive opening sequence, filmed in the stunning Matera, Italy, the tone for the film is set – and it rarely slows down.
While I'm sure some critics will disagree, one of the things I loved most about this movie was that it wasn't focused on moving the franchise forward. Instead, it focuses on celebrating what has been. Sure, at some point in the future, we'll have a new 007, but for now, we get to truly celebrate Craig's time in the role. Not to mention there are dozens of little easter eggs and throwbacks to previous Bond movies that surely will elicit a smirk or two.
With a run time of 2 hours and 43 minutes, this is the longest Bond film to date. But the film spends that time wisely. This is after all, a BIG movie. And I'm not just referring to the run time.
My only major complaint is the villain, Safin, played by Rami Malek. Rami did all he could with the role, but ultimately Safin feels underdeveloped. Not once does he feel truly evil or menacing. And once we learn his motivations, the mystery around him is gone.
That aside, this is truly a great Bond film. Regardless of it being Craig's last time in the role. It's the perfect storm of romance, charm, action, explosion, cool tech, witty one-liners, heartache and betrayal from beginning to end.
No Time To Die couldn't have been a more satisfying end to Daniel Craig's time as 007. From Casino Royale until now, he's tackled these films with charm, wit, and style. Ultimately, he's humanized a character that seemed untouchable.
And for me, he'll always be James Bond. Not to mention, my vote as the best actor to have ever stepped into the role. He's done an incredible job with this character over the last fifteen years and raked up some seriously impressive box office records in the process.
9. Don't Look Up
Being familiar with McKay's previous work, I knew I was going to have strong feelings (whether good or bad) after seeing this one – as I'm not a huge fan of some of his previous work. I'm not a fan of Step Brothers or The Other Guys, but I quite enjoyed The Big Short.
Don't Look Up tells the story of two low0-level astronomers, one a professor and the other his student (played by Leonardo DiCaprio and Jennifer Lawrence), who discover an approaching comet that is set to collide with earth. After the discovery, the two embark on a media tour to warn humankind about the impending doom.
The film is intended to be a satirical tackling of the climate change crisis and how people would handle a doomsday-type event in the current political environment in which we live. Needless to say, it gets political. So there's a sizable chunk of the population that might not be a fan of this one. For me though, it brought much-needed laughs after watching so many back-to-back super serious films.
Overall, I really enjoyed Don't Look Up. I thought the humor was well placed, the performances were stellar, and the story was well-constructed.
If you could imagine Armageddon as a comedy, that is what you're getting with Don't Look Up. It's depressing, horrifying, hysterical, and brilliant all rolled into one. Simply put, satire at its best.
I feel like it's odd to describe a doomsday film as fun, but I had fun watching this one. For what it is, it's entertaining. And I think if you liked The Big Short, chances are you'll like this one too.
Don't Look Up opens in theaters for a limited run on December 10th and begins streaming on Netflix on December 24th. (Though I strongly recommend NOT watching this with family members on Christmas, unless you're all on the same page when it comes to politics)
The Best Movies of 2021 – A Few Stragglers
That rounds out my list of top movies of 2021, or perhaps "round" is the wrong word to use there since I'm only giving you an odd number of films…Regardless, the films listed here are wonderful films that are very much worthy of your time.
Why not 10 films for this list? That's a valid question. Honestly, at the time of voting for the groups that I'm in, the tenth spot was hard for me. There were only 9 films that I was truly excited about.
While many of my fellow film critics loved Power of the Dog, I personally wasn't a fan. And the same with Spencer. While I found Kristen Stewart's performance amazing, the film didn't do anything for me.
That being said, there are still some films I need to watch, The Green Knight is one of them.
A Potential 10th Film?
And if I had to pick a tenth, I would urge you to check out Guillermo del Toro's Nightmare Alley – which I saw too late to vote for in my critics' groups – and for my cut-off in this list.) If you're a fan of del Toro's previous films, you will likely enjoy this one as well. If not, skip it – it's done in very much the same feel as his prior work.
Lastly, it's not in my top films, but since we are talking geek-out worthy films, Spider-Man: No Way Home is pretty freaking geek-out worthy. No spoilers. I'll leave it at that.
Check our picks for the best movies of 2021 and let me know your thoughts! And if I missed your favorite film, let us know in the comment section below. There are still some days left in 2021, and more than enough time to watch a few more movies!