Dolly Parton's Net Worth in 2023: How the Queen of Country Music Built an Empire
From the 1970s until today, Dolly Parton remains one of the biggest names in American country music. As a solo artist, she has sold over 100 million albums throughout her career.
While her musical portfolio boasts 25 number-one singles and 41 top-10 country albums, it's not just her music career that has had an impact on Dolly Parton's net worth. Her acting, real estate, and business ventures have also significantly impacted her net worth.
Early Life
Dolly Rebecca Parton, born on January 19, 1946, in Sevier County, TN, was the fourth of 12 siblings. She was the daughter of a tobacco farmer, and despite their poverty, music brought her joy and fulfillment.
Dolly Parton's net worth may be valued in the hundreds of millions of dollars now but the country star certainly did not grow up in money. In fact, she says that when she was born, her father gave the doctor a bag of oatmeal as payment for assisting in the delivery.
Music Career
Dolly has had one of the most brilliant music careers of any country star ever. It does help that she started quite early. She often performed in church as a child. When she was 9 years old, Dolly was performing on The Cas Walker Show and had signed a deal with Goldband Records.
The Beginnings
In 1964, Dolly finished high school and moved to Nashville to be a songwriter. She had a natural talent for it and soon enough, she was churning out one great song after another. A year later, she was signed by Monument Records and was promoted as a bubble gum pop singer.
It wasn't long before the record company realized she was more country than pop. She released her first country single, Dumb Blonde, which debuted at 24th on the country chart. Her second single was Something Fishy.
Both songs were a feature in her debut album called Hello, I'm Dolly. Although the first two singles were created by other songwriters, the album included plenty of country songs that Dolly had written. Many of these eventually became popular when they were covered by other singers.
The Porter Wagoner Show
In the same year that her album was released, Dolly started to appear regularly on the Porter Wagoner Show. Porter quickly recognized her talent and persuaded RCA Victor, which was also his label, to sign Dolly. He also became Dolly's producer.
Dolly and Porter worked on several collaborative projects, like the duet Just Because I'm a Woman. This was the first of many projects that the two would work on from 1968 to 1980. All in all, they created 13 successful albums together. This included the very popular single Please Don't Stop Loving Me.
Solo Career
Despite the string of successes with Porter, it wasn't until 1973 that Dolly's solo career took a really positive turn. With the release of her hit song Jolene, Dolly's star really began to shine. It landed at the top of the country chart in February of 1974. Surprisingly, it also did very well in the non-country charts around the world.
A few months later, Dolly ended her professional relationship with Porter so she could stand on her own and focus on her career as a solo artist. It was during this time that she wrote I Will Always Love You as a farewell and thank you to Porter.
I Will Always Love You
The song immediately landed at the top of the Billboard country chart upon release in March 1974. It went to number 1 again in 1982 when it was recorded again in the soundtrack of the film The Best Little Whorehouse in Texas. The most popular version of the song so far was the one recorded by Whitney Houston in 1991 for the movie Bodyguard. Dolly earned $20 million in royalties from this version.
Kenny Rogers
Dolly and fellow country superstar Kenny Rogers had a deep friendship that lasted for more than 40 years. They had excellent chemistry on stage and on recordings. It all started when they recorded Islands in the Stream in 1982, which instantly became a hit and stayed on the charts for 24 weeks straight. They went on to record more songs together, including a Christmas album in 1984.
Fans have always speculated on whether there was more than friendship between the two country legends. However, they are really just very good friends, more like brother and sister. Rogers was actually married four times, and Dolly, who married Carl Dean more than 50 years ago, remains very loyal to her husband.
Rogers, who passed away of natural causes in March 2022, is still remembered fondly by Parton.
"I miss him so much. I've lost so many wonderful people in my life in the last few years. But Kenny – he was very, very dear and special and I never get tired of hearing us sing, all the years that we were on stage together." Parton says in a 2023 interview with People Magazine.
"You know how sometimes you get tired of singing something because it just becomes routine?" Parton continued. "But I would always lighten up when that particular song was due in the setlist. It just always made everybody feel so good in the audience. And the audience always loved singing it. I never got tired of Kenny's voice."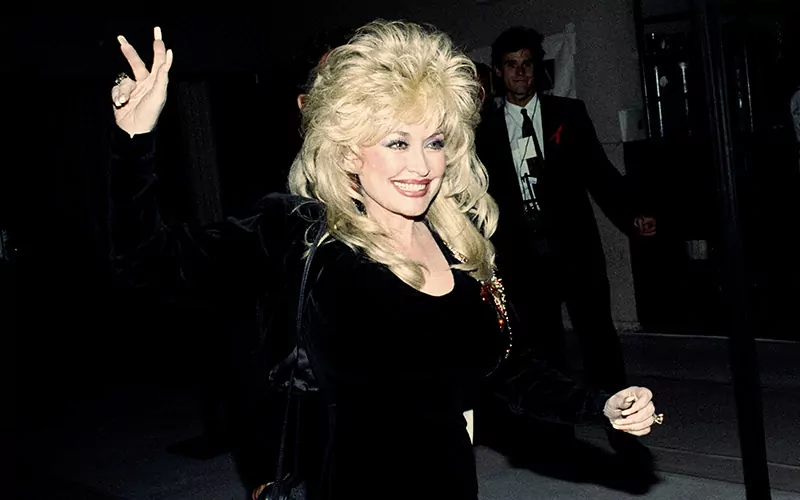 Acting
Dolly also dabbled quite a bit with film acting in the 1980s. Her first role was as Doralee Rhodes in 9 to 5, where she co-starred with Lily Tomlin and Jane Fonda. Of course, she also performed the movie's title track, also titled 9 to 5. Dolly won the Grammy Awards for Best Country Vocal Performance and Best Country Song.
The success of the film encouraged her to try for a few more roles. She later did The Best Little Whorehouse in Texas with Burt Reynolds in 1982 and Rhinestone opposite Sylvester Stallone in 1984. Five years later, she joined acclaimed actresses Shirley Maclaine, Daryl Hannah, Sally Field, Olympia Dukakis and Julia Roberts in Steel Magnolias. She had also made numerous cameo appearances in several Hollywood blockbuster films.
Dollywood Theme Park
In 1986, Dolly officially opened Dollywood Theme Park, which she co-owns with Herschend Family Entertainment. It accommodates about 3 million guests in a year, and is the most frequently visited theme park in Tennessee.
The park is located in Pigeon Forge Tennessee and was originally called the Goldrush Junction Theme Park. When the Herschends bought it in 1976, they called it the Silver Dollar City. It officially became Dollywood in 1986. Today, it offers multiple theme park rides, as well as regular musical performances by Dolly herself and other famous singers and local acts.
This theme park is actually just the core of the massive Dollywood amusement destination. Nearby is the Splash Country water park, the DreamMore Resort and Spa, and the Stampede Dinner Attraction.
What's Next for Dolly Parton?
Dolly Parton is expressing excitement about releasing her long-promised rock album. After being inducted into the Rock and Roll Hall of Fame, she has fulfilled her vow and shared a statement and full track listing for the album, set to release on November 17, 2023.
"I'm so excited to finally present my first Rock and Roll album 'Rockstar.' I am very honored and privileged to have worked with some of the greatest iconic singers and musicians of all time, and to be able to sing all the iconic songs throughout the album was a joy beyond measure." Parton revealed in May 2023.
"I hope everybody enjoys the album as much as I've enjoyed putting it together," she continued.
The announcement from Parton revealed a 30-song track list featuring notable artists like Sir Paul McCartney and Ringo Starr. Together, they collaborated on a cover of The Beatles' iconic song "Let It Be".
Joining the singer, Brandi Carlile and Pink will perform The Rolling Stones' "(I Can't Get No) Satisfaction". Additionally, Emmylou Harris and Sheryl Crow will be guests on a song popularized by Linda Ronstadt, "You're No Good."
The album features collaborations with Rob Halford from Judas Priest, Lizzo, and Sasha Flute. Additionally, Stevie Nicks, Chris Stapleton, Simon Le Bon, John Fogerty, Melissa Etheridge, Michael McDonald, Richie Sambora, Ronnie McDowell, the Jordanaires, and Kid Rock also contributed to the project. It is worth noting that one contributor, Lynyrd Skynyrd guitarist Gary Rossington, passed away after recording his part for the album. He participated in the final track, "Free Bird."
The first single from the 'Rockstar' was released on May 11th, 2023, following Parton's Live premiere of the tune at the Academy of Country Music Awards, where she co-hosted with Garth Brooks.
Dolly Parton's Net Worth Today
As of 2023, Dolly Parton's net worth today is valued at an astonishing $650 million. Her net worth is a testament to her exceptional talent, unwavering dedication, and remarkable business acumen.
From her humble beginnings in Sevier County, TN, Dolly has become an iconic figure in music and entertainment. Her vast catalog of hits, entrepreneurial ventures, and philanthropic endeavors have propelled her to financial success beyond imagination.