'Operation Fortune: Ruse de Guerre' Movie Review
It's no secret that the spy genre is an overcrowded one. It's hard to stand out among the likes of James Bond and Jason Bourne. But that being said, I usually enjoy this genre of film because it always feels effortlessly cool with great action sequences, witty one-liners, and beautiful locations. And that's what this film delivers.
Operation Fortune: Ruse de Guerre follows super spy Orson Fortune (Jason Statham) as he tracks down and tries to stop the sale of a deadly new weapons technology. He doesn't know exactly what is being sold. However, he knows that billionaire arms broker Greg Simmonds (Hugh Grant) is brokering the deal. So Fortune reluctantly teams up with some of the world's best operatives, played by Aubrey Plaza, Cary Elwes, Bugzy Malone. And the team recruits Hollywood's biggest movie star, Danny Francesco (Josh Hartnett), to help them on their globe-trotting undercover mission to save the world.
Operation Fortune: Ruse de Guerre Movie Trailer
Operation Fortune: Ruse de Guerre Movie Review: What I Did and Didn't Like
Operation Fortune: Ruse de Guerre marks the fifth collaboration between director Guy Ritchie and Jason Statham. And while it's not as mind-blowing as Lock, Stock, and Two Smoking Barrels or 2000's Snatch, it still has a lot of things going for it. Clocking in at 1 hour and 54-minute run-time, the film moves at a relentless pace once it gets going.
Acting
The star-studded cast here does not disappoint. While Jason Statham does a fine job in the lead role, it's really the supporting cast that audiences will find the most enjoyable to watch. Audrey Plaza, Hugh Grant, and Josh Harnett all have fantastically quirky characters, and they deliver some of the film's best moments.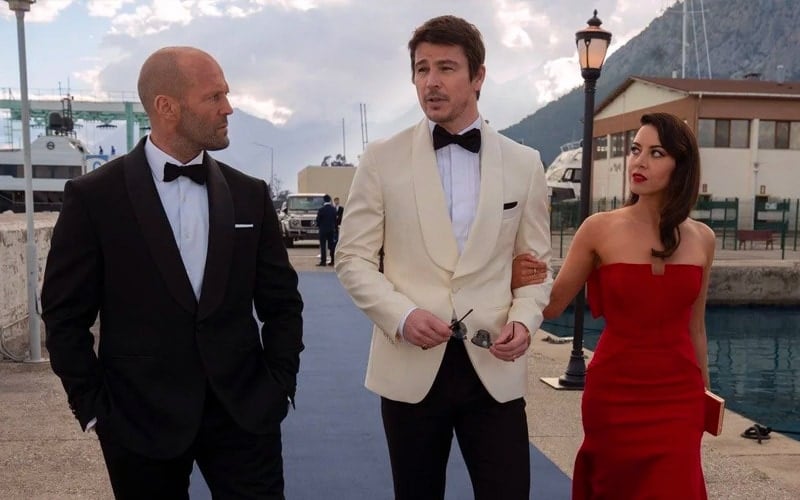 Script
My only minor complaint with Operation Fortune: Ruse de Guerre is that the story isn't very original. There is no shortage of spy movies with similar plots and characters. And this one doesn't really do anything groundbreaking or challenge the genre in a new way.
That being said, I did love the dialogue here. There's some great witty banter, which can be attributed almost entirely to Aubrey Plaza's character. I have to say, it was refreshing to Plaza in a role like this. She's so good at playing the awkward type, and she's anything but that in this movie.
Overall Thoughts
It's worth noting that Guy Ritchie fans have been waiting for this film for a minute as it was supposed to release in 2022. However, with the movie's antagonists being Ukrainian, the studio pushed the release until this year, despite the war continuing.
Overall, it's an enjoyable flick that's pretty straightforward. There's not a lot of mystery or intrigue with the storyline. Things pretty much are exactly how they present themselves. And while there are some challenges that the characters face, they face them with such ease that you never once find yourself doubting that they're going to succeed. Honestly, I actually found the lack of anxiety quite nice. But the reality is that movies in this space should keep you on the edge of your seat. So while it's a fun watch, you shouldn't go in expecting the caliber of Guy Ritchie's earlier work nor something game-changing for the spy genre.
Operation Fortune: Ruse de Guerre Movie Review:
Grade: B
Operation Fortune: Ruse de Guerre 60-Second Movie Review: 
Note: FanBolt's Featured Image is fan art created by FanBolt purely for the love of design and fan culture. (We're movie and design nerds). The property and fandom inspire the artwork, and no infringement is/was intended. Operation Fortune: Ruse de Guerre is the property of Lionsgate.