'Asteroid City' Movie Review: Wonderfully Weird and Adorably Quirky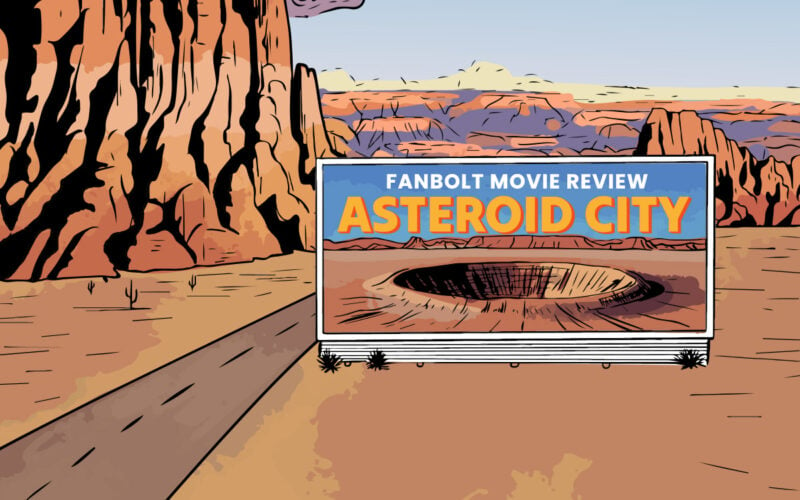 Asteroid City, the newest flick from Wes Anderson, promises fans a whimsical and comedic sci-fi adventure set in 1950s America. And oh, does it deliver! Having been a fan of Anderson's work since I first saw Rushmore back in the late 90s, I can confidently say Asteroid City is my favorite film of Anderson's to date.
The movie is set in the fictional American desert town of Asteroid City, circa 1955. Amidst a Junior Stargazer convention intended to unite students and parents for camaraderie and intellectual pursuits, the unfolding of extraordinary events shatters the expected itinerary.
Asteroid City Movie Trailer
Asteroid City Movie Review: What I Did and Didn't Like
Asteroid City showcases Anderson's unmistakable aesthetic, blending humor, poignant moments, and introspective themes in a visually stunning and emotionally captivating way with the quirkiest of characters. And as a fan, I expected nothing less.
Let me start by acknowledging the obvious. Wes Anderson movies are an acquired taste. You're either a fan, or you're not. There's little gray area for movie-goers with these films, and the same holds true for this one. A friend attended the media screening with me, and she had never seen an Anderson film before. For most of the film, she had a "what the hell" look on her face. Meanwhile, I was utterly enchanted by the story.
Story
At its core, Asteroid City is about the intricacies of human connections, exploring various relationships that span romance, friendship, and family dynamics. While the film combines elements of space exploration, modern technology, and alien paranoia in a seemingly straightforward manner, its narrative, influenced by the backdrop of the COVID era, strikes a personal chord.
The folksy soundtrack and retro setting are catalysts, unearthing buried emotions within an impressive ensemble cast. As a result, characters are prompted to question the essence of their own lives and connections. From lost or newfound love to the complexities of parental affection, and even the limitations of intellect in the face of the unknown, the film prompts introspection on profound levels.
However, it would be too simple for a Wes Anderson film to leave it at that. So, there's an additional layer of complexity that removes us a layer. The main story here is actually a stage play penned by Conrad Earp, portrayed by Edward Norton. A secondary story takes us to Tarkington Theatre, where we get to peak behind the curtain at the actors and the play's director Schubert Green (Adrien Brody).
Guiding us between these stories is Bryan Cranston, who ties together the narratives seamlessly.
Acting
Much like Anderson's other films, Asteroid City also boasts an extravagant ensemble cast featuring the likes of Tom Hanks, Steve Carell, and Margot Robbie, alongside the familiar faces of Anderson's trusted collaborators, including Edward Norton, Jason Schwartzman, and Tilda Swinton.
Accommodating a large cast with so many big names can create a real challenge for supporting characters, both from a writing and acting position. However, Anderson writes such wonderfully quirky characters that they seem to live effortlessly within Anderson's distinct universe.
From an acting standpoint, the entire cast delivers exceptional performances, showcasing their depth and versatility as they bring these eccentric characters to life. Each actor fully embraces the idiosyncrasies of their respective roles, immersing themselves in Anderson's whimsical world and adding another layer of charm to the film.
In short, I freaking loved every character (especially Jeff Goldblum – who I won't say too much about so we stay clear of spoilers). But one actor that I think especially deserves a little extra recognition is Steve Carell. Carell is a newcomer to Anderson's films. He joined the movie last minute to replace Bill Murray after Murray contracted COVID-19 shortly before production began.
Asteroid City marks the first Wes Anderson movie that Murray hasn't appeared in. And while Murray always brings an extra layer of magic to his characters in Anderson's scripts, Carell delivered a flawless performance here, seamlessly navigating between comedic and poignant moments.
Overall
Asteroid City is a visual feast, brimming with vibrancy, boundless creativity, and an undeniable charm. Overall, I found the flick wonderfully weird and adorably quirky.
Asteroid City Movie Review:
Grade: A+
Note: FanBolt's Featured Image is fan art created by FanBolt purely for the love of design and fan culture. (We're movie and design nerds). The property and fandom inspire the artwork, and no infringement is/was intended. 'Asteroid City' is the property of Focus Features.