Vince Vaughn, a renowned American actor, has gained widespread recognition for his performance in roles in Wedding Crashers, Couples Retreat, and The Break-Up. With a career that took off in the late 1980s, Vaughn has accumulated an impressive portfolio of over 75 movies and television series.
By 2023, Vaughn has established himself as the leading star in more than 20 films, accumulating a staggering global box office revenue exceeding $1.2 billion. However, his immense success goes beyond acting alone. Vince Vaughn's net worth is also attributed to his work as a producer and writer, lucrative brand endorsements, real estate investments, and various other ventures. Delve further into his most successful projects and trace his journey from the early stages of his career.
Early Life
Born on March 28, 1970, in Minneapolis, Minnesota, Vince Vaughn's full name is Vincent Anthony Vaughn. Hailing from a privileged background, he was raised by his mother Sharon Eileen, a successful real estate agent and stockbroker, and his father Vernon Lindsay Vaughn, who worked as a toy salesman.
While growing up in Buffalo Grove, Illinois, Vaughn played a lot of sports, although he considered himself average and even unathletic. His interest was more in musical theater, which was due largely to his early exposure. The family then moved to Lake County and Vaughn eventually graduated from Lake Forest High School in 1988. By then, he had already decided to become an actor.
Acting Career
Vince Vaughn's professional acting career began with back-to-back appearances in the TV series China Beach and 21 Jump Street in 1989. This was followed by guest roles in shows like ABC Afterschool Specials, CBS Schoolbreak Special, and the medical sitcom Doogie Howser, M.D.
He would later have his film debut in the 1993 biographical film Rudy. His sports background came in useful as he played the role of football tailback Jamie O'Hara. From then, Vaughn turned his attention to film acting.
It was during this movie that he became friends with Jon Favreau, who like him was also a new actor. In 1996, Vaughn would star in Swingers, a comedy-drama that Favreau wrote. It had a tiny budget of $200,000 but was able to earn more than $4.5 million, making it a financial success.
Rise to Stardom
In 1997, Vince Vaughn's net worth would start its rise into the millions as he appeared in his first Hollywood blockbuster. He was cast in the sci-fi action film Lost World: Jurassic Park, which made over $618.6 million against a budget of $73 million. He joins the lead stars, Jeff Goldblum and Julianne Moore.
The following year, Vaughn's schedule was packed as he worked on several projects on both film and television. He released four movies that year including A Cool, Dry Place, Return to Paradise, and Clay Pigeons. He wrapped up the year by starring in the psychological horror Psycho as Norman Bates.
In the next few years, Vaughn would appear in films of diverse genres including thrillers, dramas, and Westerns. But most of the time, he appeared in comedies alongside some of his good actor friends.
Collaborations with the Big Four
In the early 2000s, actor comedians and good friends Vince Vaughn, Ben Stiller, Owen Wilson, and Will Ferrell became collectively known as the Big Four. They would often appear in one another's films, sometimes in starring roles and other times in uncredited cameos. Much of Vince Vaughn's net worth can be credited to these blockbusters.
In 2001, all four actors appeared in the comedy Zoolander. It was a commercial success, earning more than $60 million on a budget of $28 million. Two years later, Vaughn and Ferrell would team up in the black comedy Old School, while Owen's brother Luke also had a starring role. It was another hit with a theater gross revenue of $87 million against a $24 million budget.
The Big Four would be busy in the next two years as their streak of successful films continued. In 2004, Vaughn had a supporting role in Starsky & Hutch, which starred Wilson and Stiller. It generated $170 million in gross revenue on a budget of $60 million.
Then it would be Vaughn and Stiller to co-star in Dodgeball: A True Underdog Story which made $168 million against a $20 million budget. The pair's next co-starring project would be The Watch in 2012. Vaughn would then make an uncredited appearance as Wes Mantooth in Will Ferrell's Anchorman films.
Next came one of Vaughn's biggest blockbusters with the group as he co-starred with Owen Wilson in Wedding Crashers. It made a total of over $288 million after its theatrical run, against a budget of $40 million. The team-up of Vaughn and Wilson also won the MTV Movie + TV Awards and the People's Choice Awards. Their next co-starring collaboration would be in 2013's The Internship.
Success in Producing
Aside from being a highly profitable actor, Vaughn is also a successful film producer. So far, he has produced eight of the films that he starred in, the first of which was Made in 2001. The crime comedy starred Vaughn alongside Jon Favreau, Sean Combs, and Peter Falk. Interestingly, this was also Favreau's first time directing a feature film and Combs' first acting gig.
In 2006, Vaughn would produce his second film, The Break-Up. He co-starred with Jennifer Aniston, who would eventually become his romantic partner. Vaughn earned a total of $12 million for both starring, producing, as well as writing the screenplay.
Seeing that he seemed to have a knack for producing, Vaughn kept at it, producing the next 6 films that he starred in. This included the Christmas comedy Fred Claus, for which he received a salary of $20 million. It was also a box office success, raking in $98 million globally. He followed this with the romantic comedy Couples Retreat, which was yet another joint project with Jon Favreau.
In 2011, Vaughn produced the dark comedy The Dilemma, where he co-starred with Kevin James. Winona Ryder and Jennifer Connelly also had co-starring roles. Vaughn's acting salary for this film was $17.5 million. Unfortunately, the box office earnings of $69.7 million were not quite enough to even match the film's budget of $70 million.
In the following year, Vaughn narrated and produced the documentary film Art of Conflict: The Murals of Northern Ireland.
Recent Projects
Since 2020, Vaughn had been playing the role of Freddy Funkhouser in the HBO sitcom Curb Your Enthusiasm. This is one of the American actor's rare television projects since he made it big in Hollywood. He also has another upcoming drama series entitled Bad Monkey.
Vince Vaughn's most recent project is the fantasy comedy IF, which is currently in post-production and is set for release in 2024. He joins an ensemble cast led by Ryan Reynolds and John Krasinski. He does voice work for this film, along with other big names like Steve Carell and Matt Damon.
Prior to this, Vaughn's last appearances on the big screen were in North Hollywood and Queenpins in 2021. He also starred in the comedy slasher film Freaky in 2020. For his performance in this film, Vaughn won the Critics' Choice Super Award and got a nomination at the MTV Movie & TV Awards.
Other Ventures
In 2022, Vaughn signed a contract to be the new face of Caesars Entertainment's online casinos. As a celebrity ambassador, Vaughn has an active role in marketing campaigns and various promotions of the company. In return, there is no doubt that millions will be added to Vince Vaughn's net worth.
Also in 2022, Vaughn became one of the co-owner of the production company and podcast network, Audiorama. His partners in this venture are the former NFL players Ryan Kalil and Greg Olsen.
Real Estate
Vince Vaughn's net worth has been greatly impacted by his hefty real estate investments over the years. In 2013, the actor acquired a 5,563 sq. ft. property in La Cañada Flintridge in California for $3.925 million. Shortly after, he listed it on the market for $5.29 million. He ended up selling the home to DreamWorks CEO Michael Wright for $4.8 million.
The following year, he bought a home in Manhattan Beach for $6.5 million. The property covered an area of 7,300 square feet.
In 2006, Vaughn purchased a multi-story Chicago penthouse from Hugh Hefner. He listed the property in 2015 with an asking price of $13.9 million. Later, he modified the listing into two separate properties. He was able to sell the 35th floor for $4.1 million, while the 36th and 37th floors went for $8.5 million.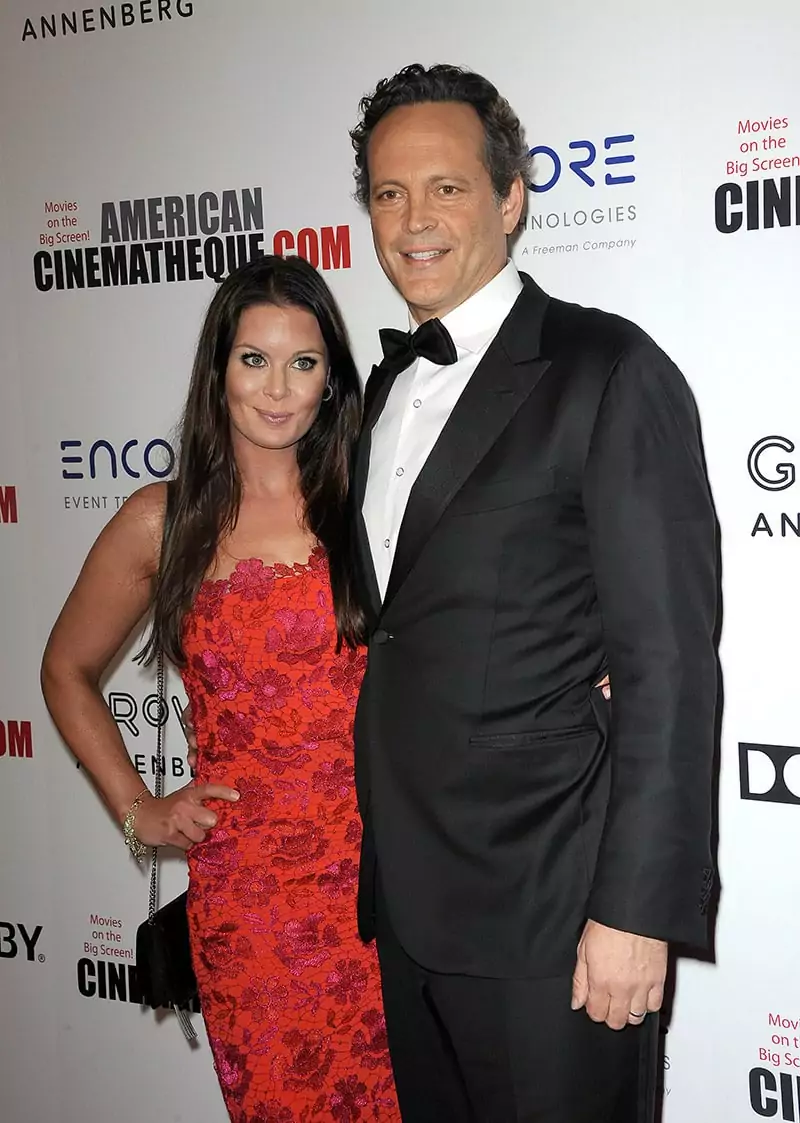 Personal Life
In 2006, Vince Vaughn was the lead actor in the film The Break-Up. He dated his co-star Jennifer Aniston from the time of filming until the latter part of 2006. Rumors circulated that Vaughn had cheated on Aniston with an unknown blonde. Vaughn denied the allegations and sued the New York Post and other publications for releasing the story.
In 2010, Vaughn got married to Kyla Weber, a realtor. The couple now have two children together. Their daughter Locklyn was born in December 2010 and their son Vernon arrived in August 2013.
Vince Vaughn's Net Worth 2023
As of 2023, Vince Vaughn's net worth is estimated at $70 million. That amount largely comes from his acting career along with his work as a writer and a producer. However, it's also impacted by his brand ambassadorships and his real estate investments.
Fans of Vaughn can look forward to seeing him next in Stephen Chbosky's comedy Nonnas, where he stars alongside Susan Sarandon and Joe Manganiello. Production on the new flick just wrapped in June 2023 in New Jersey. The movie is based on true story of Joe Scaravella (Vaughn), a Brooklyn man who realizes he is wasting his life as a single man in a dead-end job when his mother passes away.
Additionally, Vaughn is also set to star in a sequel to his 2004 sports comedy Dodgeball: A True Underdog Story.