The Gang Is Back Together in New 'X-Files' Key Art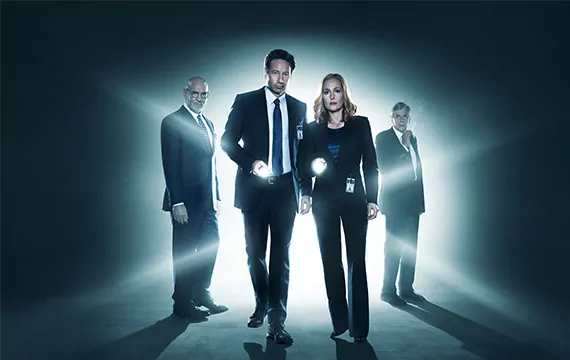 The FBI agents we've all missed are featured in two new pieces of key art from FOX's upcoming revival of The X-Files.
Two new posters feature series stars David Duchovny, Gillian Anderson, Mitch Pileggi and William B. Davis. In one shot, we see the four looking ready to get back into the supernatural, extraterrestrial game (with the Cigarette Smoking Man look pretty focused on Mulder), while the other features the dynamic duo themselves with an almost benevolent looking light shining from behind them.
Take a look at the new images below!
The new limited series will head to FOX in 2016, with a six-episode format. "We have a lot to do in the course of six," series creator Chris Carter previously stated. "We try to make an arc: bookend it with mythology episodes, and the four in the middle are standalone episodes. [But] there is what I would call an arc within those episodes. We tried to make everything integral. But the first episode and the last episode are really a two-parter. In [the other episodes] we follow the characters emotionally, but they don't have to do with the conspiracy."
The X-Files returns to FOX with a special two-night event beginning Sunday, Jan. 24 (10:00-11:00 PM ET/7:00-8:00 PM PT), following the NFC Championship game and continuing with its normal time period premiere on Monday, Jan. 25 (8:00-9:00 PM ET/PT).
Photo Credit: Frank Ockenfels/FOX