'Banshee' Cast Offers Valentine's Day Advice from Their Characters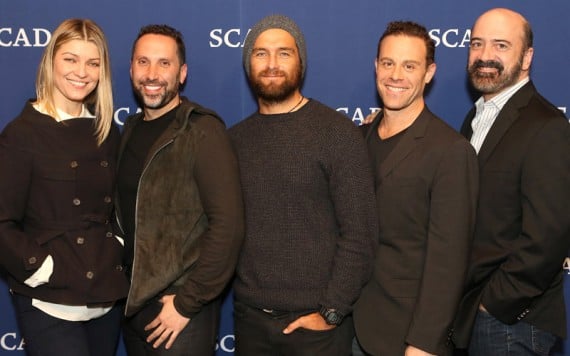 Cinemax's Banshee returns with its fourth and final season on April 1, and the series promises to go out with a bang! We spoke with the cast at Scad's aTVFest in Atlanta last weekend, and they not only teased the upcoming season (which they screened the first episode for at the festival), but they also offered a little Valentine's Day advice from their characters. Some of it we don't recommend following, but take a look at our exclusive video below!
Banshee Cast Offers Valentine's Day Advice from Their Characters
Banshee Season 4 Trailer
With the season premiere being a little over a month out, it's the perfect time to binge-watch Banshee and get refreshed on everything that has happened so far! If you're new to the series, here's a little more information on what you can expect.
About Banshee
The hit action series Banshee will return to Cinemax in 2016 for a fourth season of eight episodes. Banshee's fourth season will be executive produced by Alan Ball, Greg Yaitanes, Jonathan Tropper, Peter Macdissi, Adam Targum and Ole Christian Madsen.

Banshee debuted in 2013 and stars Antony Starr ("Wish You Were Here") as Lucas Hood, an ex-con and master thief who assumes the identity of the sheriff of Banshee, Pa., where he continues his criminal pursuits while enforcing his own code of justice.

In addition to Starr, the series includes Ivana Milicevic ("Untitled Cameron Crowe Project," HBO's "Mind of the Married Man") as Carrie Hopewell, a notorious jewel thief who lives in Banshee under an assumed identity with her family, which has recently learned of her criminal past; Ulrich Thomsen ("The Celebration") as Kai Proctor, an intimidating, wealthy businessman who believes he is above the law; Frankie Faison ("The Good Wife," HBO's "The Wire") as Sugar Bates, a powerful and wise former boxer and ex-con who is now the owner of the local watering hole; and Hoon Lee ("The Blacklist") as Job, a dangerous transvestite computer hacker who assists Lucas and Carrie in their criminal enterprises.
Are you excited for the new season of Banshee? Have Valentine's Day advice as well? Share your thoughts with us in our comment section below! And keep checking back for Banshee coverage as we get closer to the season premiere!
Recommend

0

recommendations
Published in Entertainment, Featured, TV, TV Interviews, TV News