'Teenage Mutant Ninja Turtles' Takes Top Spot at Weekend Box Office (June 3 – 5, 2016)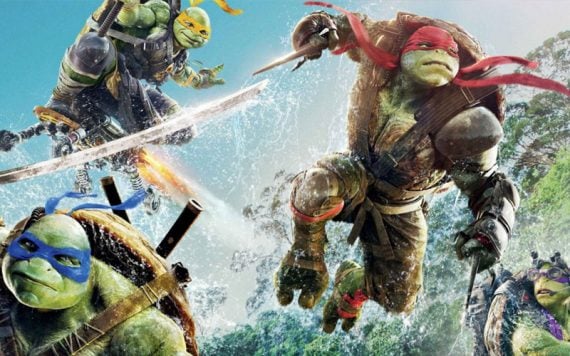 It was not a good weekend for the box office. The Teenage Mutant Ninja Turtles sequel managed to debut in the top slot, but the film only took in $35.3 million (40% less than its 2014 predecessor).
The budget for Teenage Mutant Ninja Turtles: Out of the Shadows was actually $10 million higher than the previous film, for a total budget of $135 million. While the North American opening weekend totals aren't that impressive, the film is still expected to do well overseas (bringing in $34 million this weekend).
Second place went to Marvel's X-Men: Apocalypse, which brought in $22.3 million this weekend – dropping 66% from opening weekend. The film, which was made for $178 million, is only expected to gross $165 million domestically during its theater run.
Perhaps adding to the disappointing earnings for X-Men: Apocalypse was the controversy surrounding the film's advertising campaign. Posters, which feature Oscar Isaac's Apocalypse character strangling actress Jennifer Lawrence's Mystique (with the caption that only the strong will survive), have caused fans to protest and even a few public figures to speak out, including actress Rose McGowan.
"There is a major problem when the men and women at Twentieth Century Fox think casual violence against women is the way to market a film," McGowan told The Hollywood Reporter. "There is no context in the ad, just a woman getting strangled. The fact that no one flagged this is offensive and frankly, stupid."
The studio issued a formal apology last Friday stating: "In our enthusiasm to show the villainy of the character Apocalypse we didn't immediately recognize the upsetting connotation of this image in print form. Once we realized how insensitive it was, we quickly took steps to remove those materials. We apologize for our actions and would never condone violence against women."
Coming in third at the box office was Game of Thrones star Emilia Clarke's new film, Me Before You, with $18 million. With a $20 million production budget and worldwide earnings to date of $26 million, the film has already been marked a success.
Alice Through the Looking Glass came in fourth with $10.6 million (dropping 60% from opening weekend), and in fifth was The Angry Birds Movie which brought in $9.7 million.