Cirque du Soleil Luzia Review: The Best Traveling Cirque to Date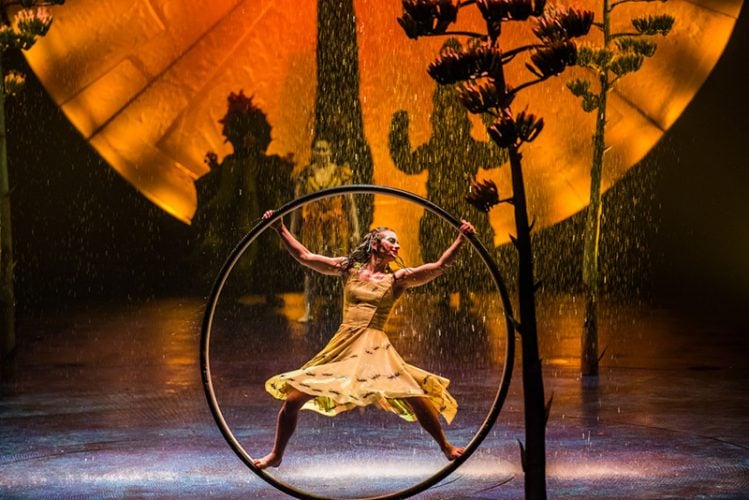 Cirque du Soleil's LUZIA takes audiences on a surreal journey with mind-blowing performances ranging from breathtaking acrobatics, cyr wheel artists (never heard of this before this performance (Take a look below) – and now I'm completely obsessed), hoop divers, the fastest juggler in the world (seriously, he holds the Guinness World Record), a male contortionist that bends in ways that other contortionists couldn't even imagine, and so much more. And of course all of these performances are accompanied by absolutely mesmerizing music. Take a sneak peek below!
Cirque du Soleil's LUZIA
And here's a few more videos I had to share as well as these two acts completely fascinated me.
The Cyr Wheel Artists
The Contortionist
Attending a Cirque show is always a magical experience. You've come to expect that you'll see a number of circus-type acts taken to a whole new level, and LUZIA is no exception. I've seen more than 10 traveling Cirque shows now – and I have to say this one is my favorite of those – second only to Vegas' stationary Cirque O.
So what makes LUZIA stand out so? First and foremost it's the atmosphere. The set design is rich and manages to truly transport you from sitting in under an event tent in the city to a tropical paradise (with a stunning use of water)… and then to an arid dessert… and then back again while intwining stunning animal puppets, inspiring music, and without question the most impressive performances I've seen to date in a Cirque show.
That's one of the things I love the most about Cirque, while it is kid-friendly, it always seems to amaze and strike awe in the adults as well – making us feel as if we're kids again… seeing something we didn't think was possible be performed right in front of our eyes with extreme grace and effortless beauty.
Overall, I can't urge readers enough to check this show out. I, myself, am already planning seeing it again. It's a magical evening best shared with friends, family – or that special someone you have an upcoming date night with. You'll leave with a smile on your face and you'll know exactly what you want for Christmas…. Cyr Wheel lessons.
Cirque du Soleil's LUZIA – A Waking Dream of Mexico is running now through November 19, 2017 under the white-and-gold Big Top at Atlantic Station in Atlanta. Tickets can be purchased at https://www.cirquedusoleil.com/luzia, and start at only $35!
A Few Fun LUZIA Facts
The Big Top seats more than 2,600 people.
The entire site set-up takes 8 days. This includes installation of the Big Top, the entrance tent, the VIP tent and the rehearsal spaces.
The Big Top stands at 19 meters (62 feet) high and is 51 meters (167 feet) in diameter.
The 4 steel masts stand at 25 meters (82 feet) tall each.
550 pegs are required to hold the big top fi rmly to 48,500 square feet of asphalt.
The Big Top can withstand winds up to 120 km/h (75 mph).
The light-coloured canvas helps counter the effects of the sun, thereby reducing energy consumption and minimizing greenhouse gas emissions.
LUZIA travels via 65 trailer trucks carrying close to 2,000 tons of equipment.
Photo Credit: Matt Beard / 2016 Cirque du Soleil
Recommend

0

recommendations
Published in Emma's Geek Girl Blog, Featured, Lifestyle, Show Reviews