20th Century Fox Partners with A-BOX for Exclusive 'Kingsman' Mystery Box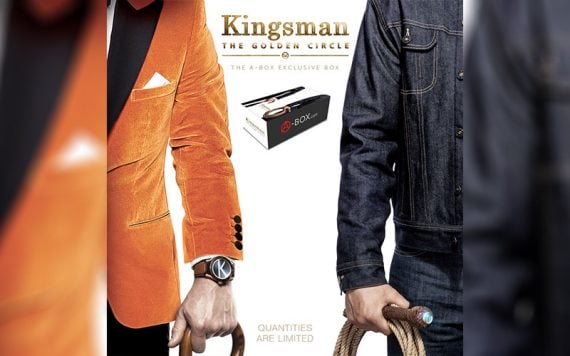 Get ready for it subscription box fans! Because there's a new exclusive box out that you can grab from A-BOX.com for Kingsman: The Golden Circle!
20th Century Fox has partnered with A-BOX for their second-limited edition premium box, which contains a geekout worthy assortment of apparel, collectibles, accessories and electronics – all exclusive to A-BOX and unavailable for purchase anywhere else! The box retails for $39.00 plus shipping and can be ordered at A-BOX.com. Quantities are extremely limited – so if you want one – order it ASAP!
According to Ali Rahman, Founder of A-BOX, "After the phenomenal consumer response to our licensed Alien Covenant mystery box we released in June, we wanted to surprise customers again with a very special Kingsman box. We are looking forward to gauging the feedback from fans of the franchise, and our customers, through their highly entertaining unboxing videos and social media posts. We are very honored to be representing Kingsman."
Customers that sign up to the A-BOX subscription service will receive a monthly box delivered to their doors containing authentic, licensed and exclusive merchandise from their favorite entertainment brands and franchises.
A-BOX is changing the game with the confidence they have in the quality of its products. It is the only entertainment subscription company that offers a 45-day money back guarantee with its mystery boxes. The surprise is risk free.
A-BOX works in collaboration with major film studios and entertainment companies to provide quality gifts available through their subscription service. News of A-BOX has been making waves in the mystery box market, garnering a large number of fans from the offset.
Fans can learn more at A-BOX.com and sign up to subscribe to the regular subscription, or Kingsman box today! Get it while you can!!
Stay tuned for our unboxing video with this one – coming soon! We can't wait to check it out!
Recommend

0

recommendations
Published in Emma's Geek Girl Blog, Featured