Travel Guide: 48 Hours in Edinburgh, Scotland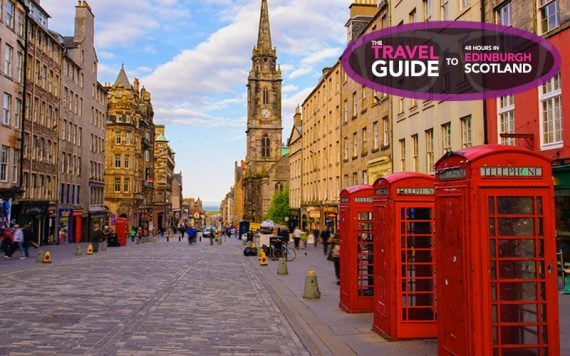 Known best for their whisky and golf, Scotland offers the best of both, but they offer much more than that with their incredible landscapes, vibrant culture, rich heritage, myths and legends. If you're lucky enough to find yourself in the country, or are planing to visit, there's a number of things you absolutely have to make a point to see.
Edinburgh is an easy city to move around. The city itself is super compact, which makes it easy to get around on foot or via Uber or taxi – even grabbing a bus to travel to near by locations such as Midlothian (where the Rosslyn Chapel is located) is an easy and pleasant experience. Being able to get around with such ease, means that even if you only have 24 or 48 hours to explore the city – you can still see quite a lot!
From where to stay, what to see, and where to eat – we've put together our list of must's while in Edinburgh, Scotland. Take a look below at our guide!
Where to Stay in Edinburgh
There's two hotels that we are rather fond of in this Scottish capital, the Hotel Indigo and the Malmaison. Both are in different areas of the city and offer fabulous accommodations, and both are boutique style hotels with a lot of character and charm.
In the heart of the Scottish capital, this distinctive Edinburgh boutique hotel is housed in a beautiful listed building dating from the 18th century. The chic and contemporary interior reflects the surrounding area's history and Edinburgh's many modern-day festivals, and as you settle into your room, you'll also feel immersed in Edinburgh's rich culture, thanks to the attention to detail with the hotel's design elements.
This location is in walking distance of the Royal Mile and Edinburgh Castle (as well as both of our must-eat-at locations listed further down). It's a great location if you're looking to walk around and explore the city or maybe even visit a few local pubs at night.
The Malmaison offers some of the most beautiful accommodations we've ever experienced – in Scotland or any other country for that matter. Located in trendy Leith and on the waterfront, it's just a short taxi or Uber ride from Waverly Station, and about 15 minutes from the Royal Mile. Built in 1883, the Malmaison is one of the liveliest and most fashionable boutique hotels in Edinburgh. With 100 luxurious rooms and suites with unbelievably comfy beds, beautiful decor and stunning harbor views, this is the perfect Edinburgh retreat – complete with a rather incredible dinning experience.
The Shore at Leith is home to some of the city's best restaurants, including Malmaison Brasserie Edinburgh. The hotel's restaurant offers locally inspired dishes and bistro classics. It's seasonal, fresh, and tastes incredible, and when the weather is nice, you can enjoy dinning or having a cocktail on their waterfront terrace. It's a view like no other. Just see the amazing sunset picture we captured.
What To See in Edinburgh
Edinburgh Castle and The Royal Mile
Edinburgh Castle is a world famous icon of Scotland and part of the Old and New Towns of Edinburgh's World Heritage Site, it's actually Scotland's number one paid-for tourist attraction.
Being the most famous of Scotland's castles, Edinburgh Castle has a rather complex building history. The oldest part, St Margaret's Chapel, dates from the 12th century; the Great Hall was erected by James IV around 1510; the Half Moon Battery by the Regent Morton in the late 16th century; and the Scottish National War Memorial after the First World War.
The castle houses the Honours (Crown Jewels) of Scotland, the Stone of Destiny, the famous 15th century gun Mons Meg, the One O' Clock Gun and the National War Museum of Scotland. With all the history and beautiful architecture – you'll find yourself really ingesting the history. It's a beautiful and immersive experience of Edinburgh's history.
The Royal Mile runs through the heart of Edinburgh's Old Town, connecting the magnificent Edinburgh Castle, which is perched high on a base of volcanic rock, with the splendorous Palace of Holyroodhouse, resting in the shadow of Arthur's Seat. The Mile is overlooked by impressive, towering tenements, between which cobbled closes and narrow stairways interlock to create a secret underground world.
Peppered with superb attractions such as The Real Mary King's Close or the Scottish Storytelling Centre, historical sites including St Giles' Cathedral and some of the best eating and drinking spots in the city (including The Witchery – which we mention below), the Royal Mile offers quite a bit to see and do. And depending on the day, you may even see some famous characters from Hollywood posing for pictures with tourists (just as you would on Hollywood Boulevard in Los Angeles). If you ask them to pose for a picture though, it works the same way as LA and a small tip is expected.
Established in 1947, the Edinburgh International Film Festival is world renowned for discovering and promoting the very best in international cinema – and for heralding and debating changes in global filmmaking. Little Miss Sunshine, Billy Elliot, Brave and Moon all premiered at the festival – and that's only naming just a few of the most notable films that have made their debut at EIFF.
On our trip to Scotland, we were able to attend the Edinburgh International Film Festival, where we saw a wonderful film called My Name is Emily at the Cineworld Cinema at Fountain Park. Edinburgh is known for its festivals, and there is always an event going on in the city. In fact in 2017, Edinburgh festivals celebrate their 70th anniversary. This year, the film festival will go from June 21st through July 2nd, and you can find full details on the lineup once it's announced as well as the dates and venues here.
One of Scotland's most popular locations, the Rosslyn Chapel, attracts visitors every year from all over the world. Founded in 1446, the Chapel took around 40 years to build – and ever since artists and visitors have been intrigued and inspired by its ornate stonework and mysterious symbolism.
There's no shortage of theories, myths and legends associated with the Chapel. One of the notable theories, which was made popular by Dan Brown's The Da Vinci Code, connected the Rosslyn Chapel and the Holy Grail with the Knights Templar. Brown's book was first published in 2003, and the film based on the book, starring Tom Hanks and Audrey Tautou would later film at the Chapel in 2006.
"When I decided to write The Da Vinci Code, I knew that its finale would have to take place at the most mysterious and magical chapel on earth — Rosslyn." – Dan Brown
A number of books have been published in recent years about the Chapel, drawing on everything from Freemasons and the Turin Shroud to the True Gospels and the regular sightings of UFOs over Midlothian. Conspiracy theories notwithstanding, the chapel is very definitely worth a visit – and one of the most beautiful buildings Scotland has to offer.
Rosslyn Chapel can easily be reached by public transport from Edinburgh via the Lothian Bus service 37 or the Borders Railway and a connecting bus or taxi. It's an easy afternoon excursion, and it takes you through some absolutely breathtaking countryside.
What to Eat in Edinburgh
There are two restaurants that are absolute musts in Edinburgh: The Witchery by the Castle and Seasons Restaurant & Bar.
Looking for a memorable, magical and mouthwatering experience? The Witchery provides just that! Located in a historic sixteenth-century building at the gates of Edinburgh Castle, the Witchery takes its name from the hundreds of women burned at the stake at the stake as witches on Castlehill during the sixteenth and seventeenth centuries. It is reputed that more witches were put to death on Castlehill during the reign of James VI than anywhere else in Scotland. The area around the Witchery by the Castle remains deep in history.
Built in 1595 for merchant Thomas Lowthian, the candlelit Witchery is entered from a traditional close off the Royal Mile. The original carved inscription on the doorway bears his initials and motto 'O Lord in thee is all my traist' can still be read. Nearby the ancient stone doorway built into the tower of the Secret Garden features the arms of the Duke of Gordon, Keeper of the Keys to Edinburgh Castle. In the Witchery heraldic painted and gilded ceilings, based on those at the Palace of Holyrood house, reflect the close links of the Auld Alliance between France and Scotland. The tapestry-hung walls are paneled with seventeenth century oak rescued from a fire at St Giles Cathedral and paneling is from a Burgundian Chateau. Gilded leather screens, opulent red leather upholstery, tapestries, and antique church candlesticks complete the scene.
The Witchery remains a destination for many celebrities visiting the city, including Vivienne Westwood, Miranda Richardson, Bernardo Bertolucci, Alan Parker, Jack Nicholson, Michael Douglas, Catherine Zeta-Jones, Jacques Villeneuve, Ewan McGregor, Pierce Brosnan, Dannii Minogue, Matt Groening, Dan Brown, Tilda Swinton, Cameron Mackintosh and many more, with Lord Lloyd Webber describing it as "the prettiest restaurant ever!"
However, even Lord Lloyd Webber's statement seems like an understatement to us. The amazing food paired with the incredible environment (and the history) is second to none.
Seasons is not your traditional a la carte restaurant. They specialize in using seasonal produce, sourced locally from Scotland and from Scandinavia. When you sit down, you will be presented with a list of the season's finest ingredients (like you see to the right), you don't order – instead surprise dishes – created by founder and executive chef Matthew Urry – are brought to your table.
Wine and food are a match made in heaven, they truly live and breath the European ethos of every dish should be paired to wine/cocktail/beer. So be prepared to take a journey through the most delicious flavors you can imagine – and all at a very affordable price.
After a seven course meal, we were surprised that we didn't feel stuffed – it was the perfect amount of food, and honestly, one of the best meals we have ever have. If you're a foodie and in Edinburgh, this is a must.
In Conclusion
While 24 hours isn't a lot of time, and we definitely recommend more, it's a great way to get a taste of this fabulous city. If you have the time though, take a few days in Edinburgh, and then travel north. Visit Inverness, Crieff, and Isle of Skye as well – and leave time for stops in-between. It will be one of the most amazing trips you ever take. Just take a look below…
VisitScotland recently launched a new online community, iKnow Scotland, for users to ask questions about visiting Scotland and share their own expertise and knowledge. We strongly encourage you to check it out for any questions you may have or for additional suggestions on what to see and do while in Scotland!
And stay tuned for additional travel guides, including several more from Scotland: 48 Hours in Isle of Skye, Scotland and 7 Days in Scotland!