FanBark Unboxing: January 2018 PupBox Review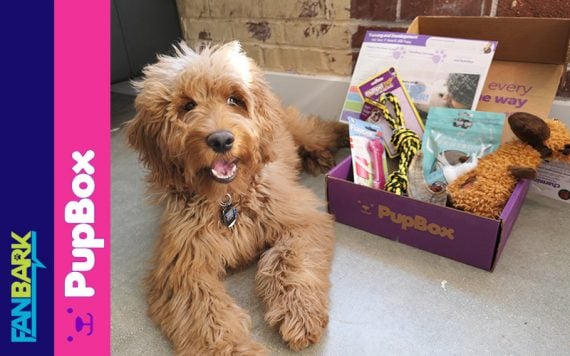 We've got a brand new FanBark unboxing for you! FanBark unboxings are done by our editor's pup, Fozzie! Enjoy her review and unboxing of the January 2018 PupBox!
Fozzie here, and I'm a 5-month old F1b goldendoodle who loves to play, eat, play, sleep, and did I mention play?! My mom, Emma, is the editor of FanBolt – and she created this section just for me so I could geek out along with her!
It's the new year, which means this PupBox is full of brand new toys to get my year off to a fun start! I got a little help from my mom and dad on this unboxing video – as they think I'm easily distracted… squirrel!!!!!!
January 2018 PupBox Review
Here's the full breakdown on what was included in the January 2018 PupBox!
5 Month Guide: Training Insert that will make your puppy a superstar!
Flavorit Bone Berry Medium: Made for tough chews like me! This bone smells delicious to me and to my mom! It's the exact opposite of my smelly bully sticks – and all the more fun when my mom puts peanut butter on it!
Nuts for Knots Rope Tug with 2 Danglers: This 15″ rope tug is so much more than just a rope! It's fun for playing with my pawrents and it's also a great dental hygiene tool and a teething toy too (which I'm still struggling with – but I see the light at the end of this tunnel my mom keeps telling me about!)
GoGo Stressless Vension Training Treats: All-natural, stress-free, sourced and produced in the USA – these wild venison treats are bite size and make the perfect training treat!
Charming Pet Scruffles: It took us a minute to figure out if this was a moose – and it is indeed a moose! It's the softest toy I own – but that doesn't mean I'm going to squeak it any less! It just means that I'm going to have to pry it out of mom's hands when she's petting it and not me!
Grizzly Polluck Oil: Rich in Omega 3 and 6 fatty acids that are beneficial for my skin and coat health, healthy joins, cardio health as well as for the nervous system and eyes. It's sourced from sustainable Wild Alaskan Pollock.
Icelandic Lamb Horns Medium: I'm saving the best for last – my favorite thing from this box! Like deer and elk antlers, lamb horns for dogs have a serious fun factor – especially because they kinda look like raptor claws and my pawrents think it's hilarious! These chews are also a good source of protein, iron, zinc, and other nutrients.
That's a lot of awesome goodies right?!

So here's how it works, you create a profile for your pup on PupBox.com – which allows for PupBox to cater each box to the growing needs of your furbaby. Each box is customized based on your puppy's age, development and physical characteristics. I only eat grain-free food and treats, and mom was able to define that with PupBox along with noting her name, birthdate, gender, coat type, target adult weight, and allergies and preferences.
Once you've got your furbaby's profile built out, you can pick a plan that best fits your budget. One month, 3 months, 6 months or annually – and of course the more months you sign up for in advance, the more money you save. You do pay for your full subscription upfront, so be aware of that – and it will renew automatically so you don't miss out on your monthly dose of great products for pup and great information for me. If you change your mind for whatever reason though, you can cancel at any time.
Want to check out PupBox? Use the coupon code FOZZIE for a 15% discount on any PupBox.com subscription.
Licks & Wags,

PupBox did provide us with a free box for this review, but no other compensation was exchanged. Everything mentioned above is Fozzie (and Emma's) honest opinion.
Recommend

0

recommendations
Published in FanBark, Featured