FanBark Unboxing: February 2018 PupBox Review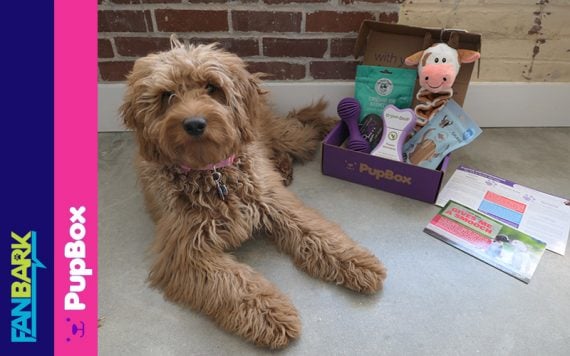 We've got a brand new FanBark unboxing for you! FanBark unboxings are done by our editor's pup, Fozzie! Enjoy her review and unboxing of the February 2018 PupBox!
Fozzie here, and I'm a 6-month old F1b goldendoodle who loves to play, eat, play, sleep, and did I mention play?! My mom, Emma, is the editor of FanBolt – and she created this section just for me so I could geek out along with her!
This box couldn't have arrived at a better time, as I'm literally destroying most of my puppy toys now – and my mom keeps taking them away from me, which means this PupBox was like Christmas morning for me! I got a little help from my mom and dad on this unboxing video – as they think I'm easily distracted… squirrel!!!!!!
February 2018 PupBox Review
Here's the full breakdown on what was included in the February 2018 PupBox!
6 Month Guide: Training insert that gives you helpful information on your pup's energy level and how to stimulate their minds!
Holobon: I'm so excited about the possibilities with this one! Stuff each end with treats and let your pup go to work! It's an interactive toy that is made from 100% natural rubber and it's great for mental stimulation (MUST GET TREATS OUT)!
Charming Pet Zig Zagger: The second I saw this toy it was love at first sight and I had to take it and run. Mr. Moo as I'm affectionately calling him likes to party – he's got squeakers, crinkle paper lining, and a bungy body that stretches when pulled. And he's my new best friend. End of story.
Organic Oscars Shampoo: I'm not quite a fan of bathes – but my pawrents LOVE the way this smells and if it means more snuggles – I guess I won't fight the bath that much! This shampoo is extra gentle for fluffy puppy fur and it's specifically formulated for your pup's delicate coat.
yakyChurro: I'm also obsessed with these… they're super tasty and uniquely shaped to get into those hard to reach places between teeth! Plus they have natural enzymes that help remove plaque… really everyone wins with these!
Le Petit Treat: Did someone say treats? These are AMAZING – 100% natural and grain free – they're made with only human grade ingredients with zero chemical or synthetic preservatives. Packed with antibiotic free proteins, fresh vegetables and healthy fat sources – your pup will love them!
That's a lot of awesome goodies right?!
So here's how it works, you create a profile for your pup on PupBox.com – which allows for PupBox to cater each box to the growing needs of your furbaby. Each box is customized based on your puppy's age, development and physical characteristics. I only eat grain-free food and treats, and mom was able to define that with PupBox along with noting her name, birthdate, gender, coat type, target adult weight, and allergies and preferences.
Once you've got your furbaby's profile built out, you can pick a plan that best fits your budget. One month, 3 months, 6 months or annually – and of course the more months you sign up for in advance, the more money you save. You do pay for your full subscription upfront, so be aware of that – and it will renew automatically so you don't miss out on your monthly dose of great products for pup and great information for me. If you change your mind for whatever reason though, you can cancel at any time.
Want to check out PupBox? Use the coupon code FOZZIE for a 15% discount on any PupBox.com subscription.
Licks & Wags,

PupBox did provide us with a free box for this review, but no other compensation was exchanged. Everything mentioned above is Fozzie (and Emma's) honest opinion.
Recommend

0

recommendations
Published in FanBark, Featured