Atlanta Film Critics Circle Announces 2018 Winners – 'The Favourite' Takes Best Picture of 2018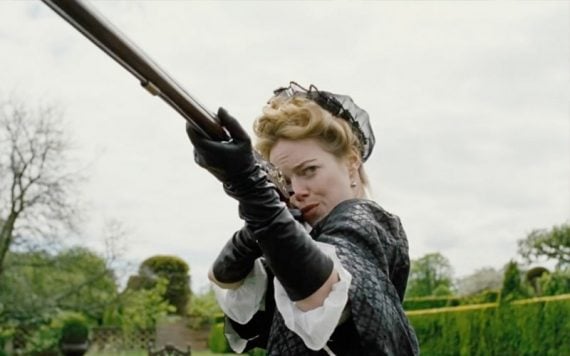 For the second year, the 25 voting members in Atlanta's only dedicated city-specific critics group, the Atlanta Film Critics Circle, has awarded its top films of the year.
The number one film this year is Greek director Yorgos Lanthimos's gender-bending tale of female jockeying for power during Queen Anne's reign in 18th century England, The Favourite. Featuring a powerhouse female cast including Olivia Colman, Emma Stone and Rachel Weisz, the film also garnered a Best Actress Award for Olivia Colman, a Best Supporting Actress nod for Emma Stone, as well as Best Screenplay and Best Ensemble Cast awards.
"The film is defined by incredible performances and a powerful rendering of the viciousness behind class divisions," says AFCC co-founder Felicia Feaster. "Though set in the 18th century, there is clear resonance for our current age and the often brutal circumstances for women who are powerless and lack social standing in Yorgos Lanthimos' trenchant rendering of gender divisions and power," says Feaster.
Actor Bradley Cooper's directorial debut A Star Is Born was the second of the top 10 films, with Alfonso Cuarón's unconventional autobiographical tale Roma centered on his beloved housekeeper coming in third. Roma also netted awards for Best Foreign Language Film, for Best Director and Best Cinematography.
Other notable winners included Best Documentary Won't You Be My Neighbor? which spotlights the revered PBS television program "Mister Rogers' Neighborhood" host Fred Rogers, who brought uncommon kindness, civility and a social conscience to his work with children.
For his role as a morally conflicted priest in the somber Paul Schrader-directed drama First Reformed, Ethan Hawke won a Best Actor Award with Sam Elliott garnered a Best Supporting Actor award for his turn as the older brother and surrogate father to Bradley Cooper's country music star in A Star Is Born.
The AFCC also presented special awards for Best Breakthrough Performer, a category that was tied between Elise Fisher as the painfully awkward teenager at the center of the funny, poignant Bo Burnham film Eighth Grade and Grammy-winning Lady Gaga as the rising pop star in the musical melodrama A Star Is Born.
"Our list includes period dramas, inventive horror, commentary on religion, race relations and the environment, minimalist art-house fare, stark social media observations, sci-fi fantasy and a fresh take on the traditional Hollywood epic," says AFCC co-founder Michael Clark. "It covers the gamut and I'm very pleased with the members' collective enthusiasm."
Complete AFCC 2018 Award List
Top 10 films
THE FAVOURITE
A STAR IS BORN
ROMA
A QUIET PLACE
FIRST REFORMED
EIGHTH GRADE
BLACKkKLANSMAN
Tie: FIRST MAN
WON'T YOU BE MY NEIGHBOR?
BLACK PANTHER
Best Lead Actor
Ethan Hawke in FIRST REFORMED
Best Lead Actress
Olivia Colman in THE FAVORITE
Best Supporting Actor
Sam Elliott in A STAR IS BORN
Best Supporting Actress
Emma Stone in THE FAVORITE
Best Ensemble Cast
THE FAVOURITE
Best Director
Alfonso Cuarón for ROMA
Best Screenplay
Deborah Davis and Tony McNamara for THE FAVOURITE
Best Documentary
WON'T YOU BE MY NEIGHBOR?
Best Foreign Language Film
ROMA
Best Animated Film
ISLE OF DOGS
Best Cinematography
Alfonso Cuarón for ROMA
Best Original Score
Justin Hurwitz for FIRST MAN
AFCC Special Award for BREAKTHROUGH PERFORMER
Tie: Elsie Fisher and Lady Gaga
AFCC Special Award for BEST FIRST FILM
Bradley Cooper for A STAR IS BORN
About the AFCC

Co-founded by longtime Atlanta film critics Felicia Feaster and Michael Clark, the Atlanta Film Critics Circle is an attempt to fill a void in the local film community and in the representation of Atlanta's media on the national stage.

Composed of a dynamic mix of Atlanta-based critics working in newspaper, magazine and online journalism, the AFCC's mission is to establish a national presence for a film critics group in Atlanta and to foster a vibrant film culture in Atlanta, already home to an exploding film industry production presence.

Founding members (critics living in and/or currently writing for global, national, regional and/or Atlanta metro area outlets) of AFCC vote in early December for the group's annual awards.