Blu-Ray Review: April Fool's Day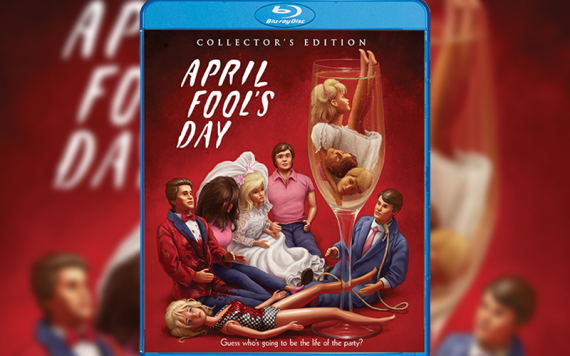 April Fool's Day is one of those movies I remember from the 90's. I remember walking through the aisles of my local video rental store, and I would always see this one but never did rent it for reasons I don't recall. But when I saw the new release from Scream Factory, I immediately recognized it and was pretty excited to watch it.
April Fool's Day is actually a pretty fun movie in two ways; one is that it is a great horror film and the other is that in a fun twist, you find out it's not actually a horror film. I don't want to give away too much but here is the basic plot: On the weekend right before April Fool's Day a group of college kids go to spend the weekend in a mansion on a remote island. The stay at the mansion slowly escalates from harmless pranks to more elaborate pranks to, finally, murder. The group must figure out who is the killer before the ferry returns to pick them up on Monday. All the while the body count rises until we finally come to the big twist I mentioned before. When you get there, trust me, you will enjoy it.
This is the first time the movie has been available on Blu-ray, and overall, the picture is pretty good. While probably not a full scan upgrade, it is almost definitely an HD master copy making it better than DVD quality. The images are sharp and clear but retain that 80's feel you get while watching it. They also kept the darkness levels pretty consistent. A common problem in the 80's was nighttime scenes that are too dark but this one keeps the clarity in dark scenes. This blu-ray has both an English 5.1 DTS-HD MA and an English 2.0 Stereo DTS-HD MA track. Both tracks do a good job at sound balance with voices, sounds, and music all working well together and not going over the others.
Overall this is a good transfer. And with the March 24th release, it comes just in time for the actual April Fool's Day holiday. So, sit back and enjoy it as the movie pulls you in and pulls an April Fool's joke of its own.