Getting Geeky Clean with Pop Soap at Leaky Con!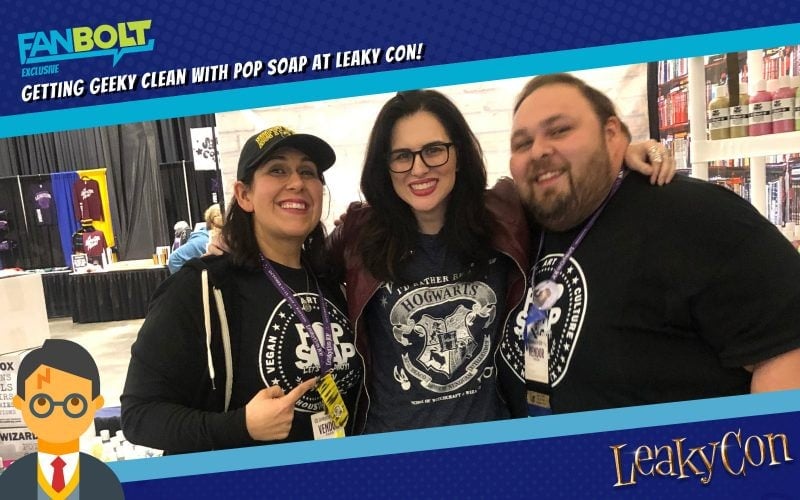 Time for a little throwback with Pop Soap! Way back in October of 2019, which seems like ages ago I know, I went to LeakyCon. What's Leaky Con? It's a Harry Potter fan convention. Remember when I made Dan Fogler show me how to magic foot (if not see here)? That was Leaky Con. No six feet apart necessary here. It's at this con that I ran into the magnificent Pop Soap, a Houston based soap company founded by Gem Mendez and her brother, Paul. 
Gem and Paul learned that the perfect swish and flick takes a whole lot of practice when it comes to soap. "It took about a year and a half to perfect the first four bars," exclaimed Gem, "You make some bad soap before you can make decent soap and decent soap before you can make good soap!"
Gem is also a vegan and was tired of buying soap filled with who knows what. "With the vegan bar, anybody can use it: sensitive skin, allergy skin," Gem proudly states.
All their bars of soap are "pop" because they are fused with pop culture themed names. Her favorite bar of soap is called the Dude – from The Big Lebowski (of course).
Here at LeakyCon though, Pop Soap was all about Hogwarts houses and their characters. The tables were stacked with Hallows, Blacks, Ravenclaws, Hufflepuffs, and more. When I asked what her favorite soap at the con was, she named "Lovegood." It's a fragrant mixture of banana and pineapple. Don't fret if you can't take a trip down to Houston or attend a con anytime soon, all of their products are available at popsoapshop.com! 
Watch, enjoy, and make sure to wash your hands!

Video Credit: Dennis Aronov