Chadwick Boseman: A Hero Both On-Screen and Off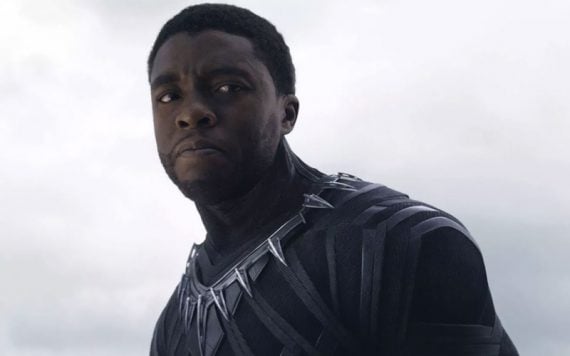 In a heartbreaking blow to fans around the world, Chadwick Boseman has passed away and it's almost unimaginable to say those words. A hero, on-screen and off, Boseman was a true inspiration. An artist, a man dedicated to his craft, and a symbol of hope. Dreams within the hearts of people around the globe were born of Boseman's talent. His charisma and belief in the stories he told allowed children, as well as adults, to believe in the power of their own voices.
Boseman portrayed an incredible mix of real-life legends and characters throughout his career, and while we were wowed watching all of them, his performance as T'Challa left us speechless. He brought a sense of pride in every step he took as Black Panther and in every syllable he spoke. He carried himself as a man taking on the role of a king, as a heartbroken son not yet ready to live without his father, and as a friend who showed love and forgiveness – even if it wasn't first shown to him.
T'Challa believed in more, and it allowed us to do the same, and that wouldn't have been possible without Boseman. Of course, Black Panther exists outside of the MCU, but bringing the dynamic and multifaceted character to the big screen was a role tailor-made for Boseman. No one could have done it with the heart that he did.
Not only was he a hero on screen, but he also devoted himself to charities and causes when he wasn't busy filming. Visiting children in the hospital, surprising fans as they poured their hearts out describing what Black Panther meant to them – he didn't miss an opportunity to make an impact without once asking for recognition for it.
In a now even more meaningful interview, Boseman discussed two children who passed of terminal cancer before Black Panther's film release…and how understanding what the movie meant to them put a lot into perspective for him.
What fans didn't know, was at the time of that interview, Boseman was deep into his own battle with cancer. In the statement made last night about his passing, it was revealed that he had multiple rounds of treatment and a number of surgeries all between preparing for roles and filming movies that really made an impact.
It really puts it all into perspective…each fight scene, each punch and kick…each moment that physically took a toll on Boseman, and the joy he radiated while doing it. Even in the midst of his most impossible battle.
When the world was asking for one more Wakanda Salute (even if he grew a little weary of the gesture), he obliged, never losing sight of what it meant to join the MCU as T'Challa. It became a joke to fans that he must eventually tire of hearing and saying it, but he smiled and said those two words that will now resonate in the hearts of fans…without sounding too trite, forever.
There are special moments you remember and badges of honor you take on as an MCU fan. That feeling you get when you purchase a movie ticket for a film months in advance, securing your spot for more than just the showing of a film – but for an experience. The way you can recite and remember everything about specific moments in your favorite movie and the way the theater feels when they're happening. It's electric.
A number of those moments for us within the MCU involve T'Challa, one now, means even more. The portal scene in Avengers: Endgame, when Black Panther brought with him a literal and figurative light – a glimmer of hope, a promise of a fight that would knock the wind out of even the strongest heroes, but a fight that must be fought with love and determination. It's beautiful in its own cinematic glory, and now it's beautiful as we understand the weight of Boseman's own fight.
An outpouring of love and respect has been shown around the fandom community since the news of his untimely and heartbreaking death was announced,  the measure of Chadwick Boseman is truly seen in the lives of those he touched – even if they were never able to share his warm and welcoming light. He will be missed with the passion in which he lived.