7 Hobbit House Airbnbs to Transport You To Middle Earth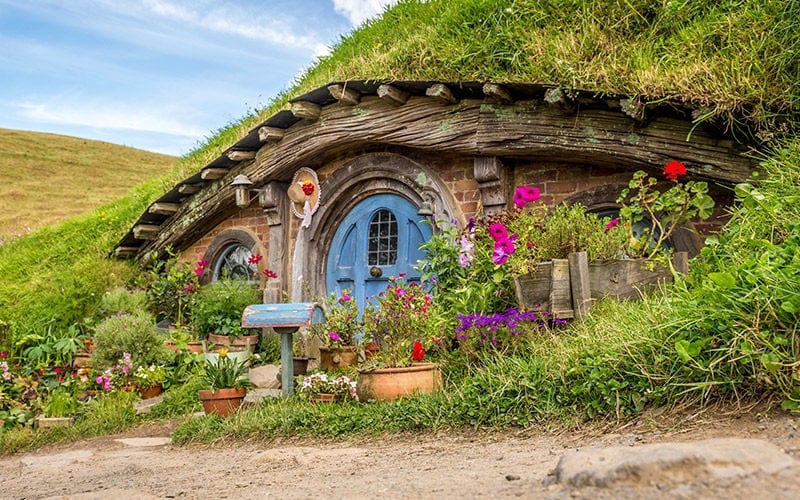 Is there any place cozier than a hobbit house? Between second breakfast and the woodsy decor, it's a cottagecore dreamland.
Did you know that with Airbnb and Vrbo, you can bring your Tolkien fantasy to life?
Here are 7 real-life hobbit holes you can book a stay in.
A Hobbit's Paradise
If you're looking for a stay right out of a storybook, visit this hobbit home on The Hill. The architecture and furnishings make the location look like it was a set recently used in a J.R.R. Tolkien movie. It has the iconic circular door and looks like it was built into the hill. The roof is covered in moss and grass, so it feels like you're entering into a cozy, underground oasis.
Take in the beauty of Vermont in a hobbit home that the owners spent 6,000 hours designing and building.
A Humble Hobbit Hole
If you're looking to live a simple hobbit life, you're in luck! This LaFayette, New York home is a tiny hobbit-themed guesthouse on the edge of the woods. It's overgrown and almost looks like an extension of the forest. It's 12×12 and has an outhouse (which is also appropriately themed). And it's cozy and cute and starts at only $75 a night.
The Shenandoah Shire
If you're looking for the intersection of luxury and whimsy, take a look at this hobbit house. It doesn't have the iconic circular door, but the round rooms and circular staircase give it that Middle Earth feel. It's furnished to cottagecore perfection, and it even comes with modern amenities like SiriusXM and Bluetooth connections.
Enjoy the wood-burning fireplace, outdoor grill, firepit, screened-in porch, and hot tub. You don't need to sacrifice modern comforts for the Lord of the Rings aesthetic. With this location, you can have both.
A Hobbit Hole Fit for a Party of Adventurers
While lots of hobbit homes have charm, they don't have much space to fit a whole clan of adventure-seekers. This place is more of a hobbit home than a hobbit-hole, and it doesn't sacrifice the hobbit aesthetic in order to make it spacious. It's like a hobbit hole built with humans in mind. It's 4231 square feet, has 5 bedrooms, and 3 bathrooms to accommodate all your guests. The listing says it sleeps 16.
The best part? It's a handcrafted Earth Ship built to make your entire stay sustainable. And the hot tub and pool aren't a bad addition, either.
While the average price is $710 a night, if you split the cost 16 ways, you're getting quite the getaway for under $50 each.
Underground Hygge Along the Columbia River Gorge
A hobbit home isn't truly complete without breathtaking natural vistas right outside the circular front door. This hygge is just as beautiful as the nature that surrounds it.
Around the home, you have 6 private acres to hike and explore. Small touches like a beautiful cobblestone hearth, circular doorways, and a natural driftwood chess table make the home feel like it came straight from a movie set. From the gardens to the natural brand fencing to the rustic lamps, you'll instantly feel like you're at home in your own fantasy world.
The Artistic, Rustic Getaway
If you want to feel like you're tucked away in New Zealand, but can only get to San Diego, this hobbit home has got you covered. This listing prides itself as a place to unplug: great for Lord of the Rings diehard fans or artists trying to escape the hustle and bustle of the everyday grind. You have no electricity, cell signal, or WiFi (but if you need to connect, you can walk 250ft down the path to the main house to borrow some of their bandwidth).
You've got a wood-burning fireplace and a built-in desk to really focus on your creative expression.
Nerd on the Outside, Instagram on the Inside
If you love the hobbit hole outdoor aesthetic but don't necessarily want the fantasy to follow you on the inside, check out the "Wee Nook" on Airbnb.
"Wee" is an accurate description; at only 360 square feet, it's one of the smallest of the options. If you really want that cozy vibe for a personal getaway, this is a perfect choice. However, you don't need to stay stuck inside. The surrounding area has woods, farm animals, ponds, trails, and more to explore.
What's Next After Your Hobbit House Getaway?
If you're a huge fan of Lord of the Rights, a hobbit house adventure would make for an amazing vacation. But rarely do people belong to just one fandom. What theme will you choose for your next fantasy or sci-fi vacation?
With everything from Galaxy's Edge in Disney World to a Sex in the City-themed brownstone, there's no end to travels that fulfill your sense of fictional wonder.
Featured image credit: Troy Wegman