Geek Cocktails: Dirty Devil Vodka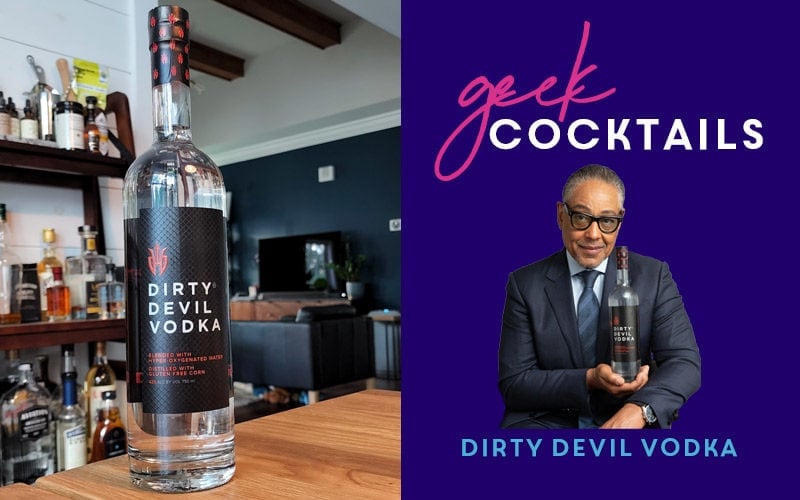 It's no secret that the team here at FanBolt loves a good cocktail, and we love it even more when there's a geeky twist to it! So when I heard that Canada's award-winning Dirty Devil Vodka was expanding across America and announcing Mandalorian and Breaking Bad star, Giancarlo Esposito, as their global brand ambassador, it felt like something we had to check out!
Esposito has been actively involved in discussions developing branding and creative content. And he's been doing so alongside longtime friend, Dirty Devil Vodka CEO, Murray Merkley. Their ultimate goal? To deliver an innovative vodka with great taste.
"As a true vodka lover not only am I honored but I am thrilled to be involved with such a revolutionary vodka brand that shares my passions for creativity, innovation, and being best of class," said Giancarlo Esposito.
Dirty Devil Vodka is the first and only spirit in the world made with Hyper-Oxygenated water. Whether you're sipping it neat, on the rocks, or in a cocktail, it promises a clean mouthfeel and smooth finish. The spirit utilizes parent company St. Lucifer Spirit's patented Hyper-Oxygenation Process, which produces water with 5 times more oxygen than spring water to give it a softer mouthfeel & finish. Simply stated – more oxygen equals enhanced smoothness.
And we confidently say it's some of the smoothest vodka we've ever tasted. And it's also gluten-free! Check out our taste test and mixology adventure below (I was determined to create a cocktail in honor of Esposito)!
FanBolt's Mandalorian-Inspired Vodka Cocktail
Dirty Devil Vodka is available now across the US! Check out more information on their website here. Be sure to test it out in your next cocktail. And let us know your thoughts in the comment section below!
Disclaimer: Dirty Devil Vodka did supply us a bottle for review. All opinions here are our own. Please drink responsibly.