Val Kilmer is an American actor best known for his roles in Top Gun, Batman Forever, and The Saint. Since starting his career in the mid-1980s, Kilmer has appeared in more than 100 movies and television series.
Even though he's had immense success in front of the camera, Val Kilmer's net worth is impacted by more than just his acting career. His producer credits, poetry work, and real estate investments also have an affect on that number. Read on to discover his most successful projects and trace his career from the beginning until now.
Early Life
Val Edward Kilmer was born in Los Angeles, California, on December 31, 1959. His mother's name was Gladys Swanette Ekstadt, and his father's name was Eugene Dorris Kilmer.
Kilmer was the middle child among three brothers. Sadly, his youngest brother died at 15 years old, drowning in a Jacuzzi.
When Kilmer was eight years old, his parents divorced. Two years later, his mother remarried William Bernard Leach. When Kilmer was in high school, Kevin Spacey was his schoolmate at Chatsworth High School, and Mare Winningham was his girlfriend.
Kilmer then became the youngest person to be accepted into the Juilliard School's Drama Division, joining Group 10. High school buddy Spacey would later join Group 12.
Acting Career
Kilmer's acting career officially began with his performance in the play How It All Began, which he also co-wrote. He was still studying at Juilliard, and he was focused more on theater roles at the time. Shortly after, he joined Sean Penn and Kevin Bacon in the off-Broadway production of Slab Boys.
In 1984, Kilmer appeared in his first film, which was the action comedy Top Secret! He played a rock and roll singer, and Kilmer performed all the songs himself. This was followed by a starring role in the comic sci-fi film Real Genius.
Top Gun
Val Kilmer's net worth began climbing early in his career as he snagged a supporting role in the 1986 smash hit Top Gun. He played the character of Iceman, who eventually became the wingman to Maverick, played by Tom Cruise.
Kilmer's salary is not known. However, his exposure from the film opened doors to bigger and better roles in subsequent years. In addition, the box office reception was incredible, with revenues reaching a staggering amount of $357.3 million. Adjusting for inflation, it would be equivalent to very close to $1 billion today.
He would next appear in two television films – The Murders in the Rue Morgue and The Man Who Broke 1,000 Chains. Kilmer received much critical praise for both performances.
Willow
Kilmer's next film role would be in the George Lucas/Ron Howard fantasy adventure Willow. It showed huge box office potential as it quickly drew more than $8.3 million on opening weekend. However, it was pitted against films like Rambo III and Crocodile Dundee, which were released during the same period.
At the end of its run, Willow totaled $57.3 million in gross earnings against a $35 million budget. However, the film did earn some nominations and awards. It was also where Kilmer would meet his future wife Joanne Whalley, who co-starred with Kilmer and Warwick Davis.
The Doors
In 1991, Kilmer played the role of singer and rock icon Jim Morrison in The Doors. The biographical film recounts the story of a famous rock band in 1960. Although the film received mostly positive reviews from critics, it only earned $34.5 million from box office earnings, which is only slightly more than its production budget.
In 1992, Kilmer would briefly return to his theater roots to perform as Giovanni in the off-Broadway production 'Tis Pity She's a Whore. He would then come back to the big screen as Elvis Presley in True Romance, which flopped at the box office despite being well-received by film critics.
Tombstone
Next, Kilmer co-starred with Kurt Russell in the western hit Tombstone. With a budget of $25 million, the film grossed $56.5 million globally.
Batman Forever
By the mid-1990s, Kilmer had acquired notoriety for not getting along well with directors and fellow actors. However, this did not stop him from landing significant and high-paying movie roles. For instance, in 1995, Val Kilmer's net worth grew by another $7 million for starring in Batman Forever.
Box office earnings reached more than $336.6 million against a budget of $100 million. As Batman, Kilmer earned an MTV Movie Award nomination for Most Desirable Male.
Heat
Kilmer would land a supporting role in Heat, joining an ensemble cast led by Al Pacino and Robert De Niro. With a budget of $60 million, the action crime drama brought in more than $187 million worldwide.
Wings of Courage
He also appeared in the American-French drama Wings of Courage. While the film's budget hasn't been confirmed, box office earnings were small. The movie only brought in $15 million globally.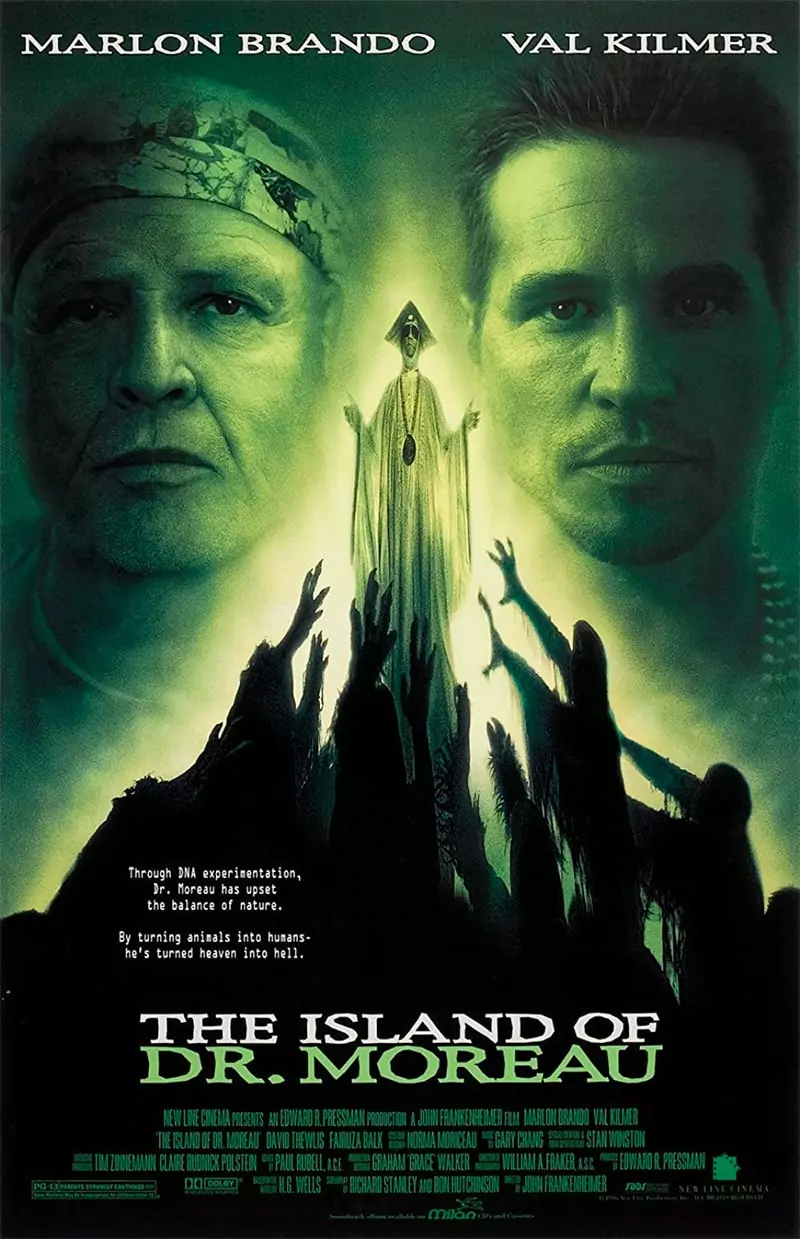 The Island of Dr. Moreau
In 1996, Val Kilmer's net worth grew by another $6 million when he starred as Montgomery alongside Marlon Brando in The Island of Dr. Moreau. Unfortunately, the film was not a box office success, only earning $49 million against a budget of $40 million.
The Saint
Kilmer's next box office hit would come a year later as he starred as Simon Templar in The Saint. The thriller opened strong with a domestic gross of $16.3 million.
It continued dominating the theaters until the end of its run, generating a total of $118.1 million globally. Kilmer went home with another $6 million paycheck for his work.
Prince of Egypt
In 1998, Kilmer would play his first voice role in the DreamWorks animated film The Prince of Egypt. He provided the voice for Moses and God. With a budget of $70 million, the movie grossed more than $218 million globally.
At First Sight
A year later, Val Kilmer's net worth would grow another $9 million when he starred in the romantic drama At First Sight, where he shared top billing with Mira Sorvino.
Unfortunately, the film was not a box office success, as it only grossed $22 million against a budget of $60 million.
The Salton Sea
Soon after the new millennium began, Kilmer appeared in the thriller The Salton Sea. The film got mixed reviews from critics, and it turned out to be a box office flop, only making only $1.1 million globally against a budget of $18 million.
In the upcoming years, Kilmer would take on a number of supporting roles. He was a porn star in Wonderland, a gunshot victim with amnesia in Blind Horizon, and the expressionist artist Willem de Kooning in Pollock. He also played Philip II of Macedon in Alexander, which starred Colin Farrell.
Kiss Kiss Bang
In 2005, Kilmer received a Saturn Award nomination for his supporting role in Kiss Kiss Bang Bang. The comedy crime film also starred Robert Downey Jr. and Michelle Monaghan. Though the film received much praise from film critics, the box office earnings showed a different outcome. It barely recouped its production budget of $15 million, making only $15.8 million at the worldwide box office.
The next decade or so would see Kilmer working mostly on direct-to-video projects. Then, in 2008, he had his debut as a producer with the film Columbus Day, where he also played the lead role. He also lent his voice to the character of Bogardus in Delgo in the same year.
Kilmer continued to appear in films of various genres through the 2010s. He did another voice role for the animated film Planes in 2013. He portrayed the famous writer Mark Twain in Tom Sawyer & Huckleberry Finn in 2014. He even appeared as himself in a cameo in Jay and Silent Bob Reboot in 2019.
Top Gun: Maverick
Kilmer most recently appeared in Top Gun: Maverick, where he and Tom Cruise both came back to reprise their roles from the original film.
More than three decades later, the film franchise still had an unmistakable draw on audiences. On opening weekend alone, it already made $126.7 million. When the worldwide theater run was over, the film's total gross earnings reached a whopping $1.5 billion.
As of 2022, Top Gun: Maverick is Kilmer's highest grossing film.
Recent Work
Right before his return as Iceman in Top Gun: Maverick, Kilmer had starred as himself in the documentary Val. The film recounts the actor's career journey with all its ups and downs. It won the Critics' Choice Documentary Award for 2021.
Other Ventures
Also impacting Val Kilmer's net worth is his work outside of Hollywood. In 1987, Kilmer had published an original poetry collection entitled My Edens After Burns. It is considered to be a very rare book these days, with second-hand copies costing at least quite a bit.
Real Estate
A significant amount of Val Kilmer's net worth comes in the form of his various property investments. In 2009, he tried to sell a 6,000 acre ranch property that he owned in New Mexico for $33 million. When he purchased the land, his original intention was to convert it into a combination of a ranch resort and a bed and breakfast.
In 2011, he found someone who was willing to pay $18.5 million for 5,300 acres of the estate. The buyer was a billionaire couple that ran an oil business.
A few years later, Kilmer sold a little more than 500 acres at an undisclosed amount. This leaves him with approximately 160 acres of the original property still in his name.
Personal Life
Kilmer was married to actress Joanne Whalley from 1988 to 1996. They met during the filming of Willow, where they were co-stars. They have two children together – daughter Mercedes and son Jack.
Kilmer has famously dated a number of celebrities both before and after his marriage. Among his romantic partners were Cher, Cindy Crawford, Daryl Hannah, Angelina Jolie, and Ellen Barkin.
Kilmer is a throat cancer survivor, having battled the disease since 2015. He had completed chemotherapy and undergone two tracheostomies. The treatments have led him to become cancer-free by 2016 but left him with a very raspy voice.
Val Kilmer's Net Worth Today
As of 2022, Val Kilmer's net worth is estimated at $10 million. While his acting career is largely responsible for that number, his producer credits, poetry, and real estate investments also impact his net worth.
Fans of Kilmer can look forward to seeing him next in Riptide, which is currently in pre-production. He's also the executive producer of a short, The Tree is Still There, which is in post-production.