Bachelor Nation Valentine's Day Advice from Zach Shallcross, Serena Pitt, and Joe Amabile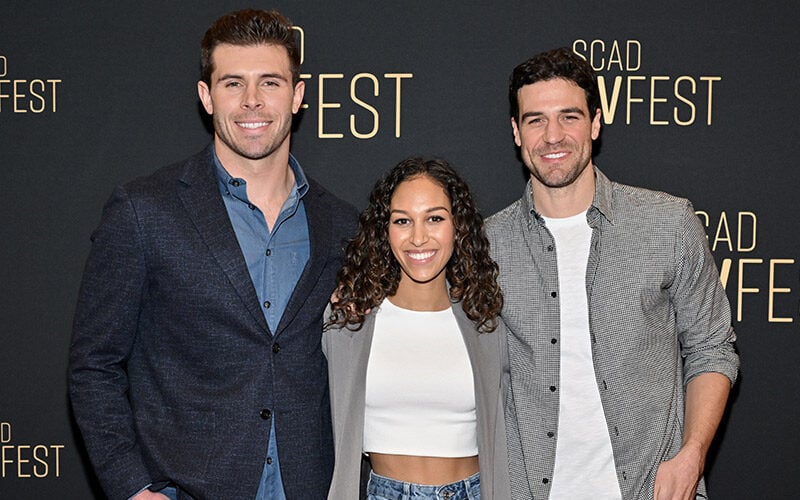 Bachelor Nation fans were in for a treat last Friday evening at SCAD's Atlanta campus. Zach Shallcross, Serena Pitt, and Joe Amabile were all present for SCAD TVfest. And before the trio took part in a special live taping of Amabile's podcast, Click Bait with Bachelor Nation, FanBolt was able to grab a little time with each of the stars.
And with Valentine's Day right around the corner, we were curious about what romantic advice they had for the couples out there. So check out their Bachelor Nation Valentine's Day advice below!
Bachelor Nation Valentine's Day Advice
"Even if she says, "Don't get me anything." Just get her something," Pitt laughed, "Get her flowers, get her chocolates…"
"You have to figure that out. Because I did not get you anything," Amabile interrupted laughing.
"I said please get me flowers," Pitt responded. "We're not doing gifts. We're going to do a really nice dinner. That's what we both love to do."
"Serena actually stiffed me because we had reservations at a restaurant on Monday night. Because we are going out on Tuesday night as well," Amabile explained, still grinning. "And then she decided to go to an event instead."
"No, no. I double booked." Pitt laughed. "I forgot I was already going to a fashion event."
"It shouldn't be taken too seriously. Do something you both love to do. Go out. Stay in. Spend zero dollars. Spend a hundred dollars – whatever makes you guys happy." Pitt suggests.
"Whatever floats your boat." Amabile adds.
Zach Shallcross's Relationship Advice
"With Valentine's Day coming up, it's really important to do something heartfelt and help that person fill special and seen. Because they are. I think a lot of the times people get caught up in their own lives and don't make that other person feel special," Shallcross notes.
"If you're with someone and you love that person then all you want in the world is to make them feel that way. So, just get them something that's really special. Don't just buy them something random. Have something that is heartfelt and sweet to just both you two." he adds.
More coverage from our SCAD TVfest interviews with Zach Shallcross, Serena Pitt, and Joe Amabile is coming this week! Stay tuned!